Keep the Opportunity Alive…
Share the IUJ Experience with the Next Generation with a donation to

Th

e

A

lumni

N

a

K

ayama

S

cholarship Fund
"ThANKS" Fund

A Fund-Raising Drive by the Alumni Association for an Alumni-Sponsored Scholarship Fund for current IUJ students who are contributing to campus life, and in memory of IUJ's Founding Father Dr. Sohei Nakayama (March 5, 1906 – November 19, 2005) to whom we all owe much ThANKS.  We have sponsored 28 students since 2006, and need your support urgently. The 5th fundraising drive only achieved 18% of our goal. We are hoping the 6th drive, in correlation with IUJ's 40th anniversary, will find more success.
Please make a donation!
Here is HOW
Progress Report: 6th Fundraising Drive January 2020 to May 2022
Background Info and early drive reports
There are 4 ways to donate to IUJ for the ThANKS Fund
For those from overseas
Flywire – which supports credit cards, paypal, etc.

A full explanation and links to the IUJ account are at https://www.iuj.ac.jp/payment/
Please note the following Kanji which you will need on the Flywire site.
For those from within Japan or overseas
Credit Card (two step process to ensure a secure transaction)
Bank wire transfer 振り込み – Bank information provided on the Pledge Form.
Cash
Please download the Pledge Form by clicking the button (right).
Fill the Pledge Form in and return to alumni@iuj.ac.jp.

Upon receipt, if you select Credit Card, IUJ will send you a unique link to finalize your donation.

This form is needed for our internal audits.

All other methods have instructions on the pledge form.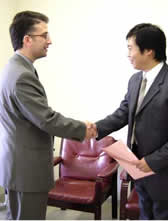 Alternative ways to give back to IUJ
Furusato Nozei donations – 90% of a donation made to Minami Uonuma city comes back to IUJ.  Learn more HERE
In-kind donations

If money donations are not possible, please support IUJ in other way.
Provide JOB info and opportunities – Hire a student!
Provide INTERNSHIP projects – Host an intern in a company or international organization
Help with new student recruitment through word-of-mouth advertisement and IUJ Ambassador support
Join the Alumni Experts program
Thank you!
The photo above features Cenk Gurol IM96 meeting then-student Jami Wu IM03 for an on-campus employment interview.
Progress Report:
6th Fundraising Drive  January 2020 – May 2022, and IUJ's 40th Anniversary
Goal:  3,600,000yen  (100,000/yen per month for 2 people for 2 academic years)
Current Balance  0 yen which is 0% of our current goal (as of 1/1/2020)
IUJ Founders Club
IUJ Presidential Club
IUJ Premier Executive Club
IUJ Premier Club
IUJ Honors Club
IUJ Club
Other
Donation Break Down for THIS Campaign: Updated January 2020
Donation Level
Value
January 2020:
IUJ Founders Club
1,000,000 yen or more
IUJ Presidential Club
500,000-999,999 yen
IUJ Premier Executive Club
100,000-499,999 yen
IUJ Premier Club
50,000-99,999 yen
IUJ Honors Club
10,000-49,999 yen
IUJ Club
Less than 10,000 yen
Click here to add your own text
Initial and Successful ThANKS Fund Campaign – Donor COMMENTS
Bingwu Xie (IM98) & Jinhui Sun (IM99) (May 2007) writing in from Tokyo
Both Jinhui (IM 99) and I (Bingwu IM98) are very happy to be able to be part of this!
Iggy and Mhu Sison (Feb. 2007) writing in from the Philippines
This is the least we can do after having benefited from an IUJ scholarship about 20 years ago. We have much to be grateful for — an IUJ global perspective, a Japanese cultural immersion and lifelong friendships (including our own marriage made possible by IUJ!).
Lamin Drammeh 1997 MBA writing from The Gambia
"I am thrilled by this noble idea. We, the alumni of IUJ, are obliged to give back something valuable to our school"
Whitney (Smith) Jiranek 1999 MBA writing from New York City
"I loved my time at IUJ and being funded by scholarship was an incredibly generous "gift" I feel I may never know how to repay. I guess I am seeing my donation to this fund as a great contribution towards that."
Masaru Yokoi IM00 writing from Japan
"As one of Sohei's children, I would like to follow in his steps and contribute to IUJers."