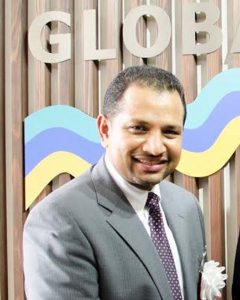 Kaushal Wawlagala
Program: E-Business Management
Graduated: 2006
Current Position: President, Adam Innovations Co., Ltd
Please tell us your trajectory as IUJ student and business man from Sri Lanka.
I came to Japan in 2005 as an e-Biz student of IUJ.  During and after my studies at IUJ I got opportunities to work with Japanese tech companies like Sony, KDDI and Salesforce.com.  Those learning helped me to understand Japanese tech companies better and made my decision to stay in Japan longer.  I stated Adam Innovations Co., Ltd. in 2012 to help Japanese companies to expand their horizons to emerging markets.  So far, Adam-i helped many Japanese SMEs and large corporates to go global.
How did IUJ influence your career choice? How useful was it?
IUJ helped me in many ways to sharpen my talents and build a global network.  E-Biz program broadens my mind in advance technologies specially wireless and mobile.  Studying with many students in different countries was a fascinating experience too.  In my master thesis I develop new leadership framework for organizations who embrace mobile technologies.  That time Japan had the best mobile internet platform called I-mode developed by NTT Docomo.
Why did you decide to stay in Japan and start a business?
After graduation my plan was to go to US for my doctoral program. I never thought I would stay in Japan this long.  Eventually, I decided to gain some industry experience before embark into my higher studies.  So I started my professional career in Japan in 2007.  By working with sometime with Japanese companies I saw growing opportunities for foreigners living in Japan so I decided to start a consulting company to help Japanese companies' global expansion.
Explain to us what IT Park is?   Benefits to the local community, your company, IUJ, Niigata? How can Japanese E-Biz students get jobs with IT firms and IT Park?
Global IT Park was very fascinating and challenging project in my entire career.  Business was not something new to me. I started my first company when I was 21 years old and became the youngest entrepreneur in Sri Lanka just after 4 years of operation.  I founded 3 companies so far. I have gone through both good and tough times in my business career.  But, Global IT Park is very different to all my past projects.  It is a project that has the potential to change Japan.  Global IT Park is an open innovation platform where foreign IT companies come to Japan and work collaboratively with Japanese companies.  The idea is to develop breakthrough innovation to Japan and to the rest of the world.  I think this is very much needed for Japan mainly for two reasons.  First, Japan has solid hardware technologies but software level is bit lower compared to other countries like US, China, India, and Germany.  By working for world class software companies we are trying to bridge this gap.  Second, we do not see startup culture in Japan compares to other countries.  In the past we heard great entrepreneurs coming out from Japan like Matsushita, Akio Morita, Honda etc.  But today Japanese youth doesn't have that motivation.  In GIT Park we plan to develop that Eco-System with join hands with IUJ and Niigata Prefecture Government.  We provide both business and funding support for startup companies.  Our target is to place 350 companies within 15 years' time span (2030).  GIT Park plans to offer many Job opportunities for all IUJ students not just only to E-Biz.  We also help them to set up their own company if they have good idea to test in Japan.
I think this will be a wonderful opportunity for IUJ Students.
What recommendations and advice to current and future IUJ students?
Global IT Park Minami Uonuma is the first IT Park in Japan where you find more foreign IT companies than Japanese companies.  It is very much similar to IUJ atmosphere.  It is also place to practice open innovation.  So, we encourage both IUJ students and alumni to come and work with us.  If you have good idea or a company we can help you to grow in Japan.  We also open to listen to your ideas and support the best way we could.