COVID-19: IUJ's story
As the world has entered unprecedented times, and we are all making life-style adjustments, IUJ too has been adapting to the new reality. Thinking alumni may be interested in what happened, I share our story "briefly" with you. We have Zero infections so far on campus as of August 24.
As soon as the threat of COVID19 was understood, IUJ management opened a Risk Management Committee which convenes weekly to share information, make contingency plans, set assignments for addressing the threat and keeping students and faculty safe. We established information and communication channels with the Health Officials for guidance on how best to handle any possible infection on campus. We kept students update on how to protect themselves and their peers, and quickly implemented various new measures to keep the virus at bay.
The end of winter term saw classrooms for final classes and exams with a new layout to ensure social distancing. The staff took the temperature of all students and faculty entering a classroom, and each person wore a mask, disinfected their hands, and wiped down the desk before and after the class or exam (practices that of course continue today).
Spring Term Adaptations
As spring term started, many courses were switched to online lectures if the faculty member was not resident in the immediate area. Several courses, including language classes, still met in face-to-face format with the above precautions taken at the beginning of each class, and careful seating plans arranged to ensure social distancing. The gym was set up as a large classroom with desks set far apart, and 3 screens positioned strategically about the gym. This meant students could not use the gym for recreation, however that was also a measure of prevention. Frequent ventilation of the classrooms and offices became standard practice.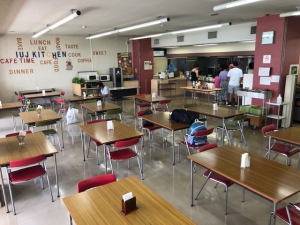 Guests to IUJ were asked to refrain from entering campus, or do so only by prior appointment requiring a staff guide. The IUJ shop and cafeteria were closed to guests, and social distancing seating plans were implemented for those on campus.
Supply Rationing
As it became clear the situation was going to remain with us a long time, and masks/disinfectant became scarce, IUJ began to ration our emergency stock of masks providing 2 masks for 2 weeks to each student and faculty with instructions on how to effectively wash them. Three major donations of masks helped to stretch the IUJ supply.
Special thanks to Yang Yaoyu (MBA96) and other alumni from China, to Nguyen Tung Lam (IR08) who coordinated a group of alumni in Vietnam, plus Mai Thuy Linh (IR2019) also from Vietnam, and to Ms. Iris Ohyama and YAMADA Kogyo Co., for donating masks to campus. Thank you to GSO-EC for making individual hand sanitizer bottles available to each student and faculty member, and to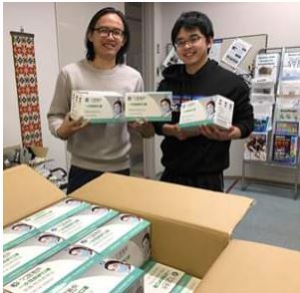 Weerada Sucharitkul (IR03) who donated access to everyone on campus to one video from her Movies on Demand company, Filmdoo giving the IUJ community a little break from the stress of the new reality.
The Risk Management Committee kept a close eye on the situation providing weekly updates on travel restrictions, preventative measures such as avoiding the 3Cs, and much more. Clear plastic screens went up at the library check out counter, the OSS/OAA counter and school shop. Hand sanitizing, mask wearing checks and temperature taking stations are at the entrance of each classroom, and gym (which is again open for activities this summer). Additional study room space was created for groups to be able to still work together but in larger areas. The library team created a COVID19 resources and information site for research and fact checking. https://www.iuj.ac.jp/mlic/information/info_covid-19.pdf
The IUJ bus services continue, though all passengers are required to wear masks, and the buses are ventilated as often as possible. To keep the weekend crowded shopping buses to AEON (and now Koide's Gyomu Supaa) safe, our new drivers offered two 32-passenger buses, with 16 passengers each to help with social distancing!
Graduation
Graduation was held in late June with cap and gown, and at the beautiful hall in Koide, however family, friends, 1st year students and guests were not allowed to attend. We live streamed the ceremony and many from the area, including family members viewing from campus, and family overseas, tuning in to virtually share the moment. Friends from UMEX watched the ceremony online and waited outside of the theater, for the graduates to come out where they could then congratulate them. After the graduates returned to campus, an impromptu hat toss took place outside in the IUJ courtyard!
Returning Home
Graduating was exciting, but this gave way to frustration for many who were unable to return home because of the travel restrictions. Those that could leave went home. Others moved to Tokyo to await flights, and many stayed here in the dorms or community hoping to be selected by their embassy for flights home. As of this writing, about 30 remain in the area, plus their family members. Many have had flights cancelled on them more than once.
The students from the Myanmar government were able to leave quite early on, and found support from Class of 1989 Jun Miyagawa, Executive Vice President, International Affairs of ANA. "The Ambassador from Myanmar and his staff were very effective in negotiating with the government and airlines, and was there at the airport to reassure his countrymates and send them off. The Ambassador did a great job."  PHOTOS.
Summer time
Currently IEP, the summer English program, is taking place with about 20 Japanese students here on campus, and another 35 attending online and in their home countries. First year students were told to stay here, with overseas internships and field research plans cancelled. With time on their hands, students are now enjoying various no-grade, no-test classes offered by faculty who are also remaining in the area, several field trips to local attractions, and a special Psychology Academy offered by the IUJ Counselor. Student leaders are arranging hikes and white water rafting day trips. Many are getting early and intense guidance on their thesis, and rumor has it some are learning how to cook!
Heading to Fall Term
Campus is now preparing to welcome 168 incoming students. The New Students Welcome day will be held as planned in the gym with new students who are on campus, but with no guests, and no reception to avoid any possible infection. Live streaming will be available on the IUJ YouTube channel so you can watch them (2 pm Japan Time on Oct 2).  While we are hopeful many will be able to arrive before Oct. 5 classes begin (including a required 2 week quarantine outside of Niigata), we are well aware not all will be able to make the journey. As many in-classroom classes as possible will be offered, though some 2nd year courses will be taught online if the faculty member is unable to travel safely to campus (nearly all 2nd year students are still on campus). Incoming students who arrive here will have in-class sessions, and those still overseas will participate via online ZOOM courses or in hybrid lectures where both in-class and online students participate simultaneously.
Though the IUJ story is surely not atypical, each step brings new questions many without answers, new challenges, and new ideas. Overall, campus continues to function smoothly and safely. Together, we hope to keep it that way and prepare to celebrate the day that all returning and incoming students and faculty can again be together "Where the World Gathers."
Graduation with a Twist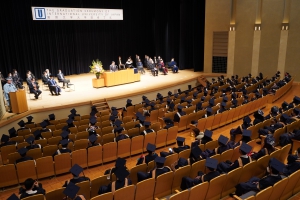 With the world-wide pandemic cancelling so many events and celebrations, including graduations around the world, IUJ President Itami still wanted to give the Class of 2020 their moment. Niigata has very few cases, and the city where IUJ is located, Minami Uonuma city, has no reported cases to date. Campus was motivated to make a ceremony happen.
After negotiations and special arrangements with the Koide Culture Center and bus services on how to carefully hold a safe graduation ceremony, plans were enacted. Gowns were handed out efficiently to avoid crowding. We distributed them two days before graduation to ensure ample time for as many cap and gown photo ops with family and friends  as possible.
On the day, unfortunately, family members and guests could not come to the ceremony venue. To help them still participate virtually, campus set up group viewing (with social distancing) classrooms, and live streamed world wide.
Faculty were on stage in masks, and graduates seated in every other seat and with masks.  With no invited speaker at the event, Pres. Itami shared his thoughts about post-COVID world and IUJ graduates' role to play in it.  Prof. Watanabe, being awarded Professor Emeritus, also addressed the graduates encouraging them to follow their exciting career paths. Each graduate then crossed the stage to receive their diploma and secure that ever-so-special photo of the moment thanks to IUJ staff members. Valedictorians, both from Bangladesh, Mr. Kazi Mahmudur Reza (GSIR) and Ms. Mehnaz Rahman (MBA), offered their heartfelt thanks to classmates, faculty and staff for two special years, and an amazing spring term effort for everyone to stay healthy and make it to the ceremony together.  After the ceremony, the graduates were guided directly outside in the fresh Niigata morning air for some small group photos.
Back on campus, the ceremony banners and special photo spots were prepared for photos still in cap and gown, and with their diplomas. The class tree unveiling ceremony was a bit extra special this year with graduates expressing much hope for the future and professional growth along with their tree.
We are proud of our graduates for their resilience during the last weeks of their IUJ experience, and for persevering academically in a time of additional stress caused by the uncertainties of the virus.
Congratulations to the Class of 2020!
Honoring Professor Watanabe: a great teacher, colleague, and mentor
Dr. Hiroyuki Itami, the President of the International University of Japan (IUJ), awarded Professor Emeritus Status to Professor Shinichi Watanabe at the Graduation Ceremony held on 25th June 2020.
Professor Watanabe, "Shinchan" to many of his close friends, was a very committed teacher with great human qualities and has tremendously contributed to IUJ as a teacher, researcher, and administrator for more than three decades from 1987 until his retirement in 2013. He was a founding faculty member of the International Development Program (IDP) then moved to the newly established International Peace Studies Program (IPSP), his brainchild, serving as the inaugural program director. Professor Watanabe also served as an IUJ vice president. In 2003, Professor Watanabe edited a book authored by late IUJ Professor Ichiro Inukai titled "Japan's First Strategy for Economic Development with the selected translation of Kogyo Iken. The Kogyo Iken, the first strategy for economic development designed and implemented in Japan at the end of the 19th century, is treated as seminal work in the field.
Many of us learned macroeconomics from his passionate, student-centered teaching. I vividly remember how intimately he worked with his supervisees helping them; to identify research questions (Function R); to acquire the knowledge and skills (Function K and S); and to provide an academic environment (Function E) in which students can learn from each other. During his long academic life, he clearly understood uniquely diversified students from all over the world with precious oriental wisdom, complex cultural and family backgrounds. Professor Watanabe's teaching philosophy is very much influenced by the Japanese education principles and writings of John Dewey (1859–1952), one of the most influential individuals in American education, the famed philosopher, and psychologist.
Professor Watanabe remains closely affiliated with IUJ as a Specially Appointed Professor.
N.S. Cooray, IUJ Class of 1992, Faculty, GSIR
Encouraging Japanese youth to be more ambitious for overseas assignments – Join me.
by Kazu AKITOMO, IR 88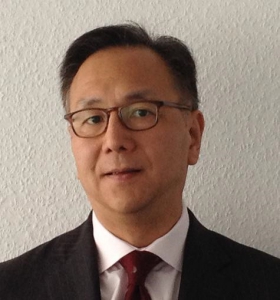 For years, I have heard stories from renowned Japanese companies that their younger employees, especially male employees, either reluctantly accepted or even flatly declined to sign up for work overseas. I decided that I wanted to confirm for myself what the motives and ambitions of today`s Japanese youngsters who wish to enroll in IUJ are, and see if I could encourage them to expand their horizons.
Having been at the forefront of international management for most of my career, I am hoping to have a positive impact on young people who wish to apply to IUJ by sharing my professional background. I, therefore, signed up to attend an IUJ Info Session. But there were not as many potential applicants at this session as I had expected.
This is where IUJ alumni can come in. Together, we can help push forward IUJ's founding principles and guide young Japanese nationals, and others, to discover the exciting careers that await in international business. We can encourage them to prepare first at IUJ. We can inform them about IUJ, help them with Info Session sign ups, and then be sure they apply!  IUJ is now even offering us a VOUCHER which guarantees those we introduce a scholarship worth a 50-70% tuition waiver. (Note from editor: please see related article).
My career story may sound like other IUJ graduates. It can become the story for those we can introduce too.
With the goal of becoming a professional with advanced expertise that can play an active role in the international community, which is, after all, the philosophy of IUJ's founding, I have been involved in overseas business for over 30 years. After completing my MA degree at IUJ in 1988, I returned to my company, which had so generously allowed me to study at IUJ. I have been engaged in mostly overseas business at one of the major Japanese steel manufacturing companies. In addition, I had lived in the United States and Europe for a total of 17 years, working on developing markets in North America and managing European regional headquarters as well as subsidiaries. Even after mandatory retirement at the age of 60, I am still frequently traveling around the world* under an annual contract performing a chief auditor role for overseas subsidiaries in the same company's Internal Auditing Office. This career has been challenging and very rewarding. Japan needs more of us who are tooled and prepared for international business to help not only our company, but our country which needs better access to overseas markets. Help replace yourself at your company by encouraging the next generation to apply.
I would like to continue telling (almost yelling at) Japanese young people whenever I have the opportunity: "Japanese young men and women, be ambitious.  I promise the door will open wider for you through overseas experiences than staying in Japan."
Please join me. Let's identify high potential applicants, and support their discovery of, and education at IUJ.
Kazu AKITOMO, IR 88
(*Note from editor: This article was written before the proliferation of COVID-19 and he has been performing his duties by telecommunication instead of traveling around the world in recent months).
Alumni Host Interns
Over the years, IUJ Alumni have kindly opened their doors to current students for internships and employment opportunities as well: From UN offices in Bangkok to Nespresso Japan. From Tozai Asset Management to NTT Communications, and more. This year, despite the COVID challenges, is no different. One student is interning alongside IRP Class of 2001 Enkhee, Enkhbayar Shagdar, again at ERINA, a research institute in Niigata city.
A second IUJer, Hideki Jitsuyama, Class of 1989, is also hosting interns at his company, For Delight KK, 株式会社FD.  The internship sprang out of a new business idea competition held in winter and spring terms. Students with new ideas for bringing solar lighting to rural Africa were challenge to make a pitch to Jitsuyama-san and others at FD. Some good ideas were offered, and in the end Michael Bationo from Burkina Faso was offered an internship. Michael is currently working alongside other JICA-ABE (African Business Education) scholarship recipients at For Delight (read For The Light that brings Delight) to help develop and implement projects that are sustainable and contribute to the well being of those in rural Africa by bringing them solar powered light! Recently, another IUJer, Etsub from Egypt, joined the team for a 2-week project.

More Opportunities Needed

IUJ hopes others in the Alumni Family can also host interns in Japan or anywhere in the world. Your involvement is essential to foster a solid career placement program for current and future students. To learn more, contact Gretchen for introductions to the new Career Support staff.
Meet Neelakanth Phadke: MBA to Law to Sanskrit Instructor
Neelakanth Purushottam Phadke completed his MBA from IUJ in 1992, at the age of 37, with a lot of determination while his family stayed in India. Mr. Phadke has got a zest for learning new things. At the age 61, he wrote a common admission test for admission to Law degree course and secured admission at one of India's top law schools- ILS Law College, Pune. He got a law degree in 2019.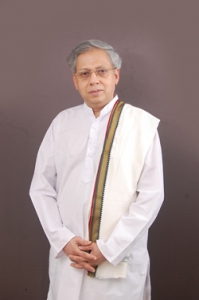 In 1980, he was selected as an officer in the General Insurance Corporation of India, through an All India Competitive examination. He worked for 3 years – from 1987 to 1990 – in the New India Assurance Co. Ltd.'s Tokyo Branch. He learned Japanese language during his stay in Japan. Later he was an advisor to a Japanese non-life insurance company – Sumitomo Marine & Fire Insurance Co. Ltd. from 1996 to 2003. He promoted a company Nipun Insurance Brokers Pvt. Ltd. in 2003 and another company – Nipun Investments Managers Pvt. Ltd. in 2006. He continues to be the chairman of both the companies.
He visited Brazil to teach Sanskrit for a month in July 2019 and he was amazed to find that hundreds of youngsters were studying Sanskrit there. It inspired him to start online Sanskrit teaching Pathashala in January 2020.
Mr. Phadke started his Sanskrit studies under his father at the age of 5 and completed his masters in Sanskrit (being topper in Sanskrit papers) from Pune University in 1976. Although he loved Sanskrit tremendously, he had to shift away from Sanskrit, as jobs vanished in Sanskrit field due to government policies. He translated an encyclopedic work with more than 8000 verses on diverse fields in Sanskrit – Manasollas – in Marathi. He wrote another book on Sanskrit Grammar in Marathi in 2016.
His new venture – Pundit Purushottamshastri Phadke Sanskrit Pathashala – offers various courses in English to teach Sanskrit Language, its wonderful literature and Indian Philosophy – Vedanta. Please visit – www.sanskritvedanta.org
The next batches are going to start from first weekend of January 2021. Would you like to join?
VOUCHERS – Give the Gift of Financial Support to the Next Generation IUJer
IUJ proudly announces we nearly reached are incoming student recruitment goal for 2020. However, as the world has experience an unprecedented situation, the future is uncertain. It is also the best time for young talented to retool themselves for the post COVID era.
With these two thoughts in mind, IUJ is preparing a new emphasis on bringing people back together and train them with stronger cross border cooperation skills and digital savvy: both skills vital for the times ahead. We ask for your help to bring this new talent to campus.
To make it easy for IUJers to introduce your Alma mater to those in your network, we have created a VOUCHER system. Alumni can give a VOUCHER to those in your immediate family and your extended network to send in with their IUJ MA or MBA degree application materials. If they are accepted into IUJ they are guaranteed a partial tuition waiver scholarship (70% waiver for family and 50% waiver for others you introduce). They remain eligible for consideration of other scholarships including ADB-JSP, KMMF (Panasonic), AEON 1%, and others where IUJ can make nominations.
The VOUCHER program started quietly in December 2019, and so far a few alumni have put it to use. More plan to do so for 2021 fall entering students. Please join them.
Or access them here
Turning to Alumni for Support
The COVID crisis is severely straining IUJ's budget. We have experienced a loss of  income from cancellations of Non Degree Programs and Special summer program. The future of those activities remains in question. Unforeseen costs were incurred due to immediate adaptation needs to keep campus going spring term, and adapt fall term in support of students that cannot yet reach Japan. Funds from corporate giving are in jeopardy with the financial downturn experienced by our corporate partners. We find IUJ in urgent need to reach out to alumni in a major fundraising drive. We call upon our alumni to give back to campus.
IUJ will celebrate our 40 Anniversary in 2022. With an eye to recover financially by then, the IUJ Board of Councilors has launched a concerted fundraising drive. In order to reach the much-needed financial goals, we need to turn to you: Those who have been able to launch into exciting careers in part because of your experiences, skills and network gained at IUJ. Most of you received financial support to attend IUJ, and we hope you are now able give back.
Please give back to IUJ.
Your donations will go directly into maintaining the quality of education the current generation needs and deserves, while also helping develop new programs and courses both for degrees and for non-degree executive training needed for a post COVID world. Many academic institutions will go online. And while that is an option, IUJ believes this is not where quality education and communication skills can be fostered for a global and deeply interconnected world. We strive to maintain a place Where the World Gathers – in person. And we want to build beyond that to Where the World Cooperates. IUJ is and will systematically improve as a perfect training ground where international cooperation, is practiced and then utilized across professional fields and country borders in our graduates' professional lives.
IUJ's important role for Post-COVID is to provide skills to the next-generation who can lead effectively in a world increasingly dependent on digital communication techniques coupled with cooperation as a soft skill.
We know you can agree
We know alumni value the human interaction and network they took away from IUJ. The value you all put on the cross-cultural cooperation and communication skills that you nurtured here echoes! Help us to improve upon this unique environment for today's graduate students and reach IUJ's potential.
Give to IUJ.
There are two schemes.
ふるさと納税制度で国際大学へ寄付できます (English below)
ふるさと納税制度で南魚沼市へ寄付すると、その90%が国際大学へ助成金として交付されます。ふるさと納税は寄付した金額の2,000円を超える部分については税額控除が受けられます。 https://www.iuj.ac.jp/jp/donation/furusato_donation/ お礼に、南魚沼産コシヒカリ5Kgお送りします。
The Furusato Nozei ふるさと納税 scheme
Those in Japan can donate to Minami Uonuma city and designate IUJ as your benefactor. 90% of what you donate comes to IUJ. This is a tax deductible donation, so your gift does not cost you, except a 2,000yen fee. BUT you will get a gift of 2K Koshihikari Rice! Please see the details at https://www.iuj.ac.jp/donation/  IUJ staff is standing by to support you.
ThANKS Fund Donations*.
Those overseas can use FlyWire to easily send money to campus with no bank fees associated, so what you donate IUJ receives. PayPal, Credit/debit cards, etc. can be used. Those in Japan can use credit cards, bank wire transfers, etc. to donate to the ThANKS Fund as well. Please access the Pledge Form, and learn more about Flywire and other ways to donate, at https://www.iuj.ac.jp/alumni-f/pdf/ThANKSDonationsPledgeForm.pdf
*The ThANKS Fund creates a scholarship to support 2nd year students who are active in creating a rich campus life. The fund is currently dry. Your donation goes directly to the students, usually two, and usually one from GSIR and one from GSIM so they can continue contributing to campus without financial pressures. See details at https://www.iuj.ac.jp/alumni/donations/
UPDATE:
On August 22, IUJ sent out an email with an urgent appeal for alumni to support incoming students who cannot afford the costs associated with arrival in Japan: two costly PCR tests and a 2-week quarantine before they enter Niigata. The cost will be more than 100,000yen per incoming students.  About 56 incoming students do not have a sponsor to help cover this, and IUJ is creating an emergency scholarship for those in need. We need your help to finance this urgent scholarship. Please sponsor 1 student, or give what you can, to help IUJ bring your kohai to campus.
ZOOOOOOOOM Reunions
COVID may create quarantine and isolation, but IUJers found away to turn that into an advantage.  Starting from an inspired Class of 1989, with Hanafi, Venkat and Iggy taking the helm, a plan emerged for an online ZOOM Reunion. A date was set and the amazing Iggy created the format: each alum who could participate (and a few who could not) sent in a 1 page powerpoint with photos and
an update to be used during the zoom session. When their turn came up, controlled by the powerpoint slide order, the alum took the mic and gave a quick self update. Lots of smiles and comments, waves and old jokes were shared. Then, out came a ukulele by Ando-san and up came the words to Ue wo Muite Aruko, the Sukiyaki Song. For better or for worse, the 40 plus alumni sang along together giggling through most of it. Joined also by some from the classes of 1988 and 1990 (and a few others), the group
vowed to keep in better touch, with many of them now meeting up to enjoy Bouna's weekly radio show, Bonjour Africa, with fun music, while chatting along in a WhatsApp group.
With this great success, other classes took note and with the leadership of the Class Representatives, Zoom reunions were organized for many
classes and the screen shots shared on WeLoveIUJ Facebook page. The Class of 1996, 1997 and 2013 shared memories and fun. The Class of 2019 got together and shared happy tears. The Class of 2003 has a plan for end of August too.
Class Representatives, p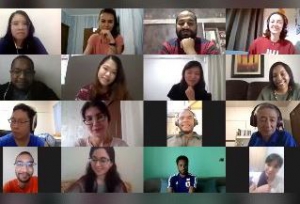 lease ask campus for support for YOUR Online Reunion. Plan for a 2 hour session, but with the experiences above it will last at least 3 fast hours. (Did we miss your class? Send us an update please!).
Old Books/Games become IUJ Donations
Kishapon!  きしゃぽん
Do you have books, games, CDs, DVDs etc. that are just taking up your space here in Japan? If you send them to Kishapon, they will make a donation to IUJ! You get space, and IUJ gets a bit of cash.
Kishapon was introduce to IUJ by the chair of the Alumni Association, Tadashi Inagaki (MBA95). After many months of negations, registration and preparation, IUJ finally got on the list of donation recipients.
Here is a PDF flier and application form, with donation instructions – in Japanese.
And here is the website to learn more and get involved.
IUJ Ambassadors Host Info Sessions
When asked how they learned about IUJ and decided to apply, many incoming students say they were influence by alumni. Alumni are indeed our greatest tool for introducing the unique experience found Where the World Gathers and Where the World Cooperates!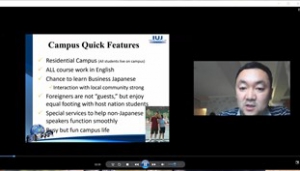 Building on this, IUJ has reactivated our Alumni Hosted Info Sessions. Plans for tea parties that began in December switched to the ZOOM platform, and surprisingly this escalated the participation world wide in these sessions! Not only for alumni hosted events, but campus staff – with ambassadors participating – also increased.
In mid August, alumni in 7 countries downloaded campus-provided slides and customized them a bit for their situation. Campus advertised the events calling on the power of the alumni network to get the word out to the next generation. Within 2 weeks we had nearly 120 prospective students register to participate.
Thank yo to our ambassadors in India (Alok), Indonesia (Erata and Katherine), Philippines (Louie and Enzo), Vietnam (Binh), Mongolia (Ochgerel), Ghana (Adolf) and Myanmar (Flora) for their time, and for inspiring people to consider IUJ for their graduate studies.
The next round of Info Sessions will target Bangladesh, Thailand, USA, UK, Europe, Singapore, China and maybe more. Please contribute! If you graduated after 2015, please host. Others, please help spread the word. And remember the VOUCHER system to help you give the gift of Education!
IUJ Alumni Newsletter Deadlines:
The first Friday of June and December are the deadlines for articles, photos, personal updates, questions, Business Connection (business introductions, partner search), world event OpEds and your stories of involvement, etc. Please send your information to alumni@iuj.ac.jp
IUJ Alumni News – Newsletter Archives
The bi-annual publication for IUJ Alumni are presented here in reverse chronological order:
January 2020 – click here for PDF
      (please note. Originally formatted as an E-newsletter)
In this Edition . . . 
IUJ's MBA ranked #1 in Japan and #94 GLOBAL by the Economist WhichMBA? ranking!
New MEXT scholarships, and other full-ride scholars are available. Help us find the candidates. New SCHOLARSHIP Vouchers so you can give the gift of learning!
Congratulations to IUJ Chairman Utsuda on being honored
Meet Daniel!  Alumni Spotlight
New procedure for obtaining documents from IUJ
New and more secure ways to donate to the ThANKS Fund – 4 options, and one avoids any transaction fees from overseas!
Furusato Nozei – 90% of your donations to Minami Uonuma city come to IUJ!
Networking and Info Sharing about alumni via LinkedIn – please get involved
As seen on Social Media – Professional highlights and achievements by some special alums
Urasa Station improvements – preparations for the Olympics that benefit students
July 2019 – click HERE for  

PDF

  and for HTML (please note. Originally formatted as an E-newsletter)
In this Edition . . . 
Experience a unique graduation and meet a few or your Kohai – Among them Pappy from The Congo
IUJ welcomes back AASCB Influential Leader awardee Kiyo Ogushi ('92) as our graduation speaker
Business Connections: The activities of Katsumi-san, Japan
Alumni Spotlight: Dengue fever and other viral diseases – Alum on the way to discovering a cure! Hemayet Ullah
Career Story – Josh Huck's US Foreign Services career
Alum speaks out on Climate Change
IUJ to host a side event at TICAD7 and you are invited
CEO Corner – some of our newest C-class Alumni
BGS – Beta Gamma Sigma and IUJ
As Seen on Social Media – some quick highlights of alumni awards and activities
IUJ World Wide Friday alerts
Thank you to Mr. Konbanwa!
January 2019 – click HERE for  PDF  (please note. Originally formatted as an E-newsletter)
Bonenkai gathering report
Announcement: James B. Quinn Scholars Award
Alumni as JICA Volunteers in Namibia and Vanuatu
Business Connections – two consulting firms bridging culture gaps
3 Stories of Collaborating Alumni: Middle East/Niigata,
Japan/Myanmar/Cambodia,    Indonesia/Japan
Cambodia Reception – A Touching Opening Speech
2 New Books by Class of 1986 grads
UN Assembly – Alumni Speaking for Her Country
Spotlight: Alum in Amman Adding Value
NEW COLUMN: "As Seen on SNS" – featuring 7 awards and achievements shared on SNS
Why We Donate to IUJ – a personal story
Introducing FLYWIRE to help those outside of Japan donate smoothly
 Gourmet Marathon – Join us in June?
 "THANK YOU" to our alumni volunteers
July 2018 PDF  or HTML  (please note. Originally formatted as an E-newsletter)
Meet the newly elected Alumni Association Executive Council
Celebrate IUJ's AASCB accreditation
Discover how some IUJers are collaborating
Hear words of thanks from your ThANKS Fund awardees 2017-18
Congratulate three alumni who are/will be at the top of their companies
Learn about an education initiative for girls in Nigeria by an IUJer
Find out about the Experts program relaunch and how it will help "Leverage IUJ's Alumni Network"
Plan to join an IUJ World Wide Friday event, near you – Link to Tokyo event for RSVP too
Learn who because IUJ Professor Emeritus recently
January 2018 or HTML
Introducing IUJ's newest degree program, March 14 Alumni Executive Council elections info, Current campus activities: Competition winners, HOUSE and MENTOR programs launched.  Business Connections "Tokyo by Food," Alumni Advisory Boards (pilot project) launched. AND report on "Singapore Survey" – Alumni in Singapore's findings about feelings toward the ThANKS Fund for scholarships, and IUJ's response. This edition was emailed Feb. 2, 2018. Please check your email and update campus if you did not receive it.  Thank you!
Have you collaborated or cooperated with a fellow IUJer?  Please share your stories with campus, and for the next edition (early June deadline).
July 2017,

   or HTML  35th Anniversary special
IUJ Homecoming report, introduction of incoming IUJ president. Update on IUJ Counseling and consultation services. Look at the new setting for graduation, and more. This version was emailed July 25, 2017. If you did not receive your copy, please check your spam folder, or update campus with your new email.
January 2017  PDF 

Information on the May 12-14 2017 Homecoming for alumni with IUJ's 35th anniversary, and commemorative LOGO design competition info. Alumni Showcases for 3 categories. Business connection request in energy sector. Alumni Association update on Bonenkai. Halal@IUJ. And a fun nostalgic photo of cooking in the IUJ kitchens! plus plus!
August 2016  PDF

Articles by IUJ Alumni who are volunteers to support the newsletters for our association. ?Learn about and from 13 IUJers spanning careers in memories of Open Day, sustainable food production, gamification, love of sake, crisis management and much more! Special thanks to the alumni for their contributions!
January 2016

–
IUJ's new office in Hanoi, Halal offerings in the IUJ community, update on IUJ's growing Non-Degree Programming, and much more
July 2015: HTMLorPDF
Meet the new IUJ Chairman of the Board, and other top leaders, find out how Graduation 2015 went with both June and August graduates participating – and learn what Father/Son and Mother/Son alumni combinations we now have, Career Services benefited dramatically from Alumni support this year – find out how. ?And much much more. ?This newsletter was emailed on July 22, 2pm. If you did not receive it please contact the Alumni Relations Office with an email update. Thank you
January 2015

– IUJ as "Top University", PhD programs launched at IUJ, Alumni EC Elections, IUJ New Language Center info, Rankings, AACSB is work in progress, PEACE and ABE Initiative program updates, 1-year program updates, IUJ and Meiji University, IUJ's Entrepreneurs, A ClassNotes Quiz, Cool campus photo and Facebook access info.
July 2014

– IMBA 1st batch to graduate, New 1-year Masters in Public Policy, Experiences in Bagdad and with the IAEI, Business Connections to Vietnam, Banker of the Year in Botswana, Motorcycle trip through Japan, and more. IUJ Friday is September 5!
January 2014

– Typhoon Yolanda/Haiyan and our alumni, 3 Business Connection features, IUJ Bonenkai update, Alumni highlights: Book awards, conference meetings, and more!
July 2013

– The IUJ-Meiji Partnership explored, ThANKS Fund Updates, IUJ Campus News Highlights, June graduation with Unique Features, and IUJ World Wide Friday information, and more!
January 2013

– Introducing IUJ's 10th President, Showcasing Alumni in Governments and IOs, Latest MBA Ranking (#2 Asian Rising Star!), IUJ Friday and Bonenkai photos, and much much more.
July 2012

– 30th Anniversary celebrations continued.
July-2011/January2012

– Combined edition: 30th Anniversary celebrations!
January 2011

– Affirming our Mission, New activities in "Linking Japan to the World," Alumni Census and seeking info on Missing Alumni, IUJ Museum started, Chapter revitalization and expansion, Economist essay competition winners, introduction to 7 IUJ degree programs, World Issue Links – Sudan and Timor-Leste, Business Links – Ebiz grad's new company, Global Strategy Conference by IUJ, MBA Rankings, Research and Alumni involvement, Orix CEO Miyauchi-san's lecture at IUJ, Support for student recruitment – spread the word. And a ThANKS Fund special request – Pres. Mori will match your donation!
July 2010

– Mentor Programs updates – 3 programs now! Welfield-sensei and Sakai-san retire, but still here while Buszynski-sensei moves on. Annual Reception report. Learn how to DOUBLE your donations. Meet the students we are supporting through the ThANKS Fund scholarship program. Find out what your classmates are doing in the ClassNotes section. Green ITers unite! World Issues and an IUJers involvement. Special Thanks to those supporting student recruitment efforts. June Graduation speeches. Admissions info for 2011- tell a friend, colleague or your kids!
January 2010

– Meet IUJ's new president, Mr. Masakatsu Mori. Discover who is the first Ambassador from among our alumni. Say goodbye to class of 2009 graduate Ms. Toni Kindipan, Learn about developments for Komatsu in India and poverty reduction efforts in Laos led my alumni, find out about the newest Chapters to join our growing list, and help say THANK YOU to all many who helped promote IUJ in the past few months. And of course, catch up with each other in the ClassNotes section.
July 2009

– Meet the 2nd ThANKs Fund Scholarship recipients, learn about the new Women's Mentor Program, find out what Cambodia and Nepal chapters are up to, learn who is supporting a hospital in Tanzania and the homeless in Japan, AND plan to come to the next IUJ World Wide Friday (Sept. 25) which we hope can be a world-wide IUJ Charity event for Room to Read! Of course, your class mates are noted in the ClassNotes section
January 2009

– Introductions to our first ThANKS Fund scholarship recipients. Important updates from the IUJ President and IM Dean. Upcoming Alumni meeting and elections plan. Spotlight on alumni who have impacted Vietnam. Special India-Japan Business relations. Two new clubs at IUJ – Consulting Club and Global concerns. And much more…
See Naresh Makijani 's publications: white paper on Strategy using Balanced

July 2008

(Alumni involved in Cyclone and Earthquake relief efforts, alumni on UNSC, student winners of contests and conference attendees, Alumni Annual reception report and photos, ClassNotes, NHK upcoming drama and IUJ's connection to Kanatsugu NAOE, IUJ Friday, Volunteers needed, Class Rep and Chapter Chair leadership changes, and more.)
January 2008

(Mobile lab guest speaker series, Vietnam investment opportunities, LinkedIN IUJ groups, Class Notes, WorldWideFriday photos, and more).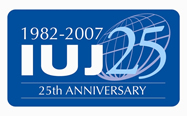 July 2007 SPECIAL 25th Anniversary Edition

(with many photos, IUJ and world history, Memories, Tribute to Tamaru-sensei who is retiring and a fundraising drive with that, ClassNotes, Chapter Updates, WorldWide Friday planning, etc.!)
January 2007

(with Photos, and color!)
Information on the 25th Anniversary Celebration plans, IUJ presidential change, CHAPTER leaders – Chairs and Vice Chairs in 38 countries and counting, 2 new relationships for IUJ – GLOBIS and UNU, new job support for alumni in the job hunt, THANKS Fund update and promotion, ClassNotes and much more.
July 2006

(with Photos, and COLOR!)
Alumni Association Executive Council introductions, IUJGReEN and IUJ REP explanation, Donation updates, Online Event intro, Chapters Formalizing, InfoSession volunteering, 3 Alumni Spotlights, and 1986/1996 20th and 10th anniversaries, ClassNotes, Campus Updates, Graduation 2006, and THANKS to those donating to theTHANKS Fund – with a request for more participation.
January 2006

(with photos, and COLOR!)
IUJ's new research platform program description, a new degree program of International Peace Studies, donation update and new fundraising campaign launch, IUJ Friday update, India donations to children Tsunami victims, Aid work in Sri Lanka to bring water to Tsunami hit areas, Myanmar National Baseball team is launched by 2 alumni, Tribute to Mr. Sohei Nakayama, 3 more spotlights and more!!!!
July 2005

(without photos)
IUJ students become finalists in the Singapore business plan competition, IUJ donates to Tsunami hit regions, Alumni connectivity update and goals, New IUJ program and curricula quick briefing, 4 Business connections, 3 spotlights, and introduction to the 82 hosts in 55 cities planning IUJ World-wide Friday on September 2. And of course Class Notes!
January 2005

(without photos)
Earthquake and the affects on campus, New Dean of the Business school introduced, 3 exciting careers of our alumni, reports and messages to Angelito Nayan who had been held captive in Afghanistan, and much more in this long 16 page newsletter.
July 2004

(without photos)
January 2003

– with many color photos!
July 2003 (with color photos)
January 2003

(with color photos)
An Interview with the new president, info on the February 7 Annual Meeting (RSVP file here)

, read the news Business Connections page for alumni to introduce their business activities, read the thoughts on the IT world by the first alumni to address a graduating class (E-business graduations), and experience along with an alumni events in the Middle East, and much more! Including photos of world wide gatherings of the Alumni Network.
If you do NOT receive your hard copy in the mail by mid January, we do not have your accurate mailing address. Please see your Online Profile and update your records. Thanks.
July 2002


Find out about the 20th Anniversary celebrations, the first Alumni Fund Raising campaign and much more!
January 2002


Here is a special edition to help IUJ kick off 20th Anniversary celebrations. It features color photos, IUJ fun history timelines, a "Where are they now" look at IUJ professors now and then, a look at the makeup of the IUJ alumni network by class, country and more. See the special slide show of the digital photos from this version. Also, see these special PDF files of the color pages Front pages

and Middle section.

!
July 2001

View the entire invitation and conference information for Sakai-san's event: Energy Conference

View a slide show

of digital photos from this newsletter.
January 2001


2000 July


2000 January


1999 July


1999 January

Current Info
Learn any new information from campus, announcements and events on Facebook, Twitter or our News Page.
Submit Articles and Info
Have news for us? Please submit your ClassNotes, feature articles, questions you would like answered in the next issue to alumni@iuj.ac.jp.
Deadlines for submission are the first week of June and first week of December each year. IUJ Alumni News is printed distributed in January and July each year.
A new newsletter for non-Japanese nationals who have studied in Japan is now available from JASSO. Please subscribe! Click on the Logo left.