IUJ Alumni Newsletter Deadlines:
The first Friday of June and December are the deadlines for articles, photos, personal updates, questions, Business Connection (business introductions, partner search), world event OpEds and your stories of involvement, etc. Please send your information to alumni@iuj.ac.jp
IUJ Alumni News – Newsletter Archives
The bi-annual publication for IUJ Alumni are presented here in reverse chronological order:
January 2020 – click here for PDF
      (please note. Originally formatted as an E-newsletter)
In this Edition . . . 
IUJ's MBA ranked #1 in Japan and #94 GLOBAL by the Economist WhichMBA? ranking!
New MEXT scholarships, and other full-ride scholars are available. Help us find the candidates. New SCHOLARSHIP Vouchers so you can give the gift of learning!
Congratulations to IUJ Chairman Utsuda on being honored
Meet Daniel!  Alumni Spotlight
New procedure for obtaining documents from IUJ
New and more secure ways to donate to the ThANKS Fund – 4 options, and one avoids any transaction fees from overseas!
Furusato Nozei – 90% of your donations to Minami Uonuma city come to IUJ!
Networking and Info Sharing about alumni via LinkedIn – please get involved
As seen on Social Media – Professional highlights and achievements by some special alums
Urasa Station improvements – preparations for the Olympics that benefit students
July 2019 – click HERE for  

PDF

  and for HTML (please note. Originally formatted as an E-newsletter)
In this Edition . . . 
Experience a unique graduation and meet a few or your Kohai – Among them Pappy from The Congo
IUJ welcomes back AASCB Influential Leader awardee Kiyo Ogushi ('92) as our graduation speaker
Business Connections: The activities of Katsumi-san, Japan
Alumni Spotlight: Dengue fever and other viral diseases – Alum on the way to discovering a cure! Hemayet Ullah
Career Story – Josh Huck's US Foreign Services career
Alum speaks out on Climate Change
IUJ to host a side event at TICAD7 and you are invited
CEO Corner – some of our newest C-class Alumni
BGS – Beta Gamma Sigma and IUJ
As Seen on Social Media – some quick highlights of alumni awards and activities
IUJ World Wide Friday alerts
Thank you to Mr. Konbanwa!
January 2019 – click HERE for  PDF  (please note. Originally formatted as an E-newsletter)
Bonenkai gathering report
Announcement: James B. Quinn Scholars Award
Alumni as JICA Volunteers in Namibia and Vanuatu
Business Connections – two consulting firms bridging culture gaps
3 Stories of Collaborating Alumni: Middle East/Niigata,
Japan/Myanmar/Cambodia,    Indonesia/Japan
Cambodia Reception – A Touching Opening Speech
2 New Books by Class of 1986 grads
UN Assembly – Alumni Speaking for Her Country
Spotlight: Alum in Amman Adding Value
NEW COLUMN: "As Seen on SNS" – featuring 7 awards and achievements shared on SNS
Why We Donate to IUJ – a personal story
Introducing FLYWIRE to help those outside of Japan donate smoothly
 Gourmet Marathon – Join us in June?
 "THANK YOU" to our alumni volunteers
July 2018 PDF  or HTML  (please note. Originally formatted as an E-newsletter)
Meet the newly elected Alumni Association Executive Council
Celebrate IUJ's AASCB accreditation
Discover how some IUJers are collaborating
Hear words of thanks from your ThANKS Fund awardees 2017-18
Congratulate three alumni who are/will be at the top of their companies
Learn about an education initiative for girls in Nigeria by an IUJer
Find out about the Experts program relaunch and how it will help "Leverage IUJ's Alumni Network"
Plan to join an IUJ World Wide Friday event, near you – Link to Tokyo event for RSVP too
Learn who because IUJ Professor Emeritus recently
January 2018 or HTML
Introducing IUJ's newest degree program, March 14 Alumni Executive Council elections info, Current campus activities: Competition winners, HOUSE and MENTOR programs launched.  Business Connections "Tokyo by Food," Alumni Advisory Boards (pilot project) launched. AND report on "Singapore Survey" – Alumni in Singapore's findings about feelings toward the ThANKS Fund for scholarships, and IUJ's response. This edition was emailed Feb. 2, 2018. Please check your email and update campus if you did not receive it.  Thank you!
Have you collaborated or cooperated with a fellow IUJer?  Please share your stories with campus, and for the next edition (early June deadline).
July 2017,

   or HTML  35th Anniversary special
IUJ Homecoming report, introduction of incoming IUJ president. Update on IUJ Counseling and consultation services. Look at the new setting for graduation, and more. This version was emailed July 25, 2017. If you did not receive your copy, please check your spam folder, or update campus with your new email.
January 2017  PDF 

Information on the May 12-14 2017 Homecoming for alumni with IUJ's 35th anniversary, and commemorative LOGO design competition info. Alumni Showcases for 3 categories. Business connection request in energy sector. Alumni Association update on Bonenkai. Halal@IUJ. And a fun nostalgic photo of cooking in the IUJ kitchens! plus plus!
August 2016  PDF

Articles by IUJ Alumni who are volunteers to support the newsletters for our association. ?Learn about and from 13 IUJers spanning careers in memories of Open Day, sustainable food production, gamification, love of sake, crisis management and much more! Special thanks to the alumni for their contributions!
January 2016

–
IUJ's new office in Hanoi, Halal offerings in the IUJ community, update on IUJ's growing Non-Degree Programming, and much more
July 2015: HTMLorPDF
Meet the new IUJ Chairman of the Board, and other top leaders, find out how Graduation 2015 went with both June and August graduates participating – and learn what Father/Son and Mother/Son alumni combinations we now have, Career Services benefited dramatically from Alumni support this year – find out how. ?And much much more. ?This newsletter was emailed on July 22, 2pm. If you did not receive it please contact the Alumni Relations Office with an email update. Thank you
January 2015

– IUJ as "Top University", PhD programs launched at IUJ, Alumni EC Elections, IUJ New Language Center info, Rankings, AACSB is work in progress, PEACE and ABE Initiative program updates, 1-year program updates, IUJ and Meiji University, IUJ's Entrepreneurs, A ClassNotes Quiz, Cool campus photo and Facebook access info.
July 2014

– IMBA 1st batch to graduate, New 1-year Masters in Public Policy, Experiences in Bagdad and with the IAEI, Business Connections to Vietnam, Banker of the Year in Botswana, Motorcycle trip through Japan, and more. IUJ Friday is September 5!
January 2014

– Typhoon Yolanda/Haiyan and our alumni, 3 Business Connection features, IUJ Bonenkai update, Alumni highlights: Book awards, conference meetings, and more!
July 2013

– The IUJ-Meiji Partnership explored, ThANKS Fund Updates, IUJ Campus News Highlights, June graduation with Unique Features, and IUJ World Wide Friday information, and more!
January 2013

– Introducing IUJ's 10th President, Showcasing Alumni in Governments and IOs, Latest MBA Ranking (#2 Asian Rising Star!), IUJ Friday and Bonenkai photos, and much much more.
July 2012

– 30th Anniversary celebrations continued.
July-2011/January2012

– Combined edition: 30th Anniversary celebrations!
January 2011

– Affirming our Mission, New activities in "Linking Japan to the World," Alumni Census and seeking info on Missing Alumni, IUJ Museum started, Chapter revitalization and expansion, Economist essay competition winners, introduction to 7 IUJ degree programs, World Issue Links – Sudan and Timor-Leste, Business Links – Ebiz grad's new company, Global Strategy Conference by IUJ, MBA Rankings, Research and Alumni involvement, Orix CEO Miyauchi-san's lecture at IUJ, Support for student recruitment – spread the word. And a ThANKS Fund special request – Pres. Mori will match your donation!
July 2010

– Mentor Programs updates – 3 programs now! Welfield-sensei and Sakai-san retire, but still here while Buszynski-sensei moves on. Annual Reception report. Learn how to DOUBLE your donations. Meet the students we are supporting through the ThANKS Fund scholarship program. Find out what your classmates are doing in the ClassNotes section. Green ITers unite! World Issues and an IUJers involvement. Special Thanks to those supporting student recruitment efforts. June Graduation speeches. Admissions info for 2011- tell a friend, colleague or your kids!
January 2010

– Meet IUJ's new president, Mr. Masakatsu Mori. Discover who is the first Ambassador from among our alumni. Say goodbye to class of 2009 graduate Ms. Toni Kindipan, Learn about developments for Komatsu in India and poverty reduction efforts in Laos led my alumni, find out about the newest Chapters to join our growing list, and help say THANK YOU to all many who helped promote IUJ in the past few months. And of course, catch up with each other in the ClassNotes section.
July 2009

– Meet the 2nd ThANKs Fund Scholarship recipients, learn about the new Women's Mentor Program, find out what Cambodia and Nepal chapters are up to, learn who is supporting a hospital in Tanzania and the homeless in Japan, AND plan to come to the next IUJ World Wide Friday (Sept. 25) which we hope can be a world-wide IUJ Charity event for Room to Read! Of course, your class mates are noted in the ClassNotes section
January 2009

– Introductions to our first ThANKS Fund scholarship recipients. Important updates from the IUJ President and IM Dean. Upcoming Alumni meeting and elections plan. Spotlight on alumni who have impacted Vietnam. Special India-Japan Business relations. Two new clubs at IUJ – Consulting Club and Global concerns. And much more…
See Naresh Makijani 's publications: white paper on Strategy using Balanced

July 2008

(Alumni involved in Cyclone and Earthquake relief efforts, alumni on UNSC, student winners of contests and conference attendees, Alumni Annual reception report and photos, ClassNotes, NHK upcoming drama and IUJ's connection to Kanatsugu NAOE, IUJ Friday, Volunteers needed, Class Rep and Chapter Chair leadership changes, and more.)
January 2008

(Mobile lab guest speaker series, Vietnam investment opportunities, LinkedIN IUJ groups, Class Notes, WorldWideFriday photos, and more).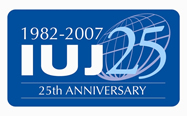 July 2007 SPECIAL 25th Anniversary Edition

(with many photos, IUJ and world history, Memories, Tribute to Tamaru-sensei who is retiring and a fundraising drive with that, ClassNotes, Chapter Updates, WorldWide Friday planning, etc.!)
January 2007

(with Photos, and color!)
Information on the 25th Anniversary Celebration plans, IUJ presidential change, CHAPTER leaders – Chairs and Vice Chairs in 38 countries and counting, 2 new relationships for IUJ – GLOBIS and UNU, new job support for alumni in the job hunt, THANKS Fund update and promotion, ClassNotes and much more.
July 2006

(with Photos, and COLOR!)
Alumni Association Executive Council introductions, IUJGReEN and IUJ REP explanation, Donation updates, Online Event intro, Chapters Formalizing, InfoSession volunteering, 3 Alumni Spotlights, and 1986/1996 20th and 10th anniversaries, ClassNotes, Campus Updates, Graduation 2006, and THANKS to those donating to theTHANKS Fund – with a request for more participation.
January 2006

(with photos, and COLOR!)
IUJ's new research platform program description, a new degree program of International Peace Studies, donation update and new fundraising campaign launch, IUJ Friday update, India donations to children Tsunami victims, Aid work in Sri Lanka to bring water to Tsunami hit areas, Myanmar National Baseball team is launched by 2 alumni, Tribute to Mr. Sohei Nakayama, 3 more spotlights and more!!!!
July 2005

(without photos)
IUJ students become finalists in the Singapore business plan competition, IUJ donates to Tsunami hit regions, Alumni connectivity update and goals, New IUJ program and curricula quick briefing, 4 Business connections, 3 spotlights, and introduction to the 82 hosts in 55 cities planning IUJ World-wide Friday on September 2. And of course Class Notes!
January 2005

(without photos)
Earthquake and the affects on campus, New Dean of the Business school introduced, 3 exciting careers of our alumni, reports and messages to Angelito Nayan who had been held captive in Afghanistan, and much more in this long 16 page newsletter.
July 2004

(without photos)
January 2003

– with many color photos!
July 2003 (with color photos)
January 2003

(with color photos)
An Interview with the new president, info on the February 7 Annual Meeting (RSVP file here)

, read the news Business Connections page for alumni to introduce their business activities, read the thoughts on the IT world by the first alumni to address a graduating class (E-business graduations), and experience along with an alumni events in the Middle East, and much more! Including photos of world wide gatherings of the Alumni Network.
If you do NOT receive your hard copy in the mail by mid January, we do not have your accurate mailing address. Please see your Online Profile and update your records. Thanks.
July 2002


Find out about the 20th Anniversary celebrations, the first Alumni Fund Raising campaign and much more!
January 2002


Here is a special edition to help IUJ kick off 20th Anniversary celebrations. It features color photos, IUJ fun history timelines, a "Where are they now" look at IUJ professors now and then, a look at the makeup of the IUJ alumni network by class, country and more. See the special slide show of the digital photos from this version. Also, see these special PDF files of the color pages Front pages

and Middle section.

!
July 2001

View the entire invitation and conference information for Sakai-san's event: Energy Conference

View a slide show

of digital photos from this newsletter.
January 2001


2000 July


2000 January


1999 July


1999 January

Current Info
Learn any new information from campus, announcements and events on Facebook, Twitter or our News Page.
Submit Articles and Info
Have news for us? Please submit your ClassNotes, feature articles, questions you would like answered in the next issue to alumni@iuj.ac.jp.
Deadlines for submission are the first week of June and first week of December each year. IUJ Alumni News is printed distributed in January and July each year.
A new newsletter for non-Japanese nationals who have studied in Japan is now available from JASSO. Please subscribe! Click on the Logo left.