Welcome to the IUJ Dormitory!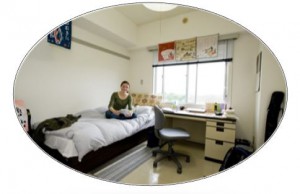 IUJ students are very diverse with various professional and cultural backgrounds. With the aim of providing these capable students with a comfortable place to interact and engage with each other intellectually outside classrooms, all students live in the on-campus dormitories their first year, in principle. By living together, people of different nationalities and with the different backgrounds can learn about each other's world views and gain awareness of critical issues while learning to work together. A borderless and independent environment is created in the dorms as a result of allocating rooms regardless of students' nationalities and gender. It is hoped that IUJ graduates will promote a high level of mutual understanding, trust and develop international friendships that will last a lifetime and come in handy for professional gain.
There are four dormitories for single students (Student Dormitory 1, 2, 3, and 4, or SD1, SD2, SD3, and SD4 for short) and one for married students (Married Student Apartment, or MSA for short). All single rooms are equipped with basic living facilities, a private bathroom, LAN connection and WiFi. MSA is unfurnished but has two-room units with a kitchenette and separate bedroom.
For the complete Dorm Guide and Dorm Information, please download this PDF file
Table of Contents:
Your Dorm Team and Dorm-Life Support 
Explanation of FORMS for leaving and entering your room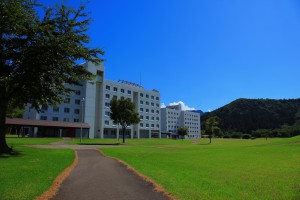 SD4 Information   
Your Dorm Room – Facilities and services 
Internet Connection
Telephone System
Postal Mail 
Dorm Maintenance and Room Entry
Cars, Bikes, Strollers and Outside Toys
Dorm Regulations 
Facilities
Special Rules for Kitchens and Lounges
Storage Rules
Garbage – How to Separate and Dispose of your items
Emergencies
     Fire, Earthquake, Lightening, Evacuation points,
     AED, Getting HELP
MSA – Married Student Apartment – Policies and Lotteries
Off Campus Options and Family Issues
Your Dorm Team and Dorm-Life Support
Mr. Ken Fukushima is your (primary) Dorm Director (Ext. 555).  We call him Ken!  He is supported by Mr. Taka Nakajima on his days off.  They are available in the SD1 1F office 4:00pm to 7:00pm, and 8:00pm to 11:30pm 7 days a week, including holidays, to offer dorm residents assistance with their stay on campus.  Ken handles check in/out, dorm maintenance issues, student car registration, off campus housing advice, MSA rental items, Bike repairs, night emergencies, various dorm issues, etc. and is on hand in the evenings for a friendly conversation.
Dorm Staff:
The Dorm Staff's office (Ext. 555 or 484) is located in the 1F of SD1. They are a team of 3 working from 8:30am to 12:00 noon and from 1:00pm to 5:00pm every day including weekends and public holidays. They assist with check in/out, storage use, dorm maintenance issues, etc.
Other Members of the Dorm Team
The OSS, OGA and Accounting work very closely with the Dorm Director and Staff
GSO-EC Dorm Representative
The elected student body group for IUJ has 2 positions set aside for overall dorm issues such as kitchen cleaning issues, dorm policies and facility needs, etc. Dorm-wide issues that you want to bring attention to the administration may come through this channel for efficient handling.
Floor Representative System
Basically, each floor in the dorms has an appointed student who serves as the Floor Representative. The Floor Rep duties are to liaise with the OSS and Dorm Director regarding issues on their floor, arrange social gatherings so neighbors get to know one another, assist with resolving Quiet Policy issues, and respond in the event of an emergency during non-business hours.
Buddy System
Upon arrival, IUJ students are grouped into buddies of the same sex and nationality, or cooperative groups. Buddies become family units to help each other out in times of sickness or injury by helping communicate with IUJ staff and faculty on their behalf, helping with meals and drinks, and providing any other support their family member may need during their injury or sickness. Please be sure you know who your buddies are, and be ready to support them, or call upon them when you are in need
Getting Help in an Emergency
IUJ will provide you with an Emergency Card – keep it with you always for quick reference.
If an emergency happens during business hours, call the Office of Student Services (Ext. 103) for help first. They will assist you quickly.
During non-business hours, call the Dorm Director (Ext. 555) or contact your Floor Representative to alert them of the emergency.
If for some reason you cannot get a hold of them, call the IUJ Guard (x444) or the Energy Staff (x455) or to the Ambulance Services directly (0-119) – or police (0-110) in Japanese.
Indicate your needs by saying the following (example):
Communicating in Japanese For Emergency Help
Moshi moshi (hello).
SD__ no __ (room number) desu.  (This is room ___ in SD ___)
(0-zero  1-ichi  2-ni  3-san  4-yon  5-go  6-roku  7-nana  8-hachi  9-kyuu)
・  Sugu kite kudasai (please come here quickly)
・  Jiko desu (accident)
・  Kyu Byo desu (sudden illness)
・  Kaji desu (fire)
・  Kyu Kyu Sha o yonde kudasai (please call an ambulance)
・  Kin Kyu desu (emergency)
If you hear a fire alarm, clear the areas and follow the direction of the emergency announcement. The IUJ evacuation point is in the gym.
Off Campus Options, and Family issues Regarding Campus Services
Some students choose to relocate with their family off campus. The recommended timing is spring term after your two busiest academic terms are over, and after the first winter season. Special approval from deans and supervisors, submitted 4 weeks prior to your move, is required (see info on Permanent Move Off Campus above). The OSS must be informed at this time – NO SURPRISES is the key. Your scholarship provider, in most cases, too must be informed. Students must live near Urasa Station or in the near vicinity to campus. The move to off campus is permanent (meaning no return to the campus dorms is possible, in principle).
Family Guide
A special guide for families is available. If you are considering to bring your family, please read the Family Guide now at https://www.iuj.ac.jp/oss/ or in hard copy in the OSS. Consult with the Dorm Director and/or OSS early in the process. The recommended time to invite family is after your first two academic terms.
IUJ is unable to provide support for family members, as our services are limited to enrolled students. You are responsible for their care, health issues, travel issues, schooling, etc. While off campus monthly rent can be cheaper than the dorms and MSA, utility bills are more expensive. Most units recommended to IUJ students are on or near the IUJ bus route, and close to the schools and clinics.
IUJ Services and your Family
Please keep in mind that the IUJ Bus is a SCHOOL Bus, and not meant to be the transportation provider for family members. Family members on campus are limited to the cafeteria, school shop, Snack Lounge and 1st floor gym. Gym shower rooms, Dorm Kitchens and Study Rooms are NOT for family use. Children may not be on campus unsupervised. Spouses wishing to use the IUJ library may do so.