On Saturday June 25th, the graduation ceremony of class 2022 was held in Minamiuonuma City Hall. This year, 93 master's students and 1 Ph.D. student from the Graduate School of International Relations and 47 master's students from the Graduate School of International Management joined together to celebrate the culmination of their academic achievements alongside respective representatives from embassies, families, friends and IUJ faculty and staff.
Introductory remarks from IUJ President Hiroyuki Itami
President Hiroyuki Itami congratulated all students for completing their academic programs at IUJ. He mentioned that the graduation was not a special day only for celebrating the end of an academic journey, but also because we can celebrate the end of two successful years "without any major outbreaks on campus." He added that IUJ is proud of all the students, faculty, and staff for making this journey possible.
President Itami stated: "IUJ is a very special place for cross-cultural interaction and being an English-speaking university in Japan where international standards are being persuaded, and students from 50 countries are living together."
President Itami hoped that IUJ would remain a place where alumni wanted to come back after their memories, and he made sure that they are always welcome.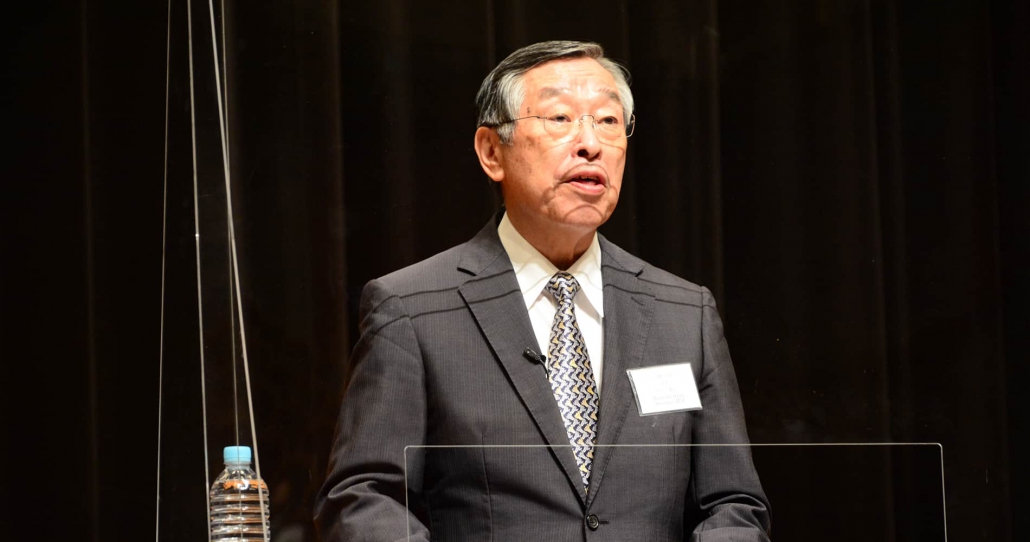 Congratulatory address by Taro Aso
The 92nd Prime Minister
Mr. Taro Aso expressed his happiness at the graduation ceremony for students who have completed their masters and Ph.D. programs. He said that IUJ is now home to future leaders in many countries. What they learned in classes and during the social interactions on campus will pay off for them, and their children will be proud of them for serving the world through their knowledge and expertise.
He said that while having responsibilities in various organizations, he tried to contribute to the world economy and find solutions to problems, in which, to some extent, he succeeded. There are many more things to do, "Lose no patience, absolutely no patience and believe that your step, however small, shall make a giant stride, someday."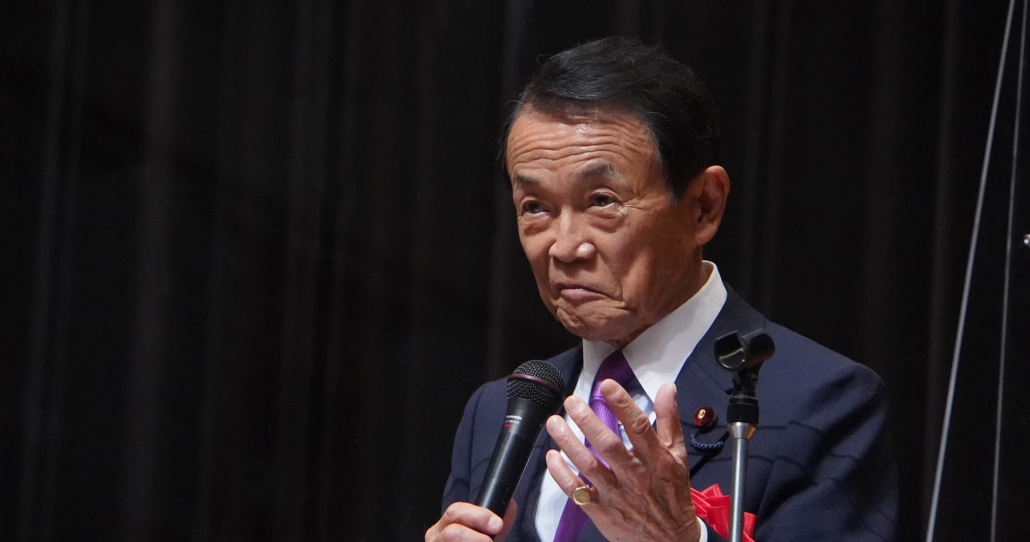 Dean of International Relations Maung Aung Myoe
Dean Myoe started his statement by congratulating and praising all the students who were able to successfully complete their academic journey despite the many challenges they faced during the last two years. He mentioned that combined with this year's graduates, a total number of 2,967 have graduated from GSIR since 1982.
Dean Myoe also praised the unique surroundings of the IUJ campus, which has beautiful nature and all the learning facilities. In the end, he congratulated all the students and wished them the best for their future.
Dean of International Management Hyunkoo Lee
Dean Lee also congratulated students for completing their graduate and postgraduate journeys at IUJ.  Dean Lee pointed out the COVID-19 pandemic, which caused most face-to-face classes to become virtual, which made academic life challenging. Dean Lee added that, however, the students learned enough about today's world practices, but it will not be enough some years later. Because the world is changing and so is its situation. Therefore, they need to keep themselves updated and be innovative so they can cooperate for the world's welfare.
After the speeches from President Itami, special guest Mr. Taro Aso, Dean Myoe and Dean Lee, degrees were awarded. Each student was individually called to the stage to accept their diplomas, and once they were all presented the requisite cap toss took place!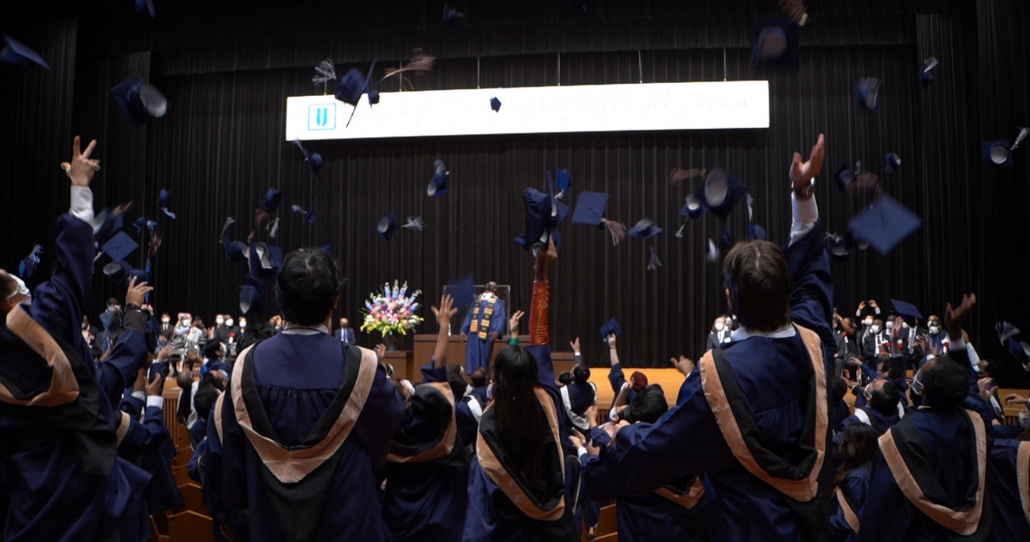 International Relations Valedictorian: Irene Angela Valones Cuya
Irene congratulated her fellow graduates of 2022 and mentioned that despite the novel COVID-19 pandemic and online classes, they tried their best. She shared her experience on the IUJ campus, where students and their families share moments of joy and care for each other. She said: "We faced challenges and hardships, but we overcame our fears and learned, and in the end, we grew stronger."  She expressed gratitude to her supervisor, the IUJ faculty, and management for their support of her academic life at IUJ.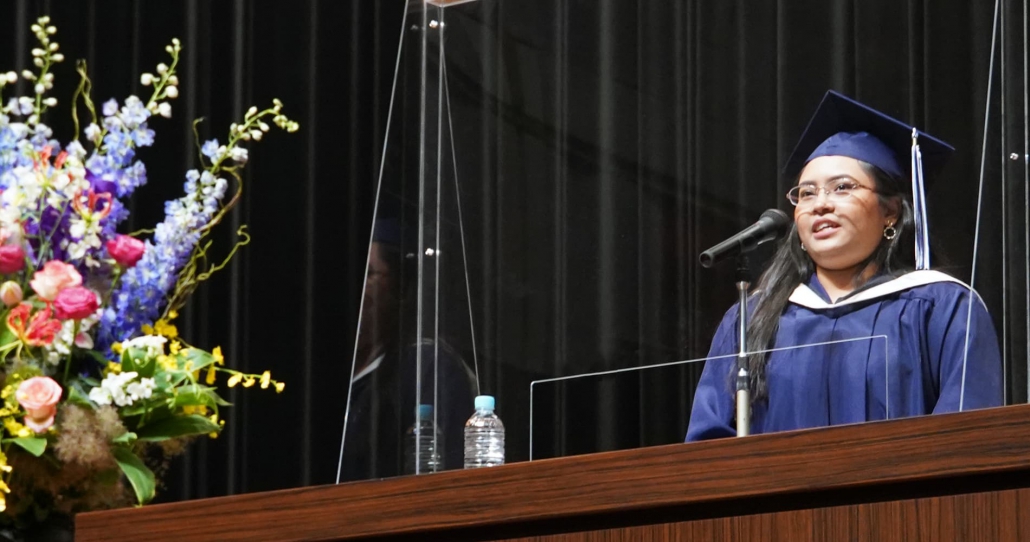 International Relations Valedictorian: Mukesh Dangol
Mukesh congratulated his fellows for completing their academic journey at IUJ. He said that "studying in IUJ was a self-discovery for me and for many of us. I got time and a platform to introspect myself. " Mukesh mentioned how IUJ provided him a unique opportunity not only through classes but also by being involved in different social and academic activities during his master's. He also thanked his supervisor and other IUJ professors for their support and guidance. To quote Mukesh, "Live life to the fullest and enjoy every moment."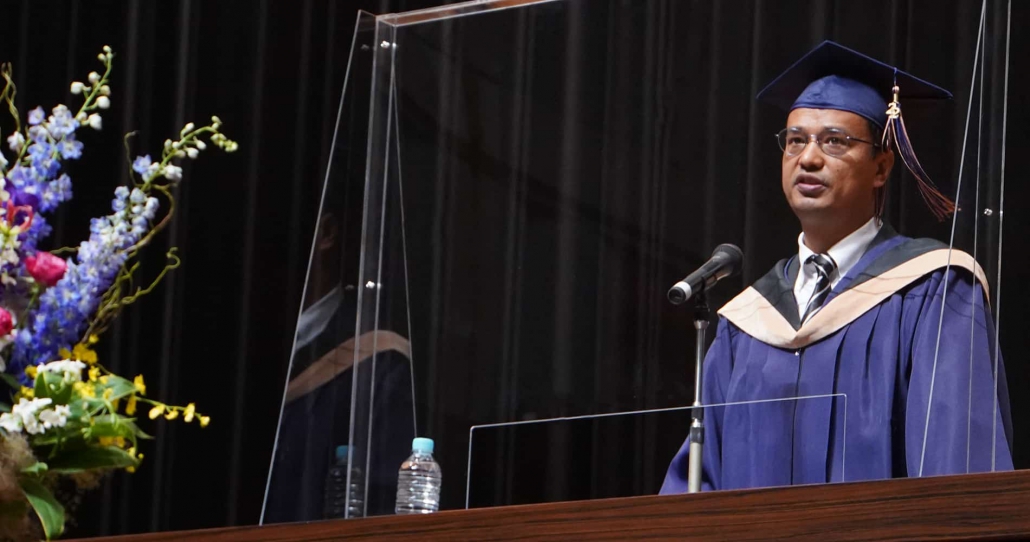 The annual tree unveiling ceremony
After the ceremony proceedings, students regathered at IUJ for the annual tree unveiling ceremony. Each year, two new trees are planted in the campus Alumni Forest – one representing the Graduate School of International Management, and one representing the Graduate School of International Relations. The trees, growing strong and tall, are a metaphor for what we wish for our graduating students in the next chapter of their journeys.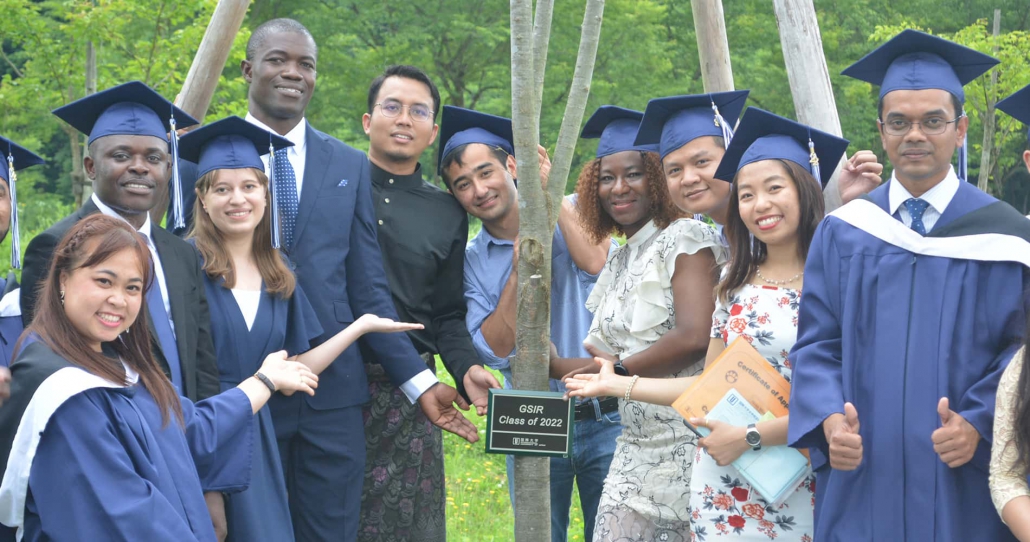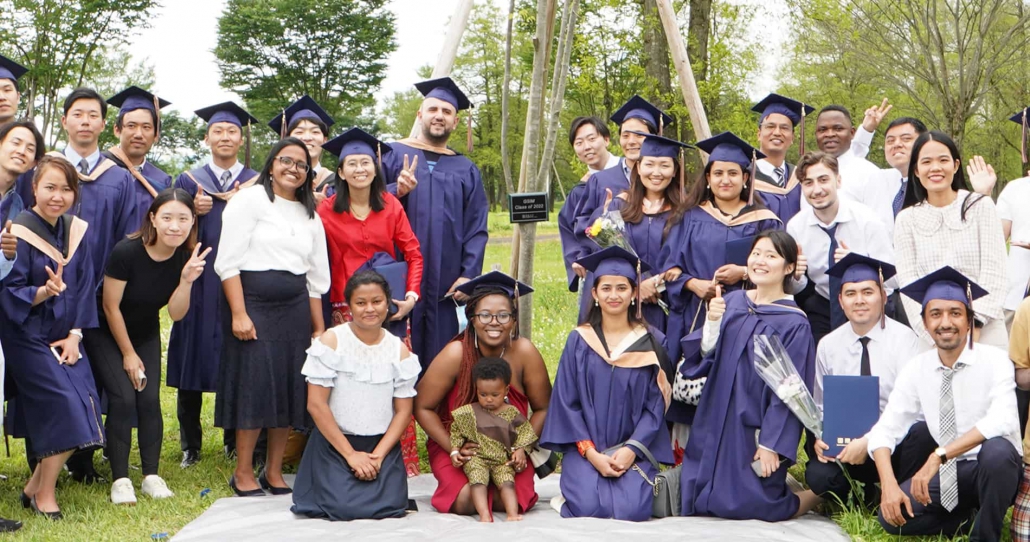 Once again IUJ congratulates our Class of 2022, not only for their academic achievements but for enriching our university. We thank everyone who supported them throughout their time here in Japan and came out to celebrate at the ceremony. We have no doubt that this year's graduating class will have a positive impact on the world, and we're fortunate to have been part of their stories.
===
IUJ PR Team
media@iuj.ac.jp
===
https://www.iuj.ac.jp/wp-content/uploads/2022/06/C0009T0_2-e1657075155764.jpg
760
1140
Public Relations
Public Relations
2022-06-28 16:36:46
2022-08-18 17:40:17
IUJ held its 2022 Graduation Ceremony