Graduate School of International Management Valedictorian: Dangol, Mukesh
International University of Japan Graduation Ceremony 2022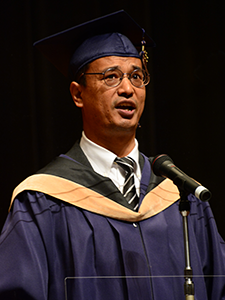 Good Morning
Honorable guests, Respected Chairman Utsuda, President Itami
GSIM Dean, GSIR Dean, Professors, Faculty members, IUJ staffs, my dear friends and families.
Congratulations –  the class of 2022. Yes we did it ! The class that faced one of the toughest times in the history of mankind. It is indeed a great privilege and honor to represent the GSIM 2022 class in this graceful ceremony.
I am so proud of you all – yes of course for our outstanding academic achievements, great GPA scores and highly decorated research work ! We all have worked really hard for it ! Beyond that,  what we should be really proud of is – the way we overcame  challenges and navigated this journey together – A big round of applause for all of us !
Last year, the month of June, the end of spring term here in IUJ. I was hustling around  with the submission of assignments. My friend Jeevan texted me – Enjoying Japan?, I replied – ya, but covered up with assignments. Jeevan is one of the funniest guys I have ever met in my life. He always had great one liners. Even though he was my junior, kohais in my high school, we played and grew together. Above all, we were neighbors – so while growing up, we had memorable after school days –  be it football, swimming or running.
After some time, the message popped up again – Mukesh, listen – I heard about some weird bathing in Japan. Obviously, he was talking about ONSEN. Have you tried it? Mukesh- if not, go and try. In the middle of writing my case memo, I couldn't reply. The very next day – I replied – OK Jeevan – I will do that.
Time passed by. Late summer in IUJ. My friend Jeevan was on his usual evening walk in a park where we played together. He fell down and didn't stand up. Jeevan is no more. Just like that – guy on late 20s – still unmarried. My loving kohai, my brother, my friend, my neighbor left this world.
Guys, Life is unpredictable, we never know what is there in store for us? That's why, Live life to the fullest ! Enjoy each moment GUYS!
I know you all have encountered similar circumstances during these two years of global pandemic. We have lost someone close to us, we have faced complexities back home & we were challenged several times in IUJ. We did it with our incredible perseverance and collective effort! Now, I think about the incredible people – my friends, my senpais and Kohais whom I got a chance to meet and grow with. My classmates; you guys are truly incredible. Once again- Proud of you guys !
Taking from my heart, I actually don't want to be remembered as the Valedictorian for this class. What is more satisfying than this achievement is the hard work, perseverance and teamwork that I learnt along this way. Above all, the friendships I had here – I will cherish it for the rest of my life. These qualities are part of who I am today and give me a joy and purpose of what I want to achieve in my life. I believe it's same for many for us!
Each one of us had great memories here in IUJ.
Looking back, my mind recalls various activities – cycling, football and volleyball, hiking and swimming in Mizunashi river with my amazing friends, senpais and kohais ! More importantly, I won't forget the music and melodies that we created and played in the music room. It has been a stress releasing zone and a healing experience for me in those stressful days. Moreover, I want to mention Prof. Maurya's spiritual events at his residence. The devotional songs that we sang together will always stay with us Professor. Thank you for such blissful moments.
Now, Let me take this opportunity to extend my gratitude to all the individuals for their valuable support and cooperation. I would like to present my sincere thankfulness to my dearest mother Nakali Dangol who always inspired me to pursue my dreams. Being a single mother, it was not easy for you. Whatever I am today is all because of you. Thank you for everything Ma. I like to acknowledge my wife Sujata for her continuous support and also, appreciate the innocent encouragement of my son Sumit.
I won't miss this opportunity to thank Government of Nepal, JICA and JDS for this opportunity in IUJ. I would like to express my deep gratitude to my mentor and supervisor Professor Yuen Leng Chow for your continuous supervision not only in my research work but also outside academic scope. I am extremely proud to be one of your supervisees. I remember when you asked me during our first meeting – Mukesh, are you in a race for grades? I answered – grades are just by-products! Professor you said – I am happy to hear that and the best answer ever ! You always motivated me to run towards excellence.  Thank you!
IUJ -as many of us said in humour – International University of Jail, Isolated University of Japan, I and U in jail. Nevertheless, coming here in IUJ has been a self discovery for me and many of us. I got time and platform to introspect myself. The experiences here shaped me individually in several ways. I cherished working as an IM Council member, Mizukami house captain and CAT volunteer. IUJ has provided unique opportunities of being a Facilitator, Tutor, Teaching Assistant (Prof. Wenkai Li & Prof. Zhang Zhang) and Research Assistant (Prof. Zhang  Zhang).  I am so thankful to Prof. Yokose who believed in me to write a case for JICA. I always had a great time with Prof. Yamaguchi – talking about the aircrafts, airports, airspace and of course agriculture.  Thank you for the guidance, opportunities and memories all sanseis !
I take this opportunity to thank my friends who were with me against all odds. Last but not least, I would like to thank Ms. Ishibashi San, Counselor of IUJ. She went beyond her limitations and scope to help all of us in difficult times last year. Thank you Ishibashi san on behalf of all the students !
Once again, congratulations my dear friends on your graduation. I wish each and every one of you great success in your future endeavors.
Don't forget – Live life to the fullest ! Enjoy each moment!
Thank you ! Arigatougozaimashita