Graduate School of International Management Valedictorian: Bhatta, Ram Datta
International University of Japan Graduation Ceremony 2021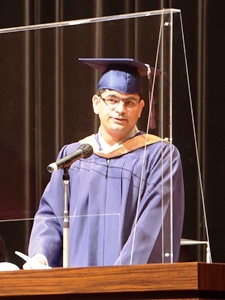 Namaste and a very good morning to the university president Prof. Dr. Itami, GSIM Dean Lee, GSIR Dean Myoe, respected professors, university staff, my near and dear friends, and all of our family members attending this graceful ceremony. It is indeed an honor and a matter of great pride for me to deliver this speech in the capacity of a valedictorian for the MBA class of 2021. My happiness knew no bounds when I saw that a student hailing from Nepal, the birthplace of Lord Buddha and the Land of the world's tallest peak Mt. Everest, would be here representing this highly diverse student pool from nineteen different countries namely Eswatini, India, Japan, Kyrgyzstan, Malaysia, Mongolia, Myanmar, Nepal, Philippines, the Solomon Islands, Somalia, South Korea, Sri Lanka, Tuvalu, Thailand, Turkey, USA, Uzbekistan, and Vietnam. Let me also seize this opportunity to congratulate all of my esteemed fellows who are graduating today and stepping into the next important phase of life to serve humanity at large. I firmly believe that all the international mindsets who have acquired an additional feather on their cap with an MBA degree from this very International University of Japan will leave no stone unturned in this global competitive market, irrespective of whichever profession we all choose to pursue in the future. On behalf of the graduating class of MBA 2021, I would like to sincerely thank all the respected personalities and eminent organizations, who dreamt together with us to make this cherished dream come true. Thank you everyone from the bottom of my heart!!
I believe that what we are today is the result of our destiny, fate and hard work from the past. My sheer dream and passion for higher education was only realized by the support of a visionary and benevolent person. This bright day would not have been possible without his support. He is not other than my uncle Narayan Datta Bhatta. In this my success, I cannot thank him enough. Definitely, the relentless effort of my respected teachers, gurus, from Aampur School (Baitadi), Pashupati Mitra High School (Kathmandu), Amrit Science Campus, and Pulchowk Engineering College materialized my dreams. Thank you to all of my respected teachers!!! I would also like to pay an auspicious remembrance to my deity god Ganmeshwor and Deugadwiya. I would like to show my gratitude to my family and friends in Nepal. The sheer pain and sorrow of being separated from my wife and kids in these past two years was relieved to some extent by the unconditional support that I received from international friends here in IUJ. I believe that my situation of staying away from the family resonates very well with that of many other friends in IUJ who couldn't bring their family to Japan due to many circumstances that are beyond our control, including the global pandemic. Definitely, my joy today would have been largely amplified by the presence of my family here in this event.
IUJ have nurtured my abilities to think critically and rigorously; fully owing to the superior academic faculties here at IUJ. I would like to express my sincere gratitude to Prof. Hyunkoo Lee, my research supervisor, for his continuous support, encouragement, and valuable guidance throughout my research. I am honored to be one of his supervisees. I am equally humble to Prof. Zhang Zhang for providing me with the unique opportunity to assist her in the capacity of a Research Assistant as well as a Teaching Assistant. I am also indebted to Prof. Chuang for entrusting me as his Research Assistant. I feel that there is much to learn from Prof. Yokose when it comes to leadership, communication, and team mobilization. Prof. Amhed's class on effective presentation skill has left ever-lasting memory. I vow to all of my esteemed professors including Prof. Wenkai Li, Prof. Hirose, Prof. Wakayama, Prof. Comai, Prof. Chow, Prof. Zaw Zaw, Prof. Jay Rajasekera, Prof, Akreem, Prof. Shinohara, Prof. Cooray, Prof. Parsons, and Prof. Park that the knowledge and skill that I learned from your lecture will be of utmost important even after I return back to my home country Nepal. The effort to complete our academic calendar on time in spite of all the uncertainties due to Covid-19 pandemic is simply extraordinary. I would like to convey my gratitude to OSS, OAA, OGA, MLIC staff, counselor, dorm staff, drivers, and cleaning staff for their uninterrupted academic and non-academic support.
Perhaps, due to my somewhat introvert nature, I might have been reluctant to express my opinion as required. However, with time, gradually I started to become more expressive which I think is attributable to IUJ's case based and discussion-based teaching methods. Everlasting encouragement of professors further enhanced my communication skill. I will always miss the library, study rooms, and especially computer labs that were instrumental for me in achieving this success. Definitely, we all should be proud to be educated in the global think tank such as IUJ. The fact that IUJ ranks as the top 100 business schools in 2020 ranking of "The Economist" and AACSB accreditation strongly testifies its academic excellence. IUJ has taught me sincere working culture, time management, etiquettes, and humanity in addition to academic affairs. Many thanks to the cross-cultural environment with people of more than 50 different countries and the provision of multi-disciplinary courses such as cross-registration system between GSIR and GSIM, language classes both English and Japanese which has widened my academic horizon. I feel that IUJ has endowed me a greater sense of responsibility.
I am very much aware that this important day would not have come to my life without the persistent support of the Government of Nepal, the government of Japan, and the Japan International Cooperation Agency (JICA). I cannot thank enough to the staff at the Japan International Cooperation Center (JICE) for their constant monitoring and support. I would like to thank my seniors, colleagues, the then Director Generals and the Secretaries at the Ministry of Land Management, Cooperatives and Poverty Alleviation, the Nepalese community in Japan, and my senpai for their encouragement and academic support during my stay in Japan.
Once again, let me congratulate all of my fellow friends who will shape tomorrow's global future in the different arenas. I strongly believe that this global village will provide us an opportunity for continued interaction in future as well as.
Thank you all