Graduate School of International Relations Valedictorian: Akhmadalieva, Zarnigor Khikmatillo Kizi
International University of Japan Graduation Ceremony 2021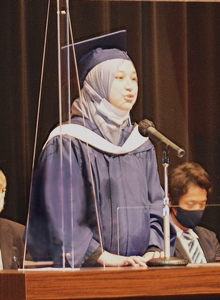 Good morning honored guests,
President Itami,
Dean Myoe and Dean Lee,
All faculty, academic and supporting staff,
Friends, family, and all of you, graduates, the class of 2021.
Congratulations! We've done it, all the hard work has finally paid off and we're all ready to take the next big step in life. I am honored to stand before you today and reflect on our collective journey in this school. The past two years have certainly been tough, but now we are all here to celebrate our triumphs, our achievements, our victories and the journey on which we have all embarked toward our future destinations.
First, I would like to extend my deepest gratitude to my supervisor Professor Kane for constantly guiding me and supporting me in my academic journey. I also express my gratitude to all the faculty members, Professor Wong, Professor Jinnai, Professor Goto, Professor Lin and all other professors for their kind help in mastering valuable skills and knowledge. You have played a pivotal role in molding our personality and constantly encouraged us. Without your support, we would not have made it to this point of life.
I am also very grateful for all the professors of the English Language Program, specifically, Professor Michael Mondejar, for continuously supporting us in our academic language skills; and all the professors of Japanese Language Program for always motivating us to learn Japanese and being very kind to us.
Thank you to OAA and OSS, OGA and all IUJ staff including MLIC, dorm staff, for all your kind assistance and support. I would also like to thank shyokudo and schoolshop team for being kind and friendly.
Finally, my biggest thanks are to all of my family – my parents, my kids, and my spouse Abrorbek for supporting me and always being there for me.
When we started our first year, no one ever knew how things would change in few months due to the unprecedented pandemics. Away from our families to pursue our dreams, we worried about our families all the time after the pandemics started. However, our experience with COVID was far different from theirs. We were in safety and were still able to continue our studies. Of course, we worked harder and under more difficult conditions this past academic year than probably at any other time in the history of IUJ. This class will never forget how we would wake up 5 minutes before Zoom class, cook lunch while the lectures were ongoing, hear that faint cry of kids in the background of our Zoom classes, and of course, that jyuu-man-Yen that we did not notice how we spent.
Each of us has had our own unique experiences at IUJ; a combination of good times
and bad times, times of last-minute studying for that exam that is taking place tomorrow morning, times of rushing for the school bus, because you exactly know you miss it if you don't run, times of homesickness and thoughts of Corona; but also times of watching the best snowfall ever, times of that sakura blossoms that we did not get to notice because of exams, and, of course, times of friendship, when we feel so lucky that we have these people around us. We can say that IUJ has become our home away from home for the past two years.
Graduation marks the end of yet another extraordinary chapter in our lives. With this
chapter closed, I am sure that many of us are already anxious about starting the next
one because, unlike the textbooks, we cannot skip through the pages of life to see how
long the next chapter is going to be. For sure, IUJ has made this chapter of our life very colorful and unique. We have learnt a lot in terms of academics, as well as from our friends who come from the very different parts of the world. All of us had different backgrounds when we entered here but we are leaving as the proud students of the same university with a common wish to be successful.
Often on graduation day we look outside for heroes but I am sure they are right here among us. I have seen in my two years at IUJ that we don't have to look far for inspiration and that we each have the potential to make an inspiring contribution to others, by being true to our values and committing ourselves to great goals.
When you leave here today, be proud, celebrate what you have accomplished, and look forward with an eye toward how you, too, can be the inspiration for others.
Congratulations Class of 2021!