Introductory remarks from IUJ President Hiroyuki Itami
International University of Japan Graduation Ceremony 2021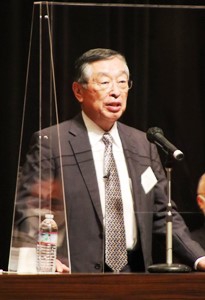 Today is a very special day for all of us who gather here.
This is not only the day which marks the end of your long academic journey at International University of Japan, but also the day we can celebrate the end of a very stressful academic year without anyone infected by COVID-19 virus on our campus.  I admire all of you, students, faculty and staff alike, that we could get through these very tough days together. As the president of this university, I am very proud of you all.
I am happy to announce that we can send out today 92 masters students from Graduate School of International Relations, 34 masters student from Graduate School of International Management, and 1 PhD student from Graduate School of International Relations. I would like to congratulate all the graduating students and their families for their hard work and intensive study here at IUJ. All of you can be very proud of your wonderful achievement.
But at the same time, I am very sorry that we must have this commencement ceremony as a very scaled-down version to avoid infection, without any guests except our distinguish commencement speaker, Mr. Monma, and without all the first year students. This ceremony itself is very symbolic of what all of you had to go through during the last 15 months because of the pandemic.
We should feel happy, though, that we could gather here well and healthy, since there are millions of people in the world, including many at home countries of yours, who suffer from this vicious virus.
The COVID-19 pandemic has changed people's life all over the world in many ways. Especially relevant to IUJ, it has made the country borders much tighter than before and has hindered the free movement of people around the world so much. Most of you, graduating students, could not go home during last summer and many first year students could come to our campus much later than usual because of travel restrictions. Our own experience is just one example. In a sense, the pandemic has put a sudden brake on many activities for international cooperation which our globe needs so much, especially for societal development of many developing economies.
Once this pandemic is over, however, and country borders become open as in the pre-pandemic time, we need to strive for more international cooperation to make up for the time we lost during the pandemic. In a sense a period of earnest desire for international interaction and cooperation is to be expected after COVID. I think IUJ has a special role to play in this future because of the very nature of our university.
IUJ is a university where students from more than 50 countries gather from various places on the globe and live on a residential campus, interacting with each other on a daily basis, day and night. We are the place where the world gathers, and more than that, we are a place where the world cooperates, that is, a place where international cooperation, large and small, emerges so naturally and so often and a place where the students learn how to cooperate smoothly across cultures. International cooperation can be a very natural outcome of our setting.
Although digital communication tools emerged to help connect people during this crisis, like IUJ's effort for on-line education, this pandemic revealed that nothing is more powerful to connect people from different cultures than face-to-face encounters and interaction, which allows people to cross the borders in their minds and foster international cooperation.
This revelation means a lot for IUJ because we do this face-to-face encounters and interaction daily and our situation tends to allow students to cross the borders in their minds through various channels of cross-cultural communication our environment provides, be it discussions in classrooms and conversations in dormitories, or Undokai, culti fiesta, and field trips together with your fellow students. One of the major contributions of our university is, on top of educating future global leaders, to nurture cross-cultural communication and foster international cooperation among our students.
I only regret that this pandemic prohibited many opportunities for face-to-face cross-cultural interactions this university can provide. Still, this university must have provided much better opportunity for international cooperation than many other universities in Japan and around the world.
My hope today to all the graduating students is for you to continue, after your graduation, to practice international cooperation many of you have done so naturally in your campus activities. I want all of you to be leaders in international cooperation in many ways in different parts of the world. That way, we can contribute a great deal to the world where the need for international cooperation is all the more clear because of the closed borders during the pandemic. We need much more international cooperation for the better future of the world.
One way of your future effort for international cooperation is of course to continue to interact with your fellow students in different countries after you go back to your home countries. Please join our Alumni activities in many ways. On-line interaction tools you have been accustomed here at IUJ will be great weapons for this international interaction and cooperation. Another way of continued international cooperation is to utilize your experiences and lessons for international cooperation you have learned here on our campus and try to do many future rounds of international cooperation with a new set of people from various countries after you go home. Many of you are now experts in international cooperation, trained so naturally on so many occasions on our campus.
When I became the president of this university a little more than three and half years ago, I was of course very much impressed by the unique value of IUJ. This is a very special place, being an English- speaking university located in rural Japan where international standard curriculum has been pursued and students from so many countries gather.
As the social environment, IUJ is special because it is the best place for cross cultural interaction and communication, as I have already mentioned.
As the natural environment, too, I believe IUJ campus is a special place where many people can feel the spiritual power of nature. People can get energy, on and near campus, from the green fields in summer, the massive white snow in winter and beautiful mountains all year round. Maybe not a spectacular scenery, but from morning mist, bright sunshine, thin clouds and glittering snow, I very often feel I am revived by getting energy from the nature. I hope that many of you agree with me.
I know that many students jokingly say that IUJ stands for I and U in Jail. You might have felt that way this year all the more because of very restricted way of life that we had to follow to prevent infection. I want to, however, correct this joke by saying that IUJ should stand for I and U in Jewel. This place is like a precious jewel, with jewel like people from all over the world, jewel like nature at the foot of Hakkaisan mountain, and jewel for Japan as the place where the world cooperates.
As such a special place, I only hope that IUJ will remain to be a place where you want to come back to after graduation, often in your memory and sometimes in person. You are always welcome to come back.
So, with those words of advance welcome, congratulations again for your graduation and good luck to all of you.