Introductory remarks from IUJ President Hiroyuki Itami
International University of Japan Graduation Ceremony 2022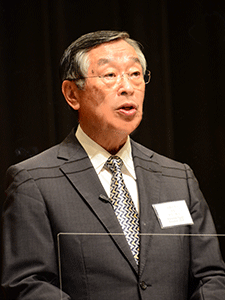 Today is a very special day for all of us who gather here. This is not only the day which marks the end of your long academic journey at International University of Japan, but also the day we can celebrate the end of two very trying academic years without any major Covid outbreaks on our campus.  As the president of this university, I am very proud of all of you, students, faculty and staff alike.
We are very honored today to have a very special guest, Mr. Taro Aso, Former Prime Minister of Japan, as a guest speaker to give you a congratulatory address. We also have many guests today representing many organizations who support IUJ in various ways including JICA, and Minami Uonuma City. In addition, today, we are honored to have so many representatives from various embassies, from Burkina Faso, Botswana, Ethiopia, Ghana, India, Nigeria, Timor-Leste, Togo, Zimbabwe and Myanmar.  Myanmar ambassador, His Excellency Mr. SOE HAN is here today and he is our alumni. Welcome back to IUJ!
I am happy to announce that we can send out today 93 masters students from Graduate School of International Relations, 47 masters student from Graduate School of International Management, and 1 PhD student from Graduate School of International Relations. I would like to congratulate all the graduating students and their families for their hard work and intensive study here at IUJ. All of you can be very proud of your wonderful achievement.
Although we are trying to go back to normal on our campus in various ways in recent weeks, the pandemic has changed people's life all over the world in many ways. Especially relevant to IUJ, it has made the country borders much tighter than before and has hindered the free movement of people around the world so much, including many of our students and their families who could not arrive at our campus at the normal timing. In a sense, the pandemic has put a sudden brake on many activities for international cooperation which the world needs so much, especially for the development of many developing economies. War in Ukraine this year unfortunately put an additional brake on international cooperation.
One of the ways to make this pandemic disaster more meaningful for us is to self-reflect on this experience and learn the lessons to enrich our lives in the future. Since things are going back to normal now in various parts of the world, it is a good time to look back into the stressful two years of pandemic. I propose that we will do various kinds of self-reflection on the impacts of this pandemic, common to all the societies, to think deeply how each one of our societies works.
I reflected myself on my own society, Japanese society. Let me give you one example of mine to learn how Japanese society works. It is self-reflection by asking why Japan could prevent Covid infection so low without lockdown compared to other developed countries of the world, West or East. To mention just one data, US coronavirus deaths per million population on June 10, 2022 was 3093 and for Japan it was 245, a mere 8 percent of the US. Similar comparisons with European countries and South Korea are easily available, although a little less dramatic than with the US case.
I want to point out today two major reasons behind the very low infection in Japan.
First is the tendency of the general public for self-restraint in Japanese society at the time of emergency, Corona or not.
Second, everyday 'extra 'behaviors, almost unconscious behaviors, by many Japanese people helped a lot to contain the virus spread. These one extra behaviors are: one extra care for others and one extra action for details.
The Corona example of one extra care is so many people wearing masks not to infect others and not to be infected by others. The Corona example of extra action for details is so many people gargling and washing hands so often.
These extra behaviors are not Corona specific, however, and we can observe them in many social activities, including workers cooperating on the shop floor with extra care for teamwork and extra attention to details. That is one of the reasons why Japanese companies could achieve amazing cost reduction and quality improvement.
However, there can be some negative side effects from self-restraint and extra behaviors. As is true in many social behaviors, the negative effects tend to emerge right beside the strength of a society.
One clear negative effect I am most concerned is that self-restraint and extra cautious behaviors may lead to self-shrinking of people's mindset. People become too cautious in spending their money, leading to shrinking consumption and shrinking investment. This will in turn make Japanese economic recovery much less energetic than other countries, even though the direct damages from the covid pandemic are much smaller in Japan. Therefore, extra care for energizing Japan, especially psychological push to the mindset of Japanese people, is so important for Japan now.
I hope many of you will self-reflect on your society upon your return, observing many damages from the pandemic in your society as well as many efforts by your people to fight against the pandemic. After your observations, focus on some striking phenomenon and please ask why. That would a wonderful beginning to self-reflect how your society works.
I even want to suggest you to send your self-reflection papers to the president office so that we can upload your papers in a special site on our website, country by country, so that all of you can read them. Then you can compare different reactions by different societies among yourself. Having graduates from more than 50 countries here at IUJ would be so helpful for this international comparison. After reading many of your papers, I will upload my own summary observation note, summarizing and comparing your conclusions and extracting some generalizable hypotheses thereof.
Please do not be afraid in turning in your papers since I promise I do not grade them. You may want to joke upon your return, however, that IUJ is such a wonderful and, at the same time, terrible university where the president assigns a new homework to graduating students at the graduation ceremony! Sorry for that.
To end my speech, I hope your experiences here at IUJ have been very rewarding to all of you, despite many stressful restrictions due to Coronavirus. Those rewards to you owe a great deal, I hope, to the environment IUJ provides, as well as the tremendous efforts by our faculty members and staffs to make your study here safe and meaningful.
When I became the president of this university nearly five years ago, I was of course very much impressed by the unique value of IUJ. This is a very special place for cross-cultural interaction, being an English- speaking university located in rural Japan where international standard curriculum has been pursued and students from more than 50 countries live together on campus. I have kept calling the value of IUJ as a treasure for Japan.
Once this pandemic is over and country borders become open, we need to strive for more international cooperation to make up for the time we lost during the pandemic. I think IUJ has a special role to play in this future because of the very nature of our university.
My hope today to all the graduating students is for you to continue, after your graduation, to practice international cooperation many of you have done so naturally in your campus activities, be it discussions in classrooms and group activities in the dormitories, or cultural festivals or many sporting events. I want all of you to be leaders in international cooperation in different parts of the world. That way, we can contribute a great deal to the world where the need for international cooperation is very keen due to the lack of cross-border movement of people during the pandemic and the sudden change of international security environment triggered by the sad war in Ukraine.
As such a special place for cross-cultural interactions and as a treasure for Japan, I only hope that IUJ will remain to be a place where you want to come back after graduation, often in your memory and sometimes in person. You are always welcome to come back.
With those words of advance welcome, congratulations again for your graduation and good luck to all of you.