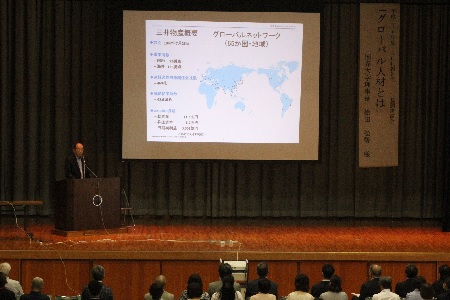 On June 26, 2017, International University of Japan (IUJ) Chairman Mr. Shoei Utsuda delivered a keynote lecture at Niigata Prefectural Kokusai Joho High School (KJ). KJ is only one high school in Niigata prefecture designated as Super Global High School (SGH) by Ministry of Education, Culture, Sports, Science and Technology (MEXT). This time's keynote lecture was carried out as a first part of "SGH Activity Report Meeting". His lecture had a large audience such as KJ's students, educator and people concerned in Minami Uonuma city.
It was titled "What is Global Human Resources" and Mr. Utsuda spoke about element necessary for global human resources or importance of confirmation of identity through self-improvement. Question-and-answer session was also held actively.
KJ and IUJ have promised to promote SGH program in concert with each other. We continue to work together on developing globalized leaders who will be able to play active roles on the international stage.
Office of Top Global University Project
https://www.iuj.ac.jp/wp-content/uploads/2017/07/news1.jpg
300
450
Top Global University Project
Top Global University Project
2017-07-06 10:13:48
2017-07-06 10:16:15
IUJ Chairman Mr. Shoei Utsuda delivered a keynote lecture