IUJ held its 2017 Graduation Ceremony on Saturday, June 24 at Koidego Cultural Hall in Uonuma City.  This year 97 students graduated from the Graduate School of International Relations (GSIR) and 67 students graduated from the Graduate School of International Management (GSIM) for a total of 164 students representing 41 countries and regions who earned master's degrees.  The total number of our alumni network is now 4,173 in 122 countries and regions.
The class of 2017 was celebrated to fly to the world.  Congratulations to all, class of 2017!
The event was broadcast live on line. It can be viewed here.
Below are parts of passionate speeches given by two graduates.

GSIR, International Development Program (MA in Economics)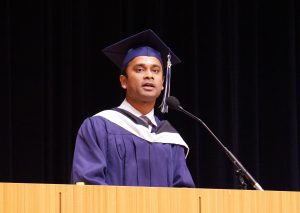 Mr. Muhammad Rezaul Hasan from Bangladesh
It was not so easy to go through the graduate level economic theories and analytical issues.  However, continuous assistance, persistent motivation and prudent guidance from our faculty members have enabled all of us to come to the same point of success.
I would like to extend our thanks to the local government bodies and local people for their kindness, extending their assistance to us at any occasion, arranging many events for graduating students' family members and thus creating windows for learning about Japanese society, festivals, culture, and values.  The knowledge we have gathered about Japanese society and its people is life-long learning for all of us.  It is our belief that choosing IUJ as a destination for graduate study was one of our best decisions.  We spent our last two years at a place "Where the world gathers."  The multilingual environment and cross-cultural interactions are very unique vehicles for making IUJers global citizens.  Today is the day for which we have been working hard for last two years.  We have spent many sleepless nights doing assignments, solving problems, having group discussions and writing term papers.  We are going to attain the success we were destined for two years before.  Today is our day!!
Two years ago, we came here as isolated individuals and now we leave as members of a global network named the "IUJ Alumni".  This journey will be safe and enjoyable if we can work on the same ground, that is for "humanity". Even though we are of different nationalities, from different cultures, religions and races, we are bound with the same responsibilities of mankind.  Once again, we would like to express our heartfelt thanks to the loving and kind Japanese people and to all who have touched our lives here.
Congratulation to the Class of 2017!  Happy Graduation and best wishes for the next endeavors of our lives!!
GSIM, MBA Program (Master of Business Administration)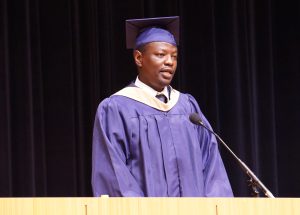 Mr. Medard Ntidekure from Burundi
It is a great pleasure and a great honor for me to address you and take the opportunity to express my gratitude to all the people who have accompanied us on this long journey and who have generously given us their knowledge.  These are our dear professors, mentors, and faculty members, but we also have to be grateful to our parents and families who have long been deprived of our presence and who nevertheless supported us and helped us to always move forward.  Indeed it was a great experience for all of us to meet at the place where the world gathers and start our long journey.  It was not an easy journey but it was sprinkled with love of work and blessings from our family, parents, teachers and we made it as team and not as a group.
IUJ's environment transformed us and we were emotionally, morally and intellectually challenged but we withstood the pressure and here we are as new members of IUJ's alumni group ready to begin our new journey and endorse our new costumes of future world leaders.  I understand, there is no better place in the world than IUJ, where the world gathers.
Dear colleagues, graduation is not an end in itself but a beginning of new and complex work to change the world especially, for MBA graduates.  For that, IUJ equipped us with all necessary tools and I hope that everybody is ready to change and lead the world.  IUJ MBA students don't even need to have intuition. We are world leaders and all we have to do is to work hard and prove to the entire world that IUJ's business school is most prestigious school in the world.
IUJ made me a citizen of the world because I am sure I can travel to any country and be sure that I will meet a brother or a sister. This is the magic of IUJ!  To all graduating students of IUJ, as we come to an end of this chapter of our life, I wish you all the best. Congratulations class of 2017.
===== Program of Graduation Ceremony =====
Conferment of Master's Degree Certificate at Koidego Cultural Hall
Announcement of Opening Ceremony
President's Address
Chairman's Address
Congratulatory Address by His Excellency Prof. Dammika Ganganath DISANAYAKE, Ambassador, Sri Lankan Embassy in Japan
Deans' Report of Education Matters
Conferment of master's Degree Sertificate
Address of Thanks by Students
Announcement of Closing Ceremony
Celebration Party at Koidego Cultural Hall
Class Tree Unveiling by Graduates at IUJ Alumni Forest
==========================================
https://www.iuj.ac.jp/wp-content/uploads/2017/06/toss.jpg
200
300
Public Relations
Public Relations
2017-06-28 10:37:00
2017-07-13 15:22:55
IUJ held its Graduation Ceremony 2017