The International University of Japan (IUJ) has opened the IUJ-ULIS Cooperative Office in the Socialist Republic of Vietnam on November 7th. This is the school's first overseas office. We will be working to establish a relationship with universities, research organizations, etc. in Vietnam and strengthen or collaboration to help make our society more global while promoting our public relations.
In September 2014, our school's concept of "IUJ Evolution – Establishing a New Global Standard form Asia" was selected by the Ministry of Education, Culture, Sports, Science and Technology's Top Global University Project. This new office was opened with this concept in mind.
The University of Languages and International Studies – Vietnam National University, Hanoi (ULIS) is a member of the largest group of national universities in Vietnam and the school possesses one of the top Japanese language departments. Previously, ULIS had collaborated with our school's Center for Language Education and Research on Japanese language education.
A tape cutting ceremony was held in front of the new Cooperative Office at ULIS campus and around 120 people attended the ceremony afterward, including Minister Jun Yanagi, Deputy Chief of Mission of the Embassy of Japan in Vietnam, and people from various government organizations, Japanese companies, etc.
In the future, the new Cooperative Office is planned to not only offer education in the Japanese language, but also training on Japanese business practices to those working at Japanese companies in Vietnam.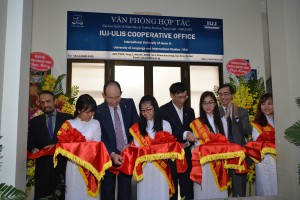 Tape cutting conducted by Chairman Shoei Utsuda (left of center) and ULIS President Nguyen Hoa (right of center)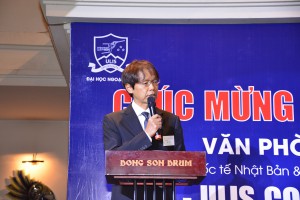 Congratulatory speech by Minister Jun Yanagi, Deputy Chief of Mission of the Embassy of Japan in Vietnam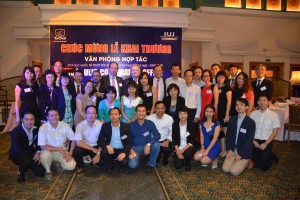 Many students who completed the course participated in the celebration
<Location>
IUJ-ULIS Cooperative Office
Address: P104,Tang 1, Nha A4, DHNN, So 1 Pham Van Dong, Cau Giay, Ha Noi, Viet Nam
Phone: +84-4-6680-3462
E-mail: iujhanoi@iuj.ac.jp
<Inquiries regarding this event>
Office of Top Global University Project
https://www.iuj.ac.jp/wp-content/uploads/2015/11/DSC_5630.jpg
800
1200
Top Global University Project
Top Global University Project
2015-11-17 10:45:08
2015-12-04 14:44:56
IUJ Opens New Office in Hanoi