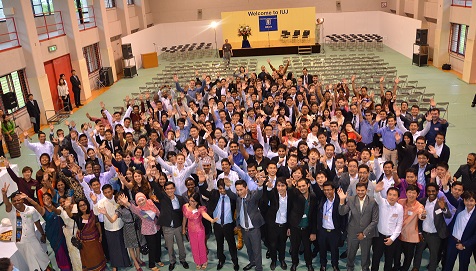 Public Relations
Oct. 9, 2014
On Friday, October 3, 2014, IUJ's "New Student Welcome Day" was held, and the arrival of 194 incoming students from 36 countries and regions was celebrated by special guests and IUJ's faculty and staff. This is the biggest incoming class since 1982 when IUJ was founded. Now the IUJ campus has 354 students.
The breakdown of the 194 students is 103 for the Graduate School of International Relations and 91 for the Graduate School of International Management.
In his opening remarks, President Shinichi Kitaoka stated this year is a special year for IUJ.  Because IUJ was selected as one of the 37 top Global Universities in Japan, IUJ plans to set up a doctoral course in the next fiscal year, and IUJ is welcoming 12 overseas students from five African nations under the ABE initiative. This is the biggest number for any university to host from that initiative, and we are very glad that they are joining IUJ in this special year.
Vice chairman Masakatsu Mori then praised the students for making the choice to join IUJ. He assured new students that they can take advantage of IUJ's campus life to become effective leaders in a diverse multinational community. "You are members of the IUJ family and it is your important role to support IUJ as a family member. You can link Japan to the world. Study hard and enjoy campus life!"
Because it is the first year of the ABE Initiative program, we received a message from Prime minister Shinzo Abe. He delivered a congratulatory message as follows
"Japan and Africa will interact together and grow together…. I strongly hope that you who have come to Japan under the ABE Initiative at this time will provide a great stimulus to the youth of Japan. I also hope that you will forevermore be dynamically engaged once you have returned to your beloved home countries, serving as a bridge between Japan and those countries. With its global perspective, the International University of Japan is a university in which Japan takes great pride. IUJ keeps its eye fixed continuously on the world while simultaneously valuing the spirit of Japan. I would like all of you who have entered the university today to learn and interact a great deal under the guidance of President Kitaoka and the other superb faculty."
(Prime minister Abe's congratulatory addres is here)
Then the new students were introduced. When their names were called by nationality, they stood up to be recognized. They gave each other a very warm welcome.
The New Student Welcome Day concluded after a reception joined by the 2nd year students, faculty, staff, and guests.
To everyone in the new incoming class,
All of us at IUJ wish you an enjoyable and fruitful IUJ life!
https://www.iuj.ac.jp/wp-content/uploads/2015/01/2365.jpg
271
476
zawzaw
zawzaw
2015-01-04 19:46:18
2015-01-04 19:48:30
New Students Welcome Day 2014