在线信息会议 IUJ is holding an online information sessions by IUJ Chinese Alumni
十一月二十二日,我们和中国毕业生一起举办在线信息会议,让你了解国际大学的学习课程,学生生活,就业咨询,入学申请等等。
中国毕业生将用中文说明,回答你的问题,分享国际大学学生时代的经历。
不要错过这个机会!
We will be holding an online information session with IUJ Chinese alumni to help you understand the admissions process better by listening to their experiences and advice from alumni in their home country China.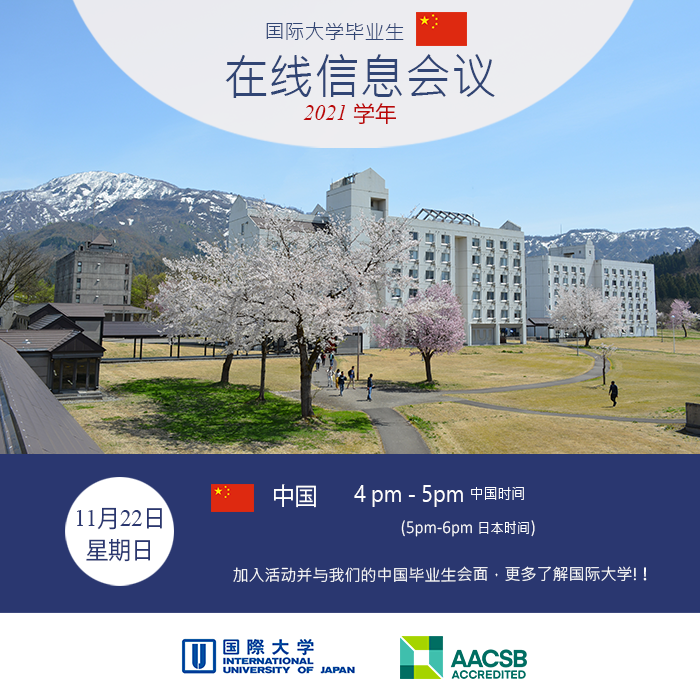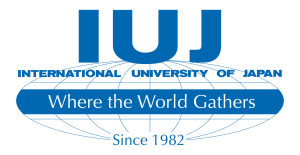 IUJ was established in 1982 as the first English-language graduate school in Japan. Currently, 311 students from 56 countries undertake studies at the university, with alumni hailing from a total of 139 countries. It truly lives up to being the university Where the World Gathers.
IUJ is a school that is continually growing – not just by the number of countries that students hail from, but in its international standing. The Graduate School of International Management proudly obtained accreditation from AACSB in 2018, and a new master's program the Digital Transformation Program will be established in 2021 to train future managers and entrepreneurs with particular strengths in the DX domain.
This information session is applicable to those interested in applying to IUJ for the 2021 academic year or in the near future. The event will give participants the opportunity to find out more about what the university has to offer, as well as the chance to meet our alumni hail from China for first hand accounts of their experiences with the school.
– Online Information Sessions  by IUJ Chinese Alumni-
中国
十一月二十二日 星期日 
4pm – 5pm 中国时间 (5pm – 6pm 日本时间)
China
Sunday, November 22nd, 4pm – 5pm China Time (5pm – 6pm Japan Time)
The session will be held by using Zoom. Detail will be sent to you by mail.
Contact :
Office of Admissions and Career Support (OACS)
Phone: +81-25-779-1104