On Friday, February 15 2019, IUJ's 12 international students served as advisers for English presentation by students of Kokusai Joho High School (KJ), which has been assigned as the Super Global High School (SGH) by MEXT (Ministry of Education, Culture, Sports, Science and Technology).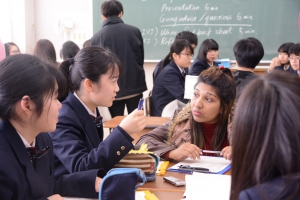 As its research theme for SGH, they are developing global talents by sending their messages from the snowy rice-producing region of UONUMA.
Along with the theme, to enhance their presentation ability, each groups consist of 4 or 5 members gave an English presentation to IUJ international students.
IUJ students gave some feedbacks on their ideas and attitudes in the presentation, which made a chance for KJ students to reconsider their idea and improve it.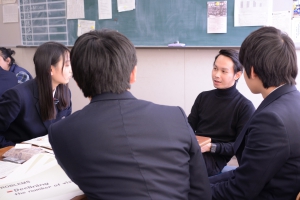 IUJ students, belonging to either Graduate School of International Relations (GSIR) or Graduate School of International Management (GSIM), gave advice in point of view of their research fields and of foreigner. It was enjoyable to interact with young students who are expected to be a global human resource in the near future.
IUJ will continue to work with KJ on developing globalized human resources.
Office of Top Global University Project
Tel: 025-779-1486  Email: sgu@iuj.ac.jp
https://www.iuj.ac.jp/wp-content/uploads/2019/02/DSC_6745.jpg
3000
4496
Top Global University Project
Top Global University Project
2019-02-20 10:40:37
2019-02-20 10:34:40
English Presentation by Kokusai Joho High School students