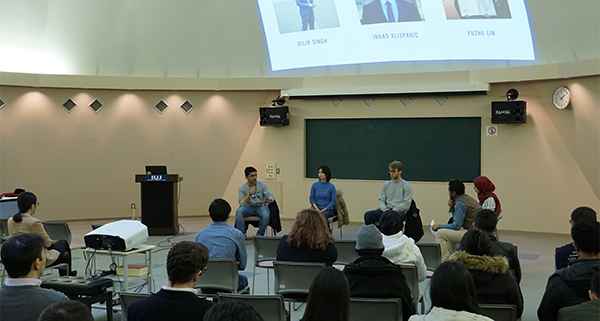 On Saturday 9th February 2019, The Graduate School of International Management (GSIM) Council, IUJ Career support and IUJ Alumni Association hosted the Winter Term Networking Event. This is the fifth networking event organized by the IM council, which aims at creating a professional relationship between IUJ students and other business parties as IUJ is the perfect place to develop a true global network. The general theme of this networking event was "Sharing Experience with Alumni".
With more than 60 attendees including students, faculty and alumni the event started with GSIM Dean Wenkai Li welcoming IUJ guests and thanking the organizing parties. After that Mr. Tadashi Inagaki Class of 1995 and IUJ Alumni Association executive committee chairman addressed the audience highlighting the Alumni Association objectives and the importance of staying connected with IUJ campus and current students. He finished by an inspiring speech quoting Ghandi's "Live as if you were to die tomorrow. Learn as if you were to live forever" and interpreting it "Thank, Enjoy and help others as if you were to die tomorrow. Learn as if you were to live forever" and the room was lit with warm applause.
Ms. Minako Suzuki from IUJ Alumni association Executive committee took the stage with a presentation titled "Japanese Company's Expectation to Foreign Students" where she described the current demand for foreign students in the Japanese Job market. She explained how the number of companies hiring foreigners rose from 13% in 2011 to 53% expected in 2019. She also highlighted the Fundamental Competencies defined by Ministry of Economy, Trade and Industry for Working Persons.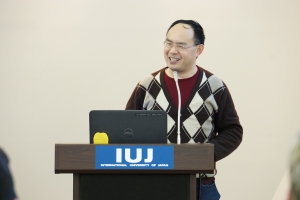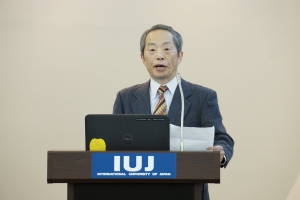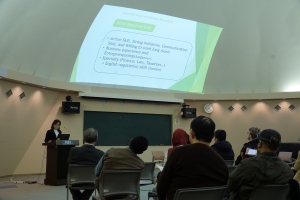 Left: Dean Li  Middle: Mr. Inagaki  Right: Ms. Suzuki
The panel discussion then took place where three recent IUJ graduates shared their working experience in Japan. The discussants were Yuzhu Lin IDP Class of 2015, Dilip Singh E-Biz class of 2016 and Irhad Alispahic MBA class of 2018 with two IM Council members moderating the discussion. The atmosphere was lighthearted and casual, but full of useful information about Japan's job market, working environment and recruitment process. The discussant delightfully answered questions collected from students that concentrated mainly around four topics job hunting process, importance of Japanese language, workplace environment and future recommendations. The event ended by dividing attendees into six groups where other five alumni joined the panel discussants in answering students' questions in small group. The official networking event may have ended but the networking continued on the same night where Alumni enjoyed dinner with students feeling nostalgic about IUJ old days.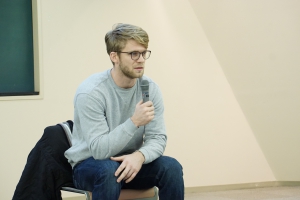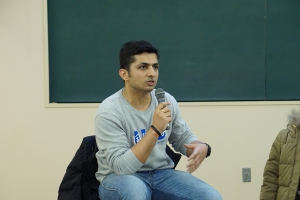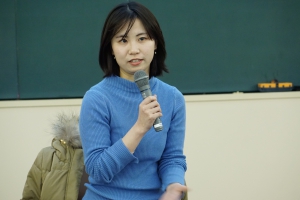 Left: Mr. Alispahic  Middle: Mr. Singh  Right: Ms. Lin
Omer Mohammedahmed
International Management Students Council
https://www.iuj.ac.jp/wp-content/uploads/2019/02/eye.png
400
600
Public Relations
Public Relations
2019-02-18 15:41:29
2019-02-18 16:31:20
The Networking Event "Sharing Experience with Alumni" was successfully held