Rice-planting season has come in Uonuma-area!
On May 15th 2018, 9 international students of IUJ participated in rice- planting at Niigata Prefectural Kokusai Joho High School (KJ).
KJ is the only one high school in Niigata Prefecture designated as Super Global High School (SGH), which is one of national undertakings by Ministry of Education, Culture, Sports, Science and Technology (MEXT) to attempt human resource development of global leaders who can work internationally in the near future, aims at developing human resource who will be able to deal with problems not only within Uonuma but aslo in related area outside Japan as spreading an appeal of Uonuma. The rice-planting on this time was held in order to learn rice farming which is the basic industry in Uonuma area.
One of the international students has a rice-planting culture in his homeland and he is familiar with the custom. Even though, it would have been fresh and exciting to plant rice in the Japanese traditional way and communicate with high school students.
After an opening ceremony, IUJ students joined high school students and they were given a lecture of planting while they were talking.
At first when they started planting, many of them did it carefully, but soon getting used to it. Raising their hands to ask and receive another rice plant was very natural.
The scenery all seeding was planted in a field was beautiful, and both IUJ students and KJ students seemed to have satisfaction of achievement. They enjoyed conversation and taking pictures for a while.
IUJ and KJ continue to work together on developing globalized human resources.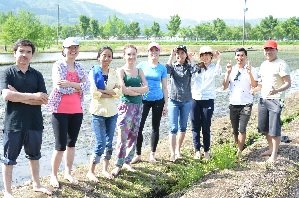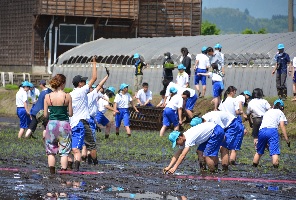 Office of Top Global University Project, International University of Japan
Tel: 025-779-1486  Email: sgu@iuj.ac.jp
https://www.iuj.ac.jp/wp-content/uploads/2018/05/riceplanting4.jpg
288
793
Top Global University Project
Top Global University Project
2018-05-16 15:40:09
2018-05-18 14:42:05
IUJ International Students Experienced Rice-Planting 2018