Today, IUJ joined with Minamiuonuma City, Niigata Prefecture in the Global IT Park (http://gitmu.jp/) that is going to be set up in Minamiuonuma City with the help of Adam Innovations, a Tokyo-based consulting company. The park is aiming to attract IT companies from IT powerhouse India, Sri Lanka, etc. to help creating Japan's first international IT hub in the vicinity of IUJ, close to the Shinkansen station in Urasa.
Eventually the aim of the IT Park, according to Mr. Wawulagala, is to attract 300 global IT companies and also young Japanese to the area and help Japanese companies, including SMEs, to become more innovative and global. It is expected that IUJ students as well get opportunities to do internships and even jobs, when the IT Park start operations in the summer of 2016.
On Feb 18, 2016, the MOU signing ceremony was held in Minamiuonuma City Hall, with the four partners, Niigata Prefecture, represented by Governor Izumida, Minamiuonuma City, represented by Mayor Iguchi, Adam Innovations, represented by Representative Director Kaushal Wawulagala (E-Biz, 2006), and IUJ, represented by Vice President Dr. Jay Rajasekera (on behalf of President Dr. Kase, who was on an overseas business trip).
IUJ is eager to help in any way by working with partners to make this Global IT Park become successful and make this city become even more vibrant.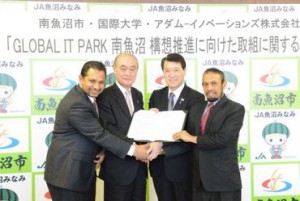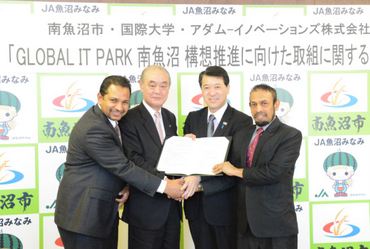 MOU Signing Ceremony at Minamiuonuma City Hall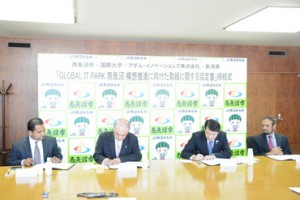 MOU Signing Ceremony at Minamiuonuma City Hall
https://www.iuj.ac.jp/wp-content/uploads/2016/02/itpark.jpg
249
370
President Office
President Office
2016-02-19 15:18:45
2016-02-19 15:18:59
IUJ signs MOU for Partnership in Global IT Park, Minamiuonuma City