Mr. Shoei Utsuda, Former Chairman of the Board of Directors at Mitsui & Co. Ltd., assumes the position of IUJ Chairman as of June 1, 2015. He succeeds Mr. Yotaro Kobayashi, who has served as Chairman of the University since May 2003.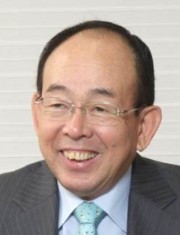 Mr. Shoei Utsuda served as the President and Chief Executive Officer of Mitsui & Co. Ltd. from October 1, 2002 to April 2009. He was the Chairman of Mitsui & Co. Ltd. since April 1, 2009 until April 2015. He also served as the Vice Chairman of the Japan Business Federation "Nippon Keidanren" from 2007 to 2011,Counselor to the Policy Board of the Bank of Japan from 2007 to present, and Chairman of the Japan Foreign Trade Council, Inc. from 2010to 2014. Mr. Utsuda received his degree from Tokyo University.
IUJ welcomes Mr. Utsuda to this post.
Since IUJ's establishment in 1982, the former Chairman Kobayashi has made great contributions to the development of IUJ with his excellent leadership. He served as the Board of Directors from 1982 to April 2003, and served as the Chairman from May 2003 to May 2015. In recent years, through his contribution, IUJ concluded an agreement on an incorporated alliance partnership with Meiji University in January 2013, and was selected for the Top Global University Project of the Ministry of Education, Culture, Sports, Science and Technology (MEXT) in September 2014.
https://www.iuj.ac.jp/wp-content/uploads/2014/06/Chairman2.jpg
352
274
President Office
President Office
2015-06-03 15:35:33
2015-06-18 09:50:01
Change in IUJ Leadership