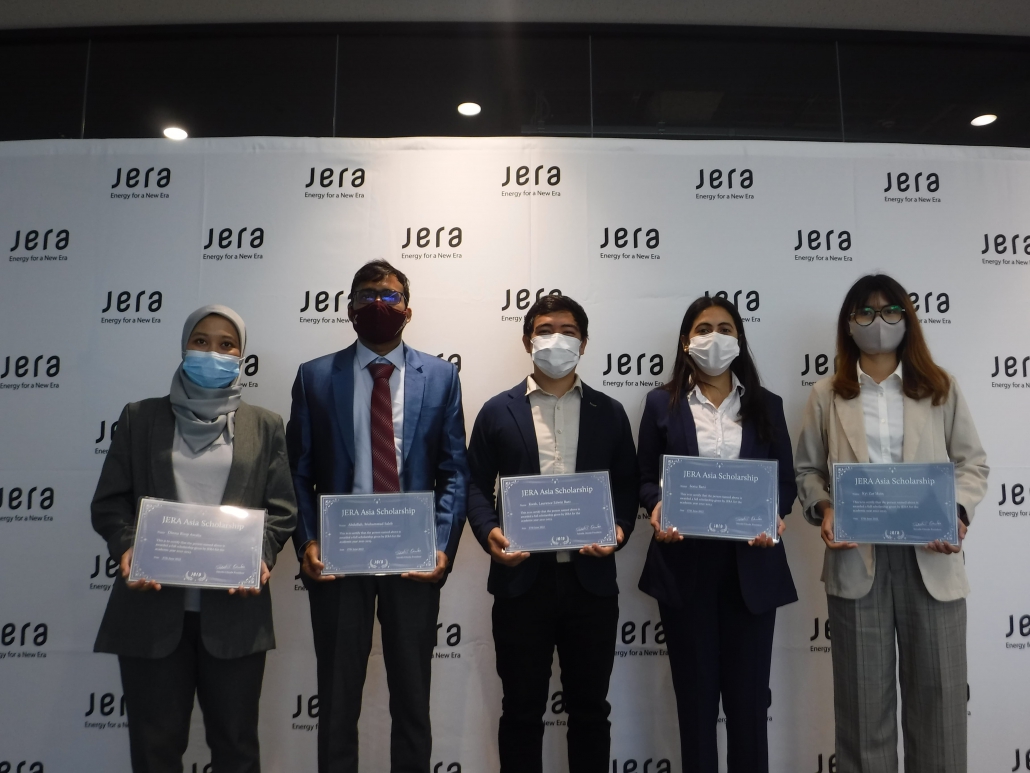 The 1st JERA Award Ceremony (JERA Asia Scholarship) was held at the JERA Main Office in Tokyo on June 27, Monday and the 5 scholars receiving this generous scholarship were invited.
Each scholar was given a scholarship certificate by Mr. Akihiko Taniguchi, who is our respected alumni (Class of 1995) and currently a Senior Supervisor in the General Affairs office at JERA.
The scholars also had a great opportunity to go see the inside of Kawasaki Thermal Power Station, the largest power plant in Japan, and gained a lot of knowledge of the advanced technologies used there.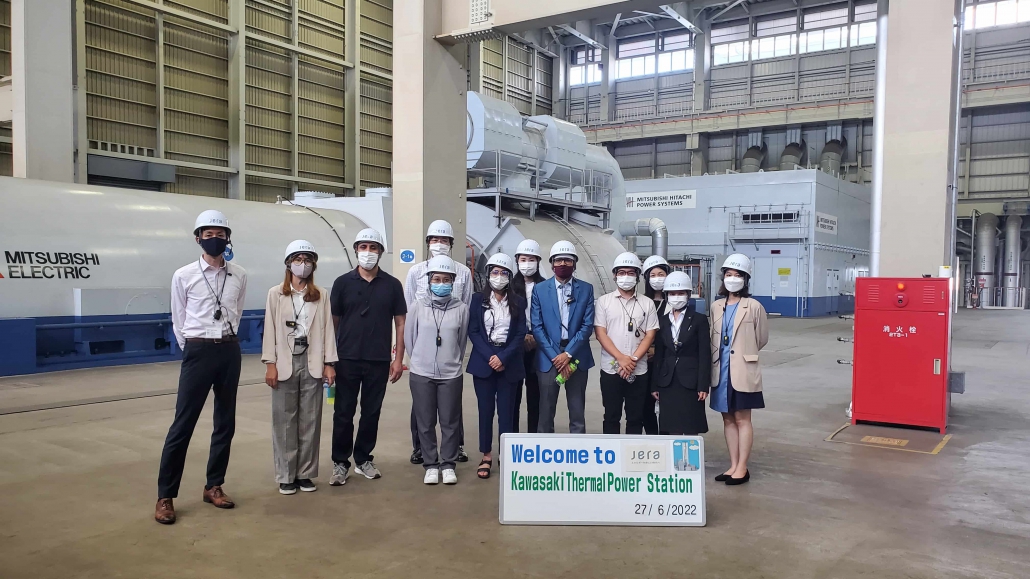 IUJ thanks JERA for its deep engagement with IUJ for scholarships and employment opportunities for IUJ students.
===
Office of Student Service
oss@iuj.ac.jp
===
https://www.iuj.ac.jp/wp-content/uploads/2022/07/JERA-scholars-1.jpg
3456
4608
Public Relations
Public Relations
2022-07-01 11:12:44
2022-07-01 11:25:31
The 1st JERA Award Ceremony (JERA Asia Scholarship)
On Saturday June 25th, the graduation ceremony of class 2022 was held in Minamiuonuma City Hall. This year, 93 master's students and 1 Ph.D. student from the Graduate School of International Relations and 47 master's students from the Graduate School of International Management joined together to celebrate the culmination of their academic achievements alongside respective representatives from embassies, families, friends and IUJ faculty and staff.
Introductory remarks from IUJ President Hiroyuki Itami
President Hiroyuki Itami congratulated all students for completing their academic programs at IUJ. He mentioned that the graduation was not a special day only for celebrating the end of an academic journey, but also because we can celebrate the end of two successful years "without any major outbreaks on campus." He added that IUJ is proud of all the students, faculty, and staff for making this journey possible.
President Itami stated: "IUJ is a very special place for cross-cultural interaction and being an English-speaking university in Japan where international standards are being persuaded, and students from 50 countries are living together."
President Itami hoped that IUJ would remain a place where alumni wanted to come back after their memories, and he made sure that they are always welcome.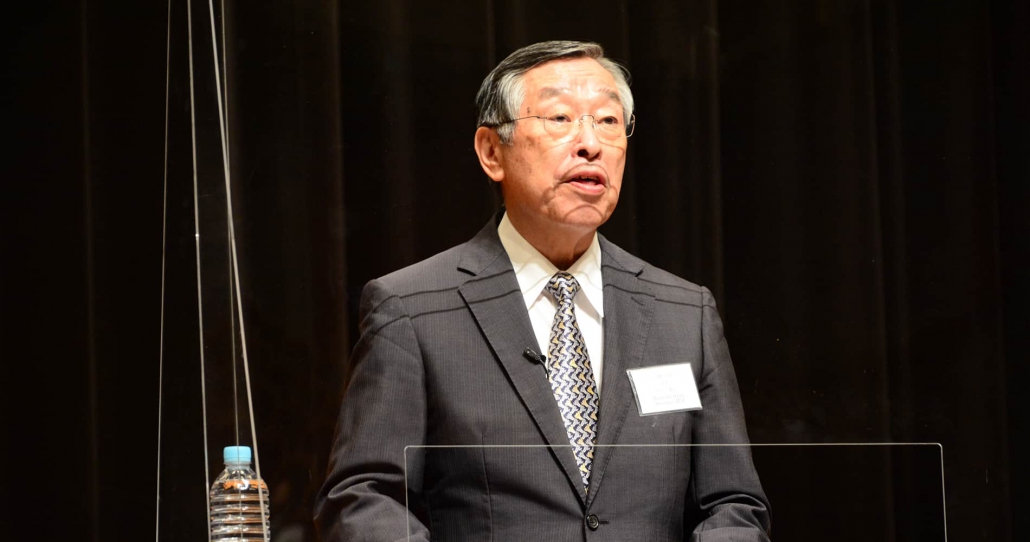 Congratulatory address by Taro Aso
Vice President of the liberal democratic party
Mr. Taro Aso expressed his happiness at the graduation ceremony for students who have completed their masters and Ph.D. programs. He said that IUJ is now home to future leaders in many countries. What they learned in classes and during the social interactions on campus will pay off for them, and their children will be proud of them for serving the world through their knowledge and expertise.
He said that while having responsibilities in various organizations, he tried to contribute to the world economy and find solutions to problems, in which, to some extent, he succeeded. There are many more things to do, "Lose no patience, absolutely no patience and believe that your step, however small, shall make a giant stride, someday."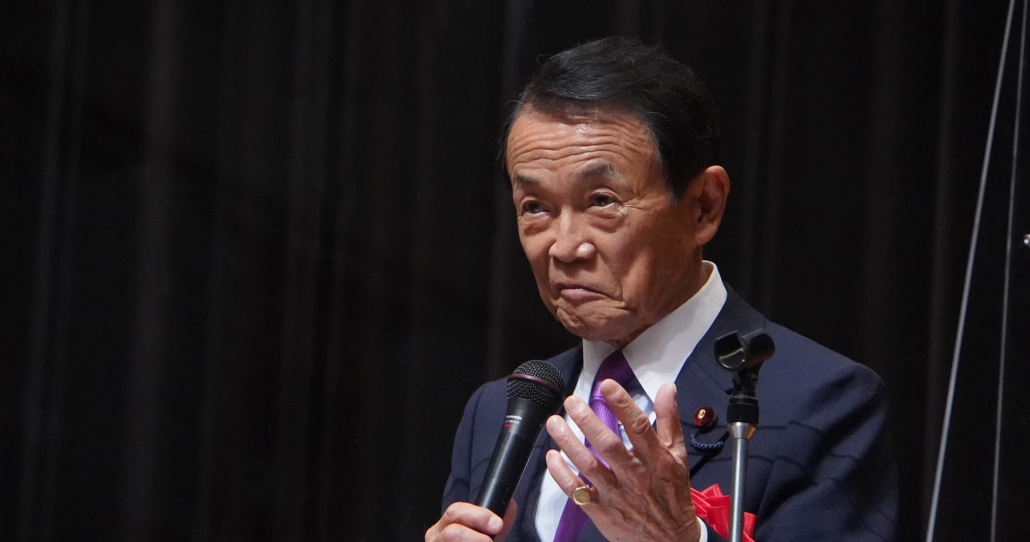 Dean of International Relations Maung Aung Myoe
Dean Myoe started his statement by congratulating and praising all the students who were able to successfully complete their academic journey despite the many challenges they faced during the last two years. He mentioned that combined with this year's graduates, a total number of 2,967 have graduated from GSIR since 1982.
Dean Myoe also praised the unique surroundings of the IUJ campus, which has beautiful nature and all the learning facilities. In the end, he congratulated all the students and wished them the best for their future.
Dean of International Management Hyunkoo Lee
Dean Lee also congratulated students for completing their graduate and postgraduate journeys at IUJ.  Dean Lee pointed out the COVID-19 pandemic, which caused most face-to-face classes to become virtual, which made academic life challenging. Dean Lee added that, however, the students learned enough about today's world practices, but it will not be enough some years later. Because the world is changing and so is its situation. Therefore, they need to keep themselves updated and be innovative so they can cooperate for the world's welfare.
After the speeches from President Itami, special guest Mr. Taro Aso, Dean Myoe and Dean Lee, degrees were awarded. Each student was individually called to the stage to accept their diplomas, and once they were all presented the requisite cap toss took place!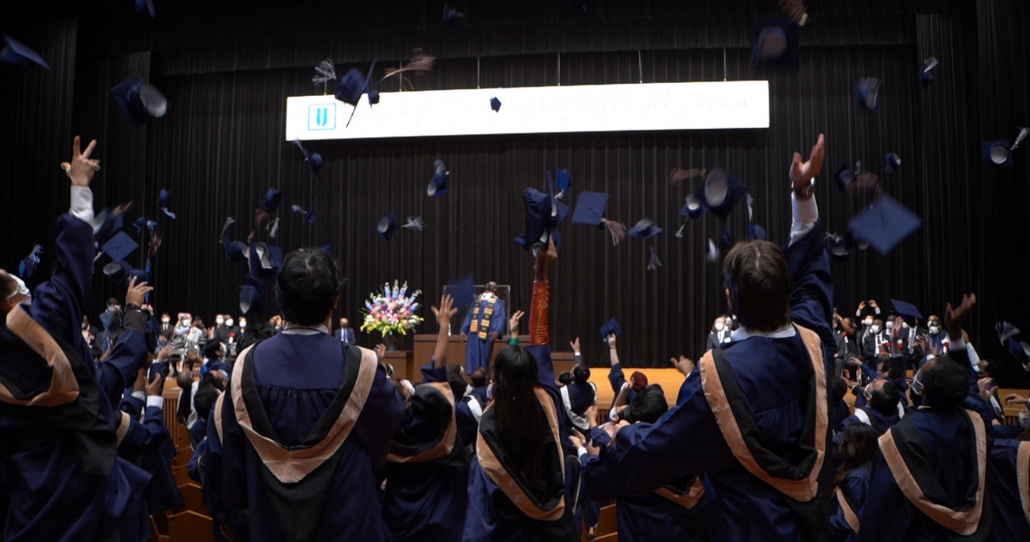 International Relations Valedictorian: Irene Angela Valones Cuya
Irene congratulated her fellow graduates of 2022 and mentioned that despite the novel COVID-19 pandemic and online classes, they tried their best. She shared her experience on the IUJ campus, where students and their families share moments of joy and care for each other. She said: "We faced challenges and hardships, but we overcame our fears and learned, and in the end, we grew stronger."  She expressed gratitude to her supervisor, the IUJ faculty, and management for their support of her academic life at IUJ.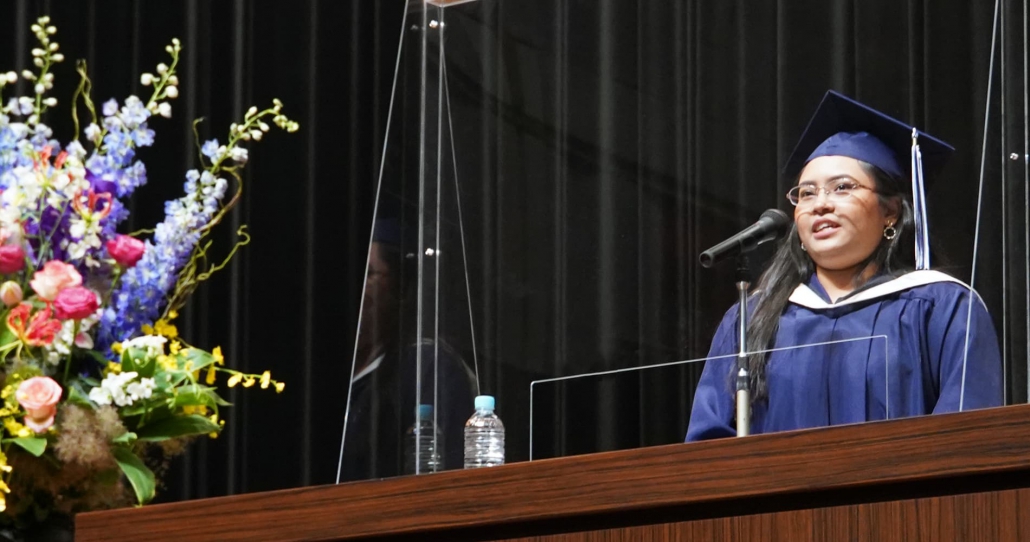 International Relations Valedictorian: Mukesh Dangol
Mukesh congratulated his fellows for completing their academic journey at IUJ. He said that "studying in IUJ was a self-discovery for me and for many of us. I got time and a platform to introspect myself. " Mukesh mentioned how IUJ provided him a unique opportunity not only through classes but also by being involved in different social and academic activities during his master's. He also thanked his supervisor and other IUJ professors for their support and guidance. To quote Mukesh, "Live life to the fullest and enjoy every moment."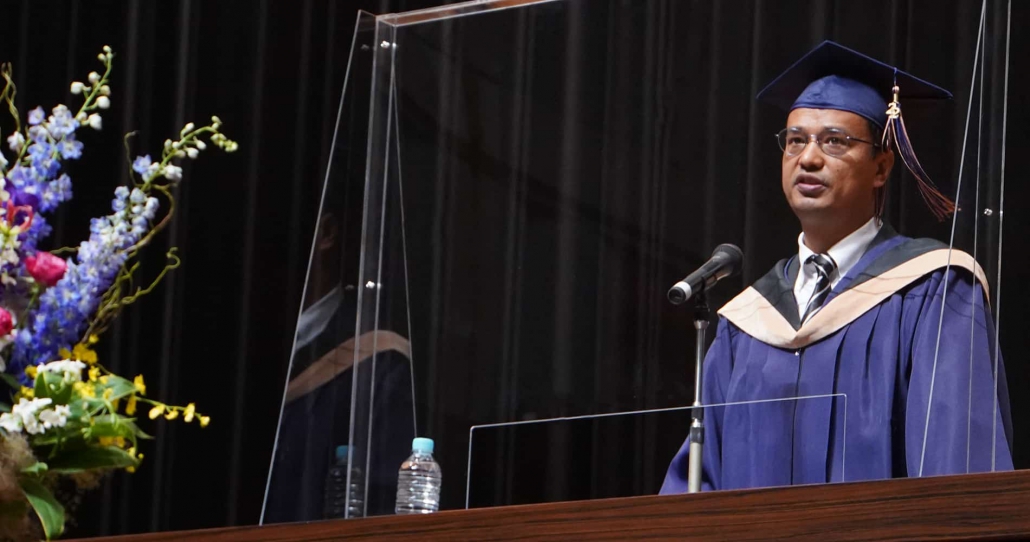 The annual tree unveiling ceremony
After the ceremony proceedings, students regathered at IUJ for the annual tree unveiling ceremony. Each year, two new trees are planted in the campus Alumni Forest – one representing the Graduate School of International Management, and one representing the Graduate School of International Relations. The trees, growing strong and tall, are a metaphor for what we wish for our graduating students in the next chapter of their journeys.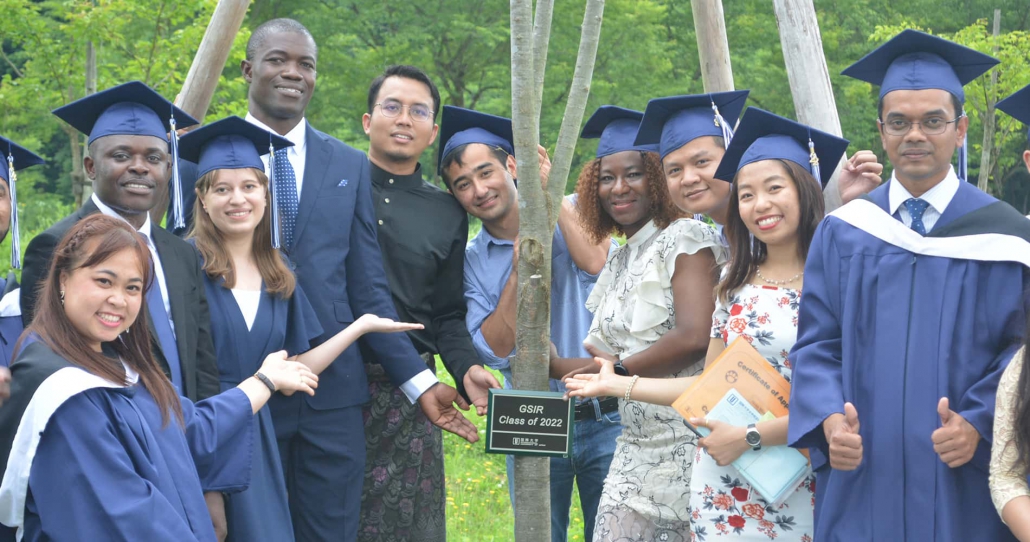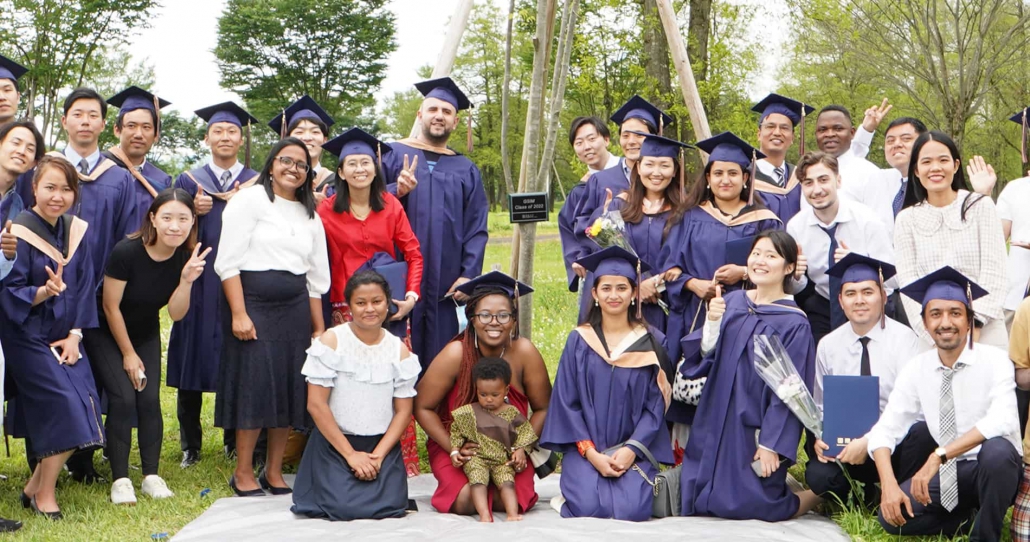 Once again IUJ congratulates our Class of 2022, not only for their academic achievements but for enriching our university. We thank everyone who supported them throughout their time here in Japan and came out to celebrate at the ceremony. We have no doubt that this year's graduating class will have a positive impact on the world, and we're fortunate to have been part of their stories.
===
IUJ PR Team
media@iuj.ac.jp
===
https://www.iuj.ac.jp/wp-content/uploads/2022/06/C0009T0_2.jpg
1000
1900
Public Relations
Public Relations
2022-06-28 16:36:46
2022-06-29 09:58:41
IUJ held its 2022 Graduation Ceremony
On June 17, 2022, an international symposium on the cultural value of the Sado Island gold mines was held on the IUJ campus, hosted by the Cabinet Office and the Agency for Cultural Affairs, Government of Japan. Japan has proposed that the Sado Island gold mines be granted UNESCO World Heritage property status. This symposium welcomed three expert panelists who are familiar with the history and culture of Sado Island in Niigata Prefecture and the world heritage system, and they discussed the outstanding universal value of the Sado Island Gold Mines as a potential Wold Heritage property, carrying importance for all humankind. The purpose of this symposium was to have more people understand its cultural value through this discussion. The panel discussion also included a Q & A session with IUJ international students who had recently taken a field trip to Sado Island.
Programme
Date/Time
Friday, June 17, 2022 15:30-17:30
Venue
Online (via Zoom, broadcasted from the International University of Japan, Niigata Pref.)
Language
English (with Japanese simultaneous interpretation)
Host
Cabinet Office, Agency for Cultural Affairs
With support from
International University of Japan (IUJ)
Dr. ITAMI Hiroyuki, President of International University of Japan
Mr. SHIKATA Noriyuki, Cabinet Secretary for Public Affairs, Japan Prime Minister's Office
Guest remarks (video messages)  
Mr. HANAZUMI Hideyo, Governor of Niigata Prefecture
Mr. WATANABE Ryugo, Mayor of Sado City
[Moderators]   
Dr. SHINODA Tomohito, Professor, International University of Japan
Dr. NAKAMURA Ayako, Assistant Professor, International University of Japan
[Panelist]          
Prof. MIYATA Ryohei, Former President and Professor Emeritus of Tokyo University of the Arts, Former Commissioner for Cultural Affairs
Prof. OKADA Yasuyoshi, Professor Emeritus of Kokushikan University, President of Japan ICOMOS National Committee
Mr. Barry Gamble, World Heritage Advisor
Q&A session with students of the International University of Japan
Ms. SHIOMI Mizue, Deputy Commissioner for Cultural Affairs, Agency for Cultural Affairs of Japan

Opening Remarks by President Itami
It is my great to pleasure to open this International Symposium on the Cultural Value of the Sado Island gold mines today here on our campus. It is great honor to welcome many distinguished guests to participate in this symposium, including Governor Hanazumi online and Mr. Shikata from the Cabinet Office. Our university, International University of Japan, is particularly fortunate and an appropriate venue for this UNESCO-related symposium to discuss the cultural value of the Sado Island gold mines with the international community. We are an English-only graduate school university where the large majority of the students are foreign, coming from more than 50 countries. We are where the world gathers. Of course, we are located in Niigata in a rural area where the beauty of the Japanese countryside fills the surroundings of our campus. As such a unique university, one of our concepts is to be an integral part of Niigata. In that sense, I am particularly happy that we can hold this symposium today on our campus, which I hope will help Sado City and Niigata prefecture increase their international presence.
https://www.iuj.ac.jp/wp-content/uploads/2022/06/photo3_en.png
400
853
Public Relations
Public Relations
2022-06-24 10:53:12
2022-06-24 10:55:25
Successful International Symposium on the Cultural Value of the Sado Island Gold Mines held at IUJ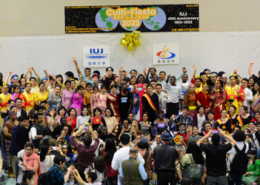 The IUJ International Festival ( Open Day) was held on May 28th,…
https://www.iuj.ac.jp/wp-content/uploads/2022/06/eye.png
255
351
Public Relations
Public Relations
2022-06-01 16:48:42
2022-06-01 16:50:21
IUJ International Festival / Open Day 2022 was held on May 28th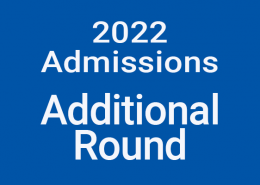 The Graduate School of International Management (GSIM) has decided…
https://www.iuj.ac.jp/wp-content/uploads/2022/03/ADDITIONAL-2022-VER2-1.png
400
600
Public Relations
Public Relations
2022-03-18 10:57:59
2022-03-18 11:20:21
2022 Admissions - Additional Application Round for Graduate School of International Management Programs