Living in Japan right now, and looking to further your education? The Japan Student Services Organization is holding a college guidance fair for international students in Tokyo on Saturday, July 6th from 10am until 4pm, to give prospective students insight into what the schools have to offer.
This Fair is applicable to those interested in applying to Japanese Universities for the 2020 academic year or in the near future. The event will give participants the opportunity to find out more about what the universities have to offer. IUJ welcomes you at our booth.
IUJ was established in 1982 as the first graduate school in Japan which all courses are taught in English.  More than 4,200 alumni from about 123 countries work or continue to study Ph.D. course, etc. around the world.  On IUJ campus, about 340 students from about 60 countries study and enjoy campus life together.  IUJ: Where the World Gathers!If you are interested in applying for 2020 academic year or in the near future, please attend this session.  It will be nice chance to know more about IUJ.  Please visit out booth!!
<College guidance fair for international students>
Date: Saturday, July 6th
Time: 10AM-4PM
Location:
Event Hall D, Ikebukuro Sunshine City
3-1, Higashiikebukuro, Toshima-ku, Tokyo
map.
More detail of the fair can be found on the JASSO website at
https://www.jasso.go.jp/en/study_j/event/guidance_2019.html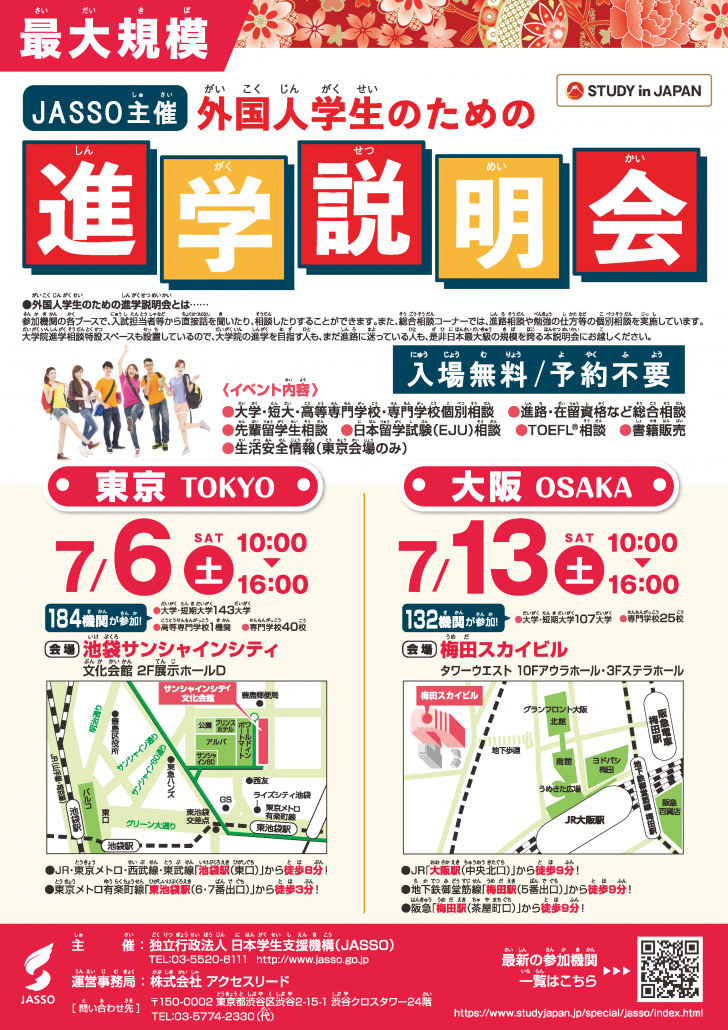 PDF version of the flyer can be download at >>> JASSO TOKYO FAIR
Registration for your attendance:
Please fill out the application form for IUJ booth visit.
Contact:
Office of Admissions and Career Support
E-mail: contact@iuj.ac.jp
Phone: 025-779-1104
https://www.iuj.ac.jp/wp-content/uploads/2019/05/Fair_Tokyo.png
100
260
Public Relations
Public Relations
2019-05-27 15:51:44
2019-07-19 13:49:24
IUJ is participationg in a Fair for internatinal students in Tokyo on Saturday July 6th