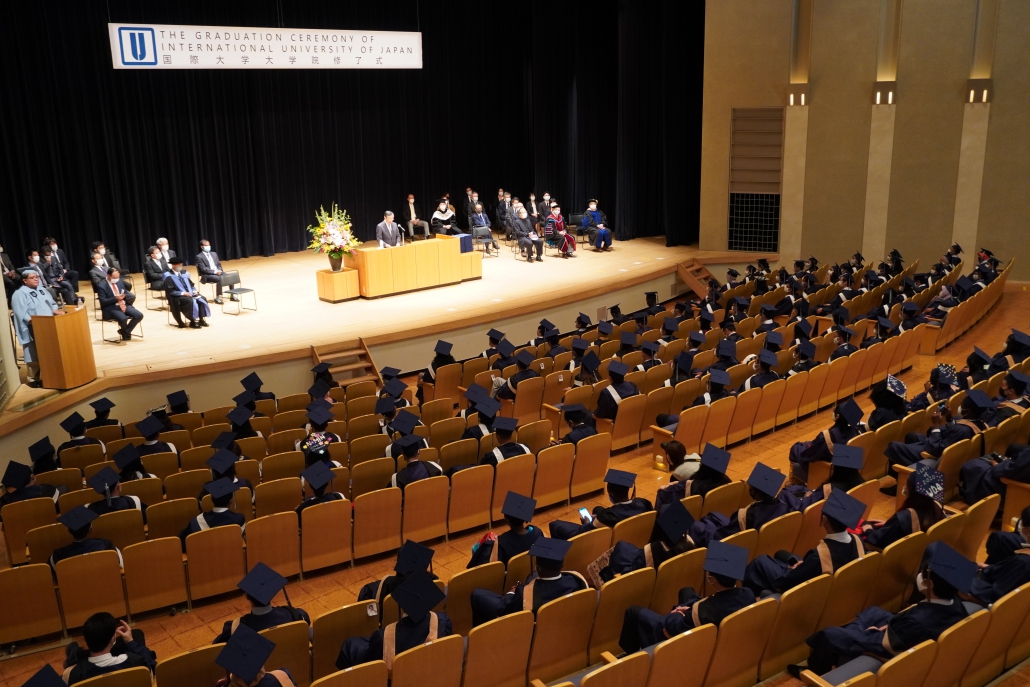 On Thursday, June 25nd, the 2020 Graduation Ceremony for IUJ's Class of 2020 was held at the Koidego Cultural Hall in Uonuma city.
This year, in consideration of the spread of the new coronavirus infection, only graduates, IUJ's president and faculty members attended, and those who could not participate in person were provided a live Youtube feed.
Introductory remarks from IUJ President Hiroyuki Itami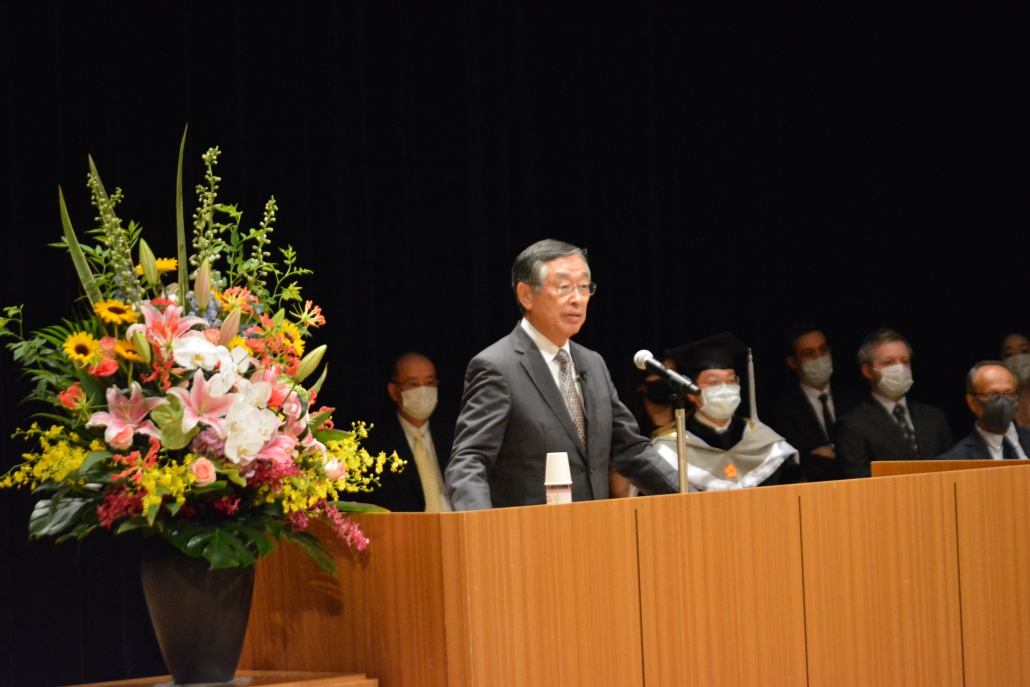 President Itami mentioned that this is not only a day that marks the end of the graduates' long academic journey at International University of Japan, but also a day when we can celebrate the end of a very stressful spring term without anyone being infected by COVID-19 on our campus. It was indeed a very strange spring term that we spent together, with students taking most courses on-line even though they were all living on campus or nearby. He told the audience of his admiration for all the students, faculty and staff alike, because we got through these very tough days together, full of anxiety at first, but very united and caring for each other for the entire spring term. As the president of this university, he expressed great pride in all of the IUJ community.
President Itami continued with the following: "I hope you have done many cross-societal comparisons on a wide variety of topics and have experienced plenty of cross-cultural interaction during your stay at IUJ on an almost daily basis. This place is like a precious jewel, with jewel-like people from all over the world and jewel-like nature at the foot of Hakkaisan mountain."
He shared his hopes that IUJ will remain a place where alumni want to return to often after graduation, both in memory and sometimes in person, and made sure they knew they are always welcome to come back.
Honorary professor of International Relations Shinichi Watanabe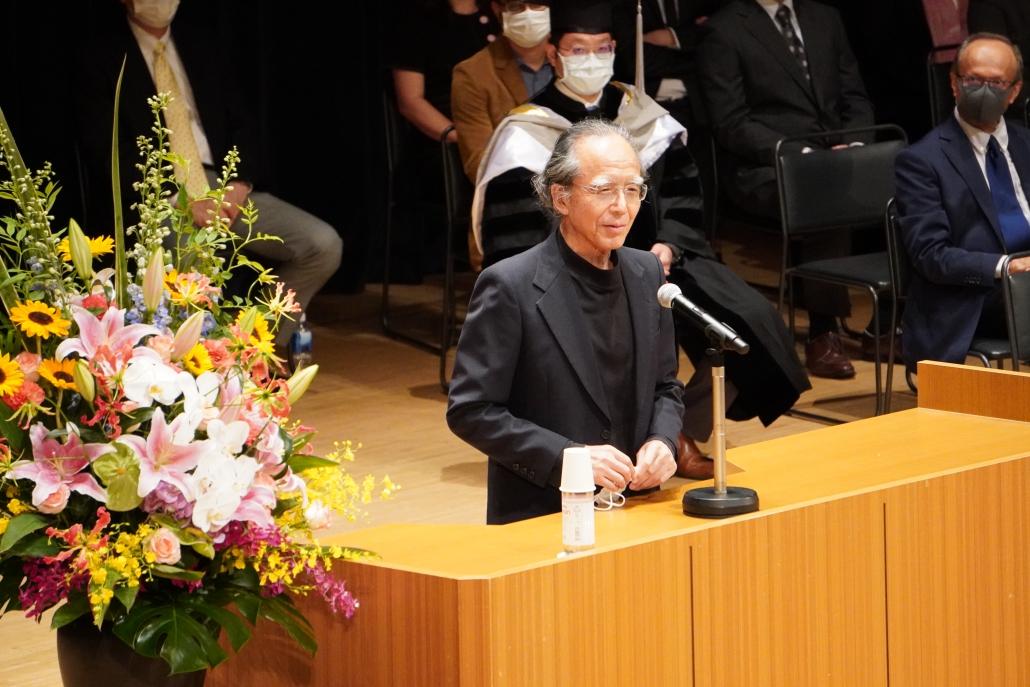 Next, the title of honorary professor was given to Professor Shin-ichi Watanabe (Graduate School of International Relations).
Professor Watanabe has been teaching as a professor for 33 years since 1987. Since 1987, He has been in charge of a number of important subjects as a faculty member of the Graduate School of International Relations, and as a specially appointed professor since 2013. He has also been involved in various international research projects carried out by the Japan International Cooperation Agency (JICA) and others.
In his greeting, Professor Watanabe thanked the staff and teachers with whom he worked for 30 years, and announced that at the request of President Itami and Dean Maung Aung Myoe of the Graduate School of International Relations, he will be able to return to the IUJ campus and lecture again next year. He is particularly pleased with that.
Dean of International Relations Myoe, Maung Aung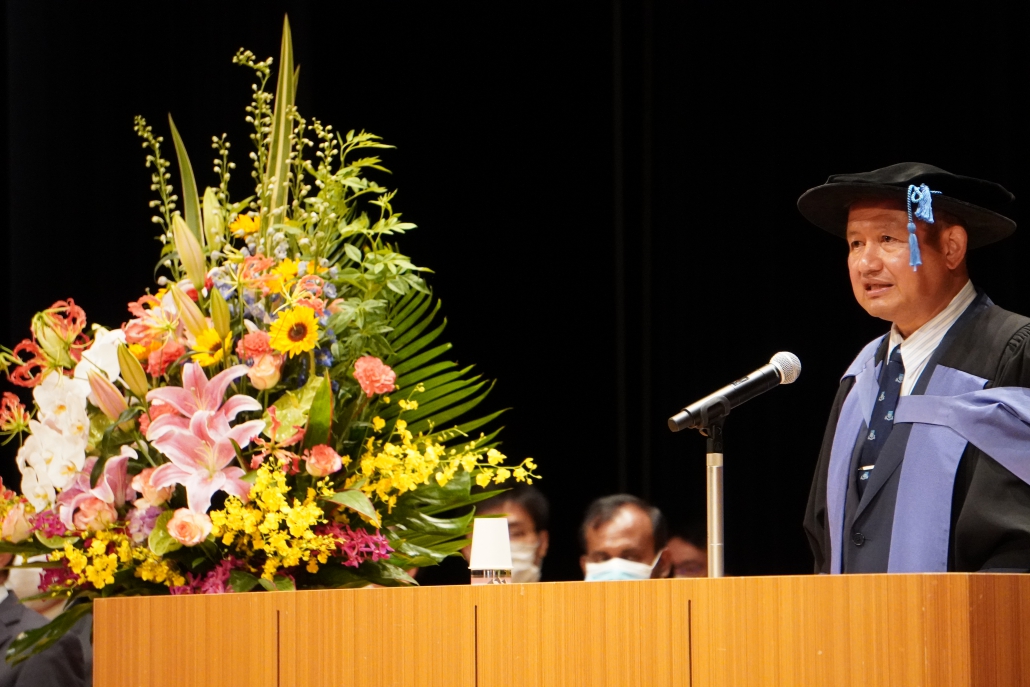 Professor Maung Aung Myoe, Dean of the Graduate School of International Relations (GSIR), congratulated all 100 of GSIR's 2020s graduates, who bring the total number of GSIR graduates since 1982 to 2177. Dean Myoe acknowledged that the last two years were hard for the students, both academically and socially, but that they had done an excellent job, and expressed his pride in their efforts to overcome these challenges. He also noted that this time was full of great memories of IUJ, especially Urasa's beautiful surroundings and world-famed delicacies, that will remain with students forever. Dean Myoe assured them that during their study in IUJ, the students had learned all that will be important in their future lives. He honored those GSIR graduates with outstanding academic achievement, and  concluded with his sincere appreciation and best wishes for all the graduates.
Dean of International Management Wenkai Li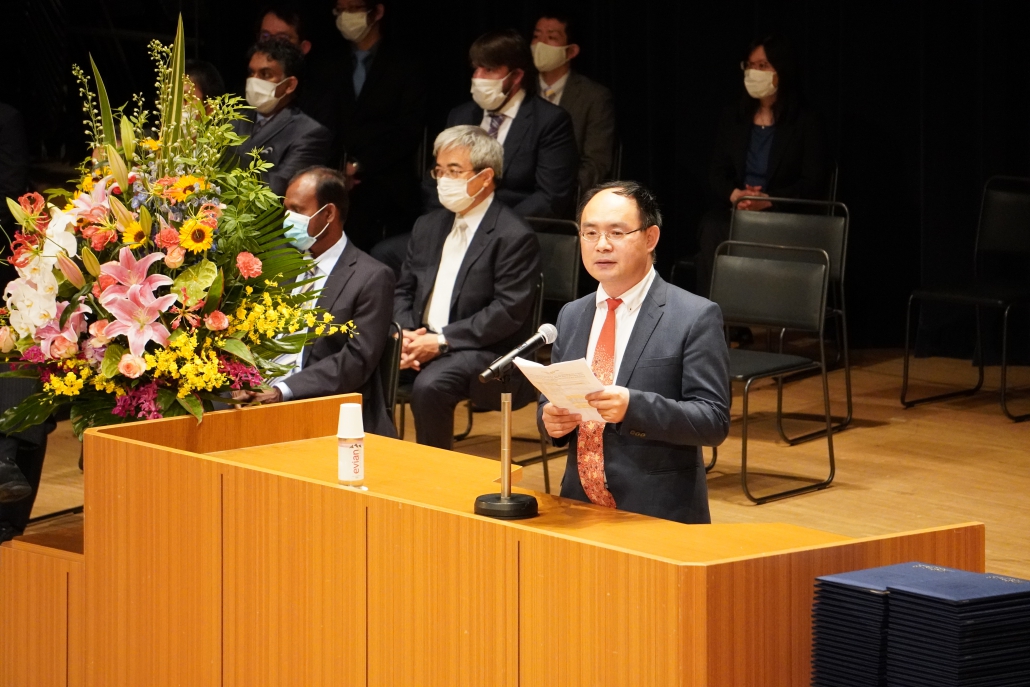 Professor Li Wenkai, Dean of the Graduate School of International Management, invited the graduates to reflect on their two-year journey of sleepless nights, fatigue, and difficulties brought by the outbreak of COVID-19. They had experienced arguments and disappointment, but he expressed his pride in the graduates for their perseverance, and assured that life at IUJ had given them valuable experience, global knowledge, and unforgettable memories. They  will always be part of IUJ's network that extends far and wide.
He congratulated all 49 two-year MBA and 11 IMBA 2020 graduates, honoring those with outstanding academic achievement. He thanked the graduates for enriching GSIM's academic and social life through the Hult Prize, networking events, the GSIM Phase Competition, etc. He demanded that they pass their great spirit on to the next generations of students and wished them all happiness and success after IUJ, which will always welcome them with open arms.
International Relations Valedictorian: Reza, Kazi Mahmudur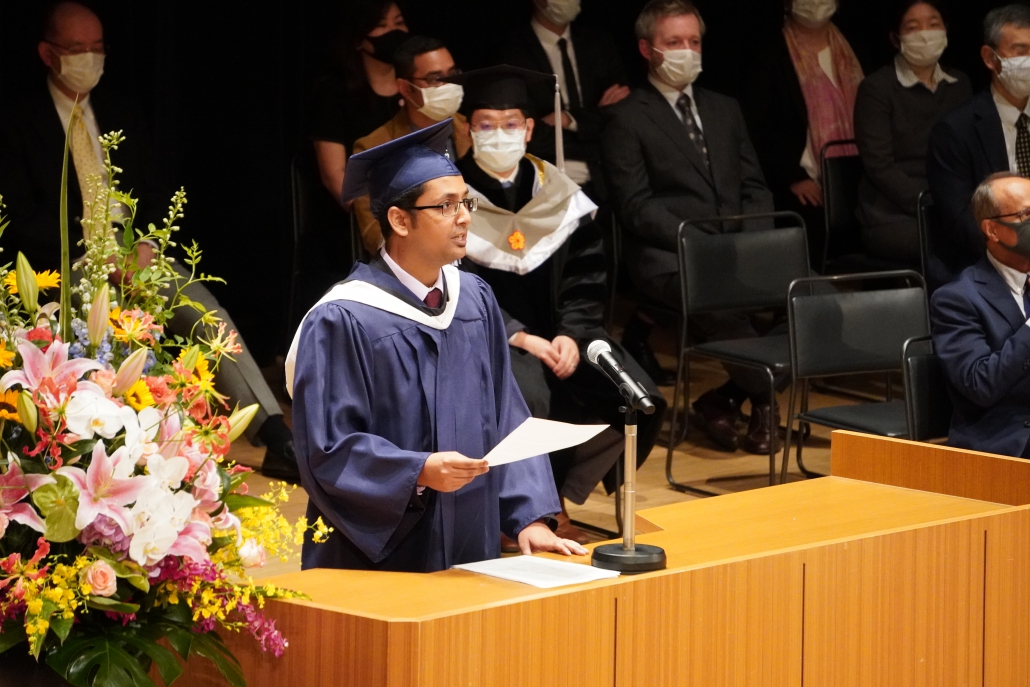 Reza expressed gratitude to his supervising professor, the IUJ staff, the government of Japan, all the scholarship agencies, friends, the Bangladesh community and his family.
He reflected on his experience at IUJ, "where the world gathers": "I have tasted the culture of more than 50 countries and explored the whole world in every nook and corner of IUJ. Though we come here to study, learning was not confined in the classroom. Now after going back to my country, I can share my experience of cosmopolitan friendship with the rest of the world. We will remember the moments that we passed here together and our relationship will be a lifetime achievement for us. I believe the friendship between us will continue forever."
International Management Valedictorian: Rahman, Mehnaz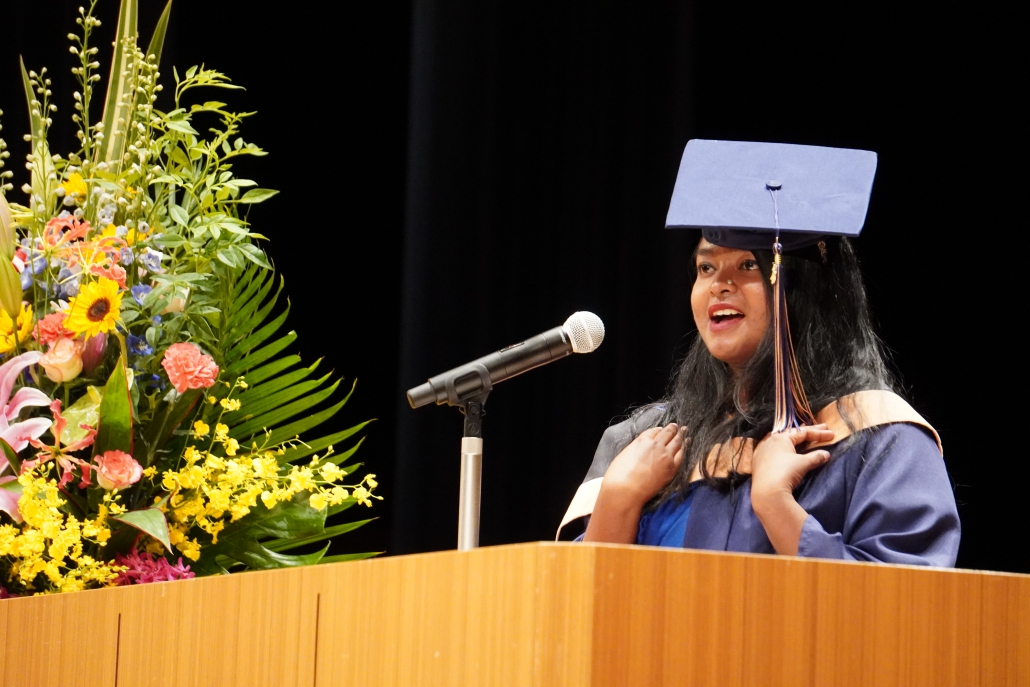 Mehnaz reflected that "Japan and IUJ have offered me more than I expected. I have turned out to be a more independent, inquisitive and culturally aware human being."  She also mentioned that her 2 years at IUJ was like a roller coaster Journey. "It had its own ups and downs. I am pretty sure it was same for all of us. When we came to IUJ, we had different goals but here we became one; one strong community through many experiences such as schoolwork, student council, professor assistant and event planning."
She finished by speaking of IUJ, noting that "As we often thanks and give credit to others, we forget the most important person behind the success. It is none other than us. Let's take a moment my dear friends, to convey to thank ourselves and pat our own shoulders – 'Good Job and thank you'".
The annual tree unveiling ceremony
After the ceremony proceedings, students regathered at IUJ for the annual tree unveiling ceremony. Each year, two new trees are planted the campus Alumni Forest – one representing the Graduate School of International Management, and one representing the Graduate School of International Relations. The trees, growing strong and tall, are a metaphor for what we wish for our graduating students in the next chapter of their journeys.
We once again congratulate our Class of 2020, not only for their academic achievements but for enriching our university. We thank everyone who supported them throughout their time here in Japan, came out to celebrate at the ceremony or tuned in to watch the live-stream of the event. We have no doubt that this year's graduating class will go on to do great things, and we're fortunate to have been part of their stories.
=====
Public Relations
Office of Admissions and Career Support
media@iuj.ac.jp
=====
https://www.iuj.ac.jp/wp-content/uploads/2020/06/room.jpg
4000
6000
Public Relations
Public Relations
2020-07-03 14:14:20
2020-07-03 14:14:20
IUJ's 2020 Graduation Ceremony