Africa Day is celebrated on May 25th and commemorates the founding of the Organisation of African Unity in 1963. IUJ celebrated Africa Day with a mini-conference event focusing on the bright economic prospects and investment opportunities across the continent.
The conference theme was The Future is in Africa and included five presentations by IUJ representatives from different African regions – the North, South, East, West, and Central areas. We were also fortunate to have two guest speakers at the event.
North Africa
The North African presentation focused on six key reasons to invest in the region. These included factors such as global market access, strong infrastructure and trade corridors, competitive costs (the region has an average salary of $338 per month), and talented human capital. Many people in North Africa already speak several languages, and there are multiple high-quality universities and research centers for further education.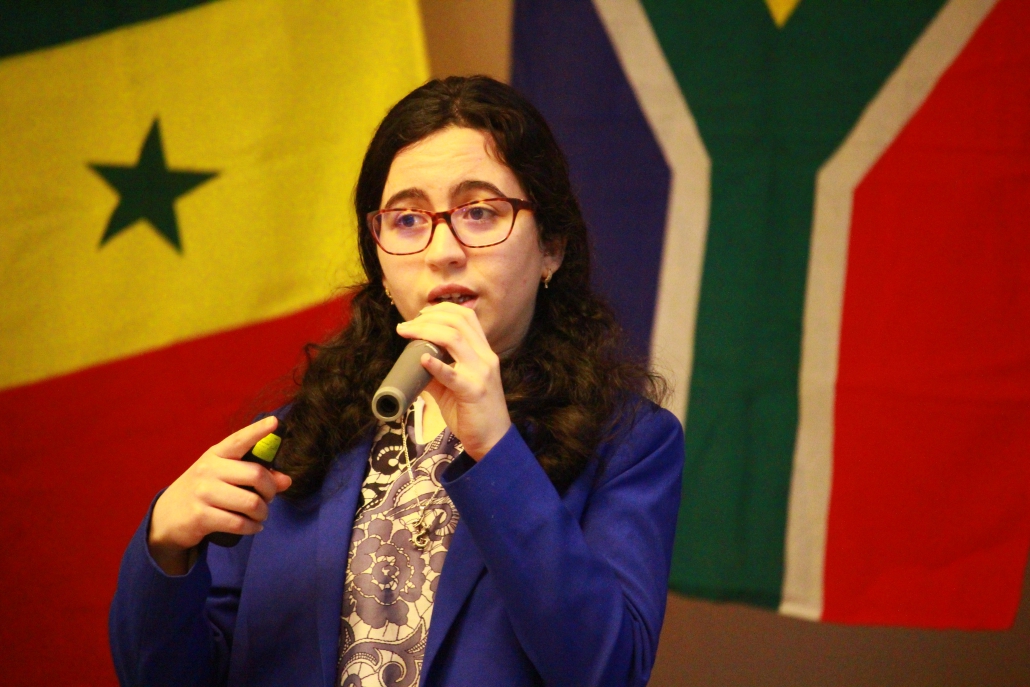 East Africa
The East African economic block has one of the world's fastest-growing GDPs at around 6.1% annually. This solid growth alongside strong infrastructure, stable economies, and an abundant and inexpensive labor force were highlighted as reasons why the region is worth the investment. Industries that are already showing success in East Africa include agriculture, energy, mining, and tourism. The region's diverse natural landscapes and UNESCO World Heritage Sites were mentioned as encouraging ways to expand on the already thriving tourism market.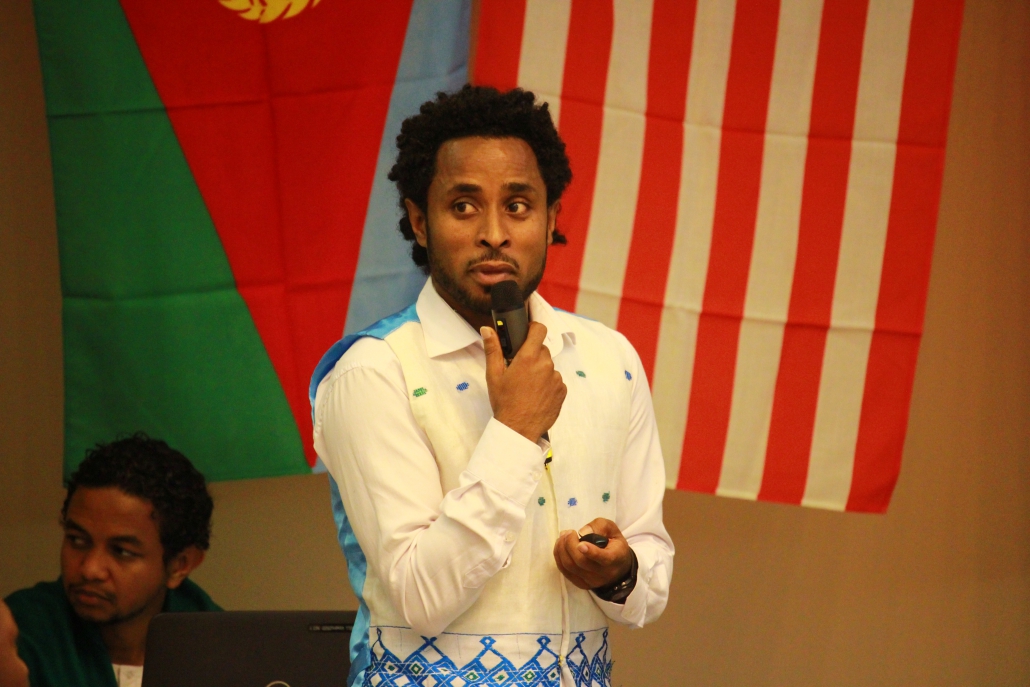 South Africa
The South African regional presentation focused on the positives for potential business investments. This part of Africa has a population that speaks various languages, but the Bantu dialect is a commonality and allows for ease of communication between countries. The area is already home to a number of significant shipping ports including Durban (South Africa), Dar es Salaam (Tanzania) and Walvis Bay (Namibia), and this pre-existing infrastructure makes it convenient for investors to jump right in.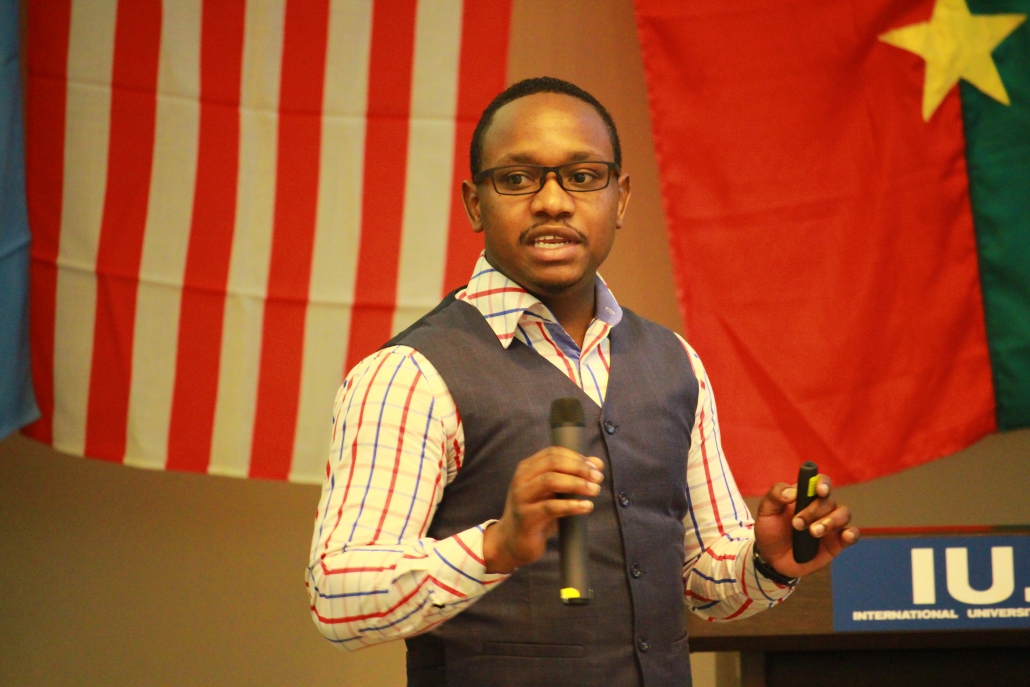 West Africa
West Africa's presentation centered on the unique features of the region, including free trade and movement, integrated economic activities, and a monetary union covering over 50% of nations in the area. West Africa has a fertility rate of 5.46 and a median age of 18 years, indicating an abundant and work-ready population. Many industries are already thriving, and large companies including Nestle, Unilever, Toyota, and Honda have already had success in this part of Africa.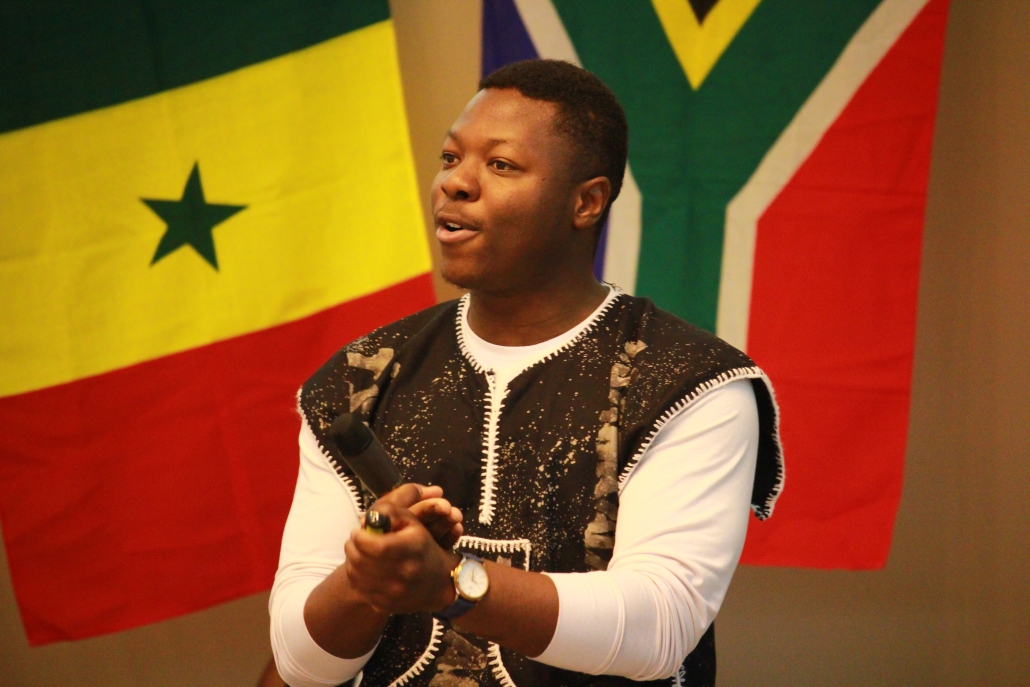 Central Africa
The Central African region is often known as the heart of Africa based on its location, with major industries in oil, mineral and mining deposits, forestry and hydropower. This presentation covered opportunities for entrepreneurship in the area, one of which was tackling the road network. Around ⅓ of roads in the region are unpaved, presenting a challenge for businesses but a promising chance for a potential investment. Agriculture expansion was also cited as a way for entrepreneurs to invest in Central Africa, particularly in the area of poultry farming as the majority of poultry consumed in the region is imported.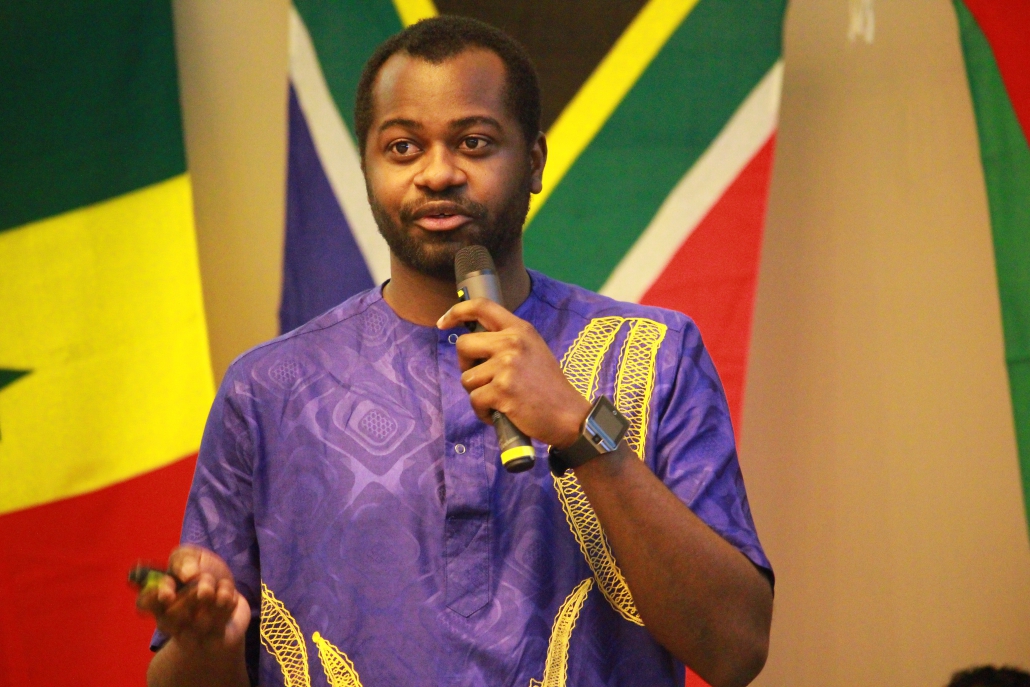 Guest Speaker: Mr. Abubaker Abushiba, Deputy Manager, Energy Systems and Solutions, Toshiba Corporation
Mr. Abushiba has Egyptian-Sudanese heritage, and his speech focused on a comparison between Japan and Africa on several societal issues. Though he mentioned a direct comparison was difficult as Japan is one nation and Africa comprises of 54 countries, it was still interesting to see the strengths that the continent has when it comes to the labor market.
Japan is currently facing the challenges of an aging population, and the impacts this has on the workforce. Japan's median age is 47 and this is projected to increase to 53 by 2050. In contrast by 2035, the work-ready population in Africa is projected to exceed the rest of the world.
Mr. Abushiba also mentioned that many countries are already seeing the potential to invest in Africa, including strong economic powers like Japan and China.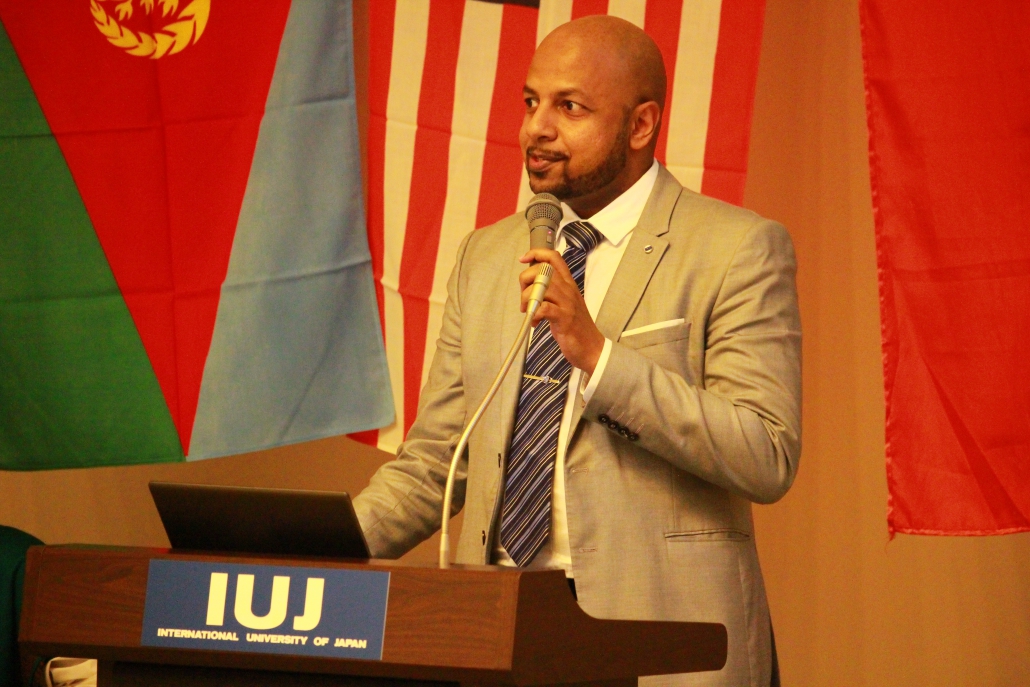 Guest Speaker: Professor Siaw Onwona-Agyeman, Tokyo University of Agriculture and Science
Professor Onwona-Agyeman's speech focused on adding value to resources that already exist in Africa. He spoke of a lecture he presented about his village in Ghana which has significant gold resources. However, only a small amount of the money from this natural resource stays within the region, as the majority of gold refining occurs outside Africa.
He also spoke also about the importance of water as a resource, particularly in the context of wastewater management. Professor Onwona-Agyeman is currently undertaking a project with Nagoya University and the Durban University of Technology, which involves using algae to clean wastewater.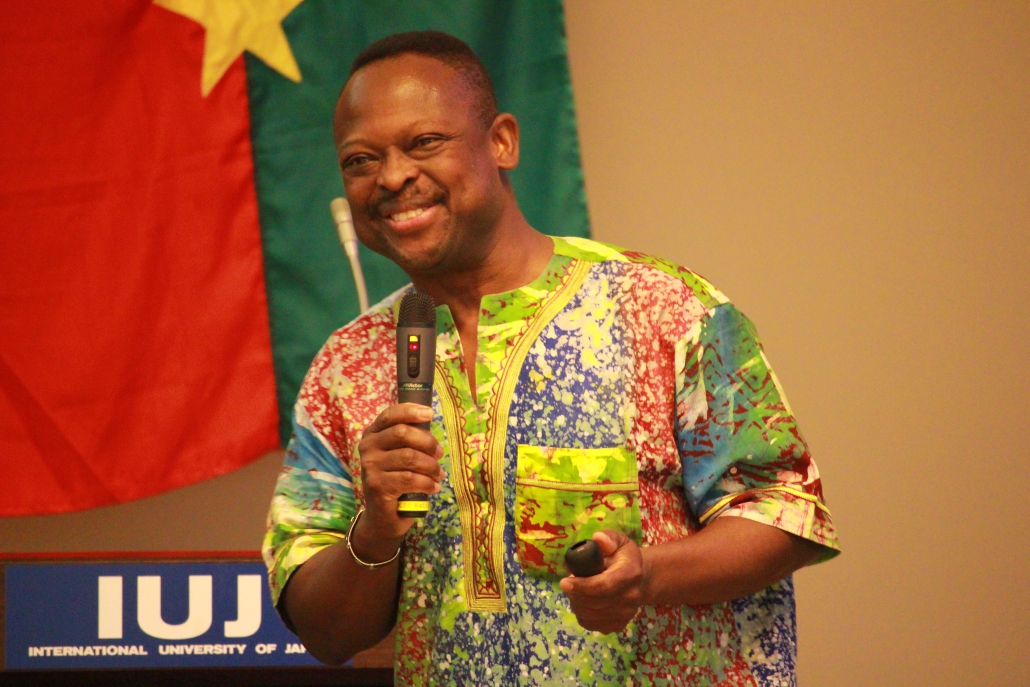 Panel Discussion
After the speeches, a panel discussion took place, featuring our two guest speakers alongside Professor Cooray and Professor Zhang Zhang. The panel discussion allowed a more in-depth analysis of some of the content from the presentations.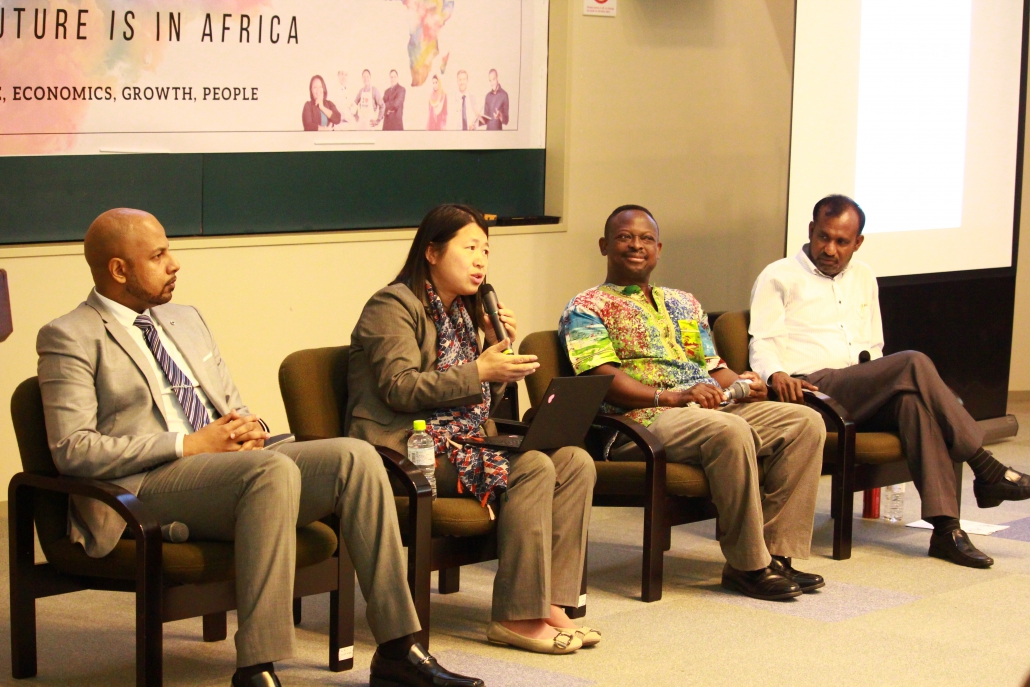 We would like to thank our students and guest speakers who presented, and our faculty who participated in the panel discussion. We'd also like to thank everyone who attended to support the event. IUJ has significant relationships with both JICA (Japan International Cooperation Agency) and the ABE (African Business Education) Initiative, and we look forward to strengthening those as we focus on Africa's exciting future.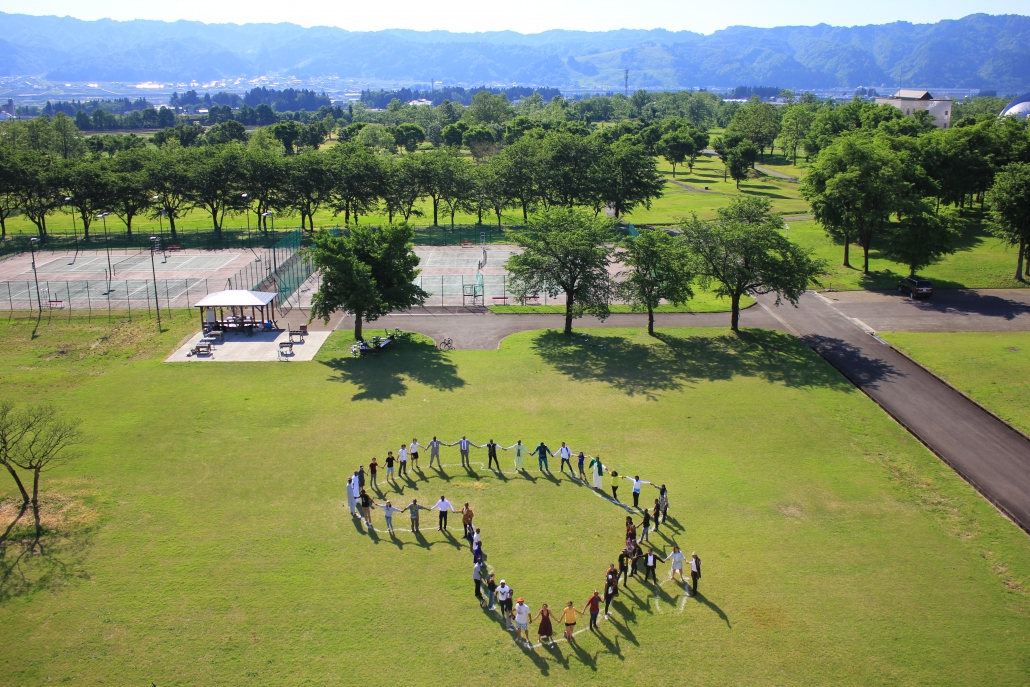 Contact:
Public Relations
Office of Admissions and Career Support
media@iuj.ac.jp
025-779-1539
https://www.iuj.ac.jp/wp-content/uploads/2019/05/group-1.jpg
3456
5184
Public Relations
Public Relations
2019-05-27 17:09:05
2019-05-27 17:09:52
IUJ celebrated Africa Day on May 25th