Living in Japan right now, and looking to further your education? The International University of Japan is holding an Open Campus on Saturday, November 23 from noon until 4:30pm, to give prospective students insight into what the school has to offer. You can also visit "Culti Fiesta" which is an annual event by Graduate Students Organization (GSO-EC), which includes diverse Students' cultural performances. You can feel IUJ gathering around the world!
IUJ was established in 1982 as the first English-language graduate school in Japan. Currently, 340 students from 55 countries undertake studies at the university, with alumni hailing from a total of 136 countries. It truly lives up to being the university Where the World Gathers.
IUJ is a school that is continually growing – not just by the number of countries that students hail from, but in its international standing. The Graduate School of International Managemtn proudly obtained accreditation from AACSB International in 2018, and the University's PhD program was inaugurated in 2015 with the number of doctoral candidates increasing annually.
This Open Campus is applicable to those interested in applying to IUJ for the 2020 academic year or in the near future. The event will give participants the opportunity to find out more about what the university has to offer, as well as the chance to meet current students for first hand accounts of their experience.
If you plan to come by car, please arrive at IUJ Main Entrance by noon.
Further Information about the schedule will be provided to prospective participants by mail.
We would like to introduce you to some IUJ alumni and students. They give some insight into what makes IUJ so special in their eyes!
https://www.instagram.com/explore/tags/meetiujstudents/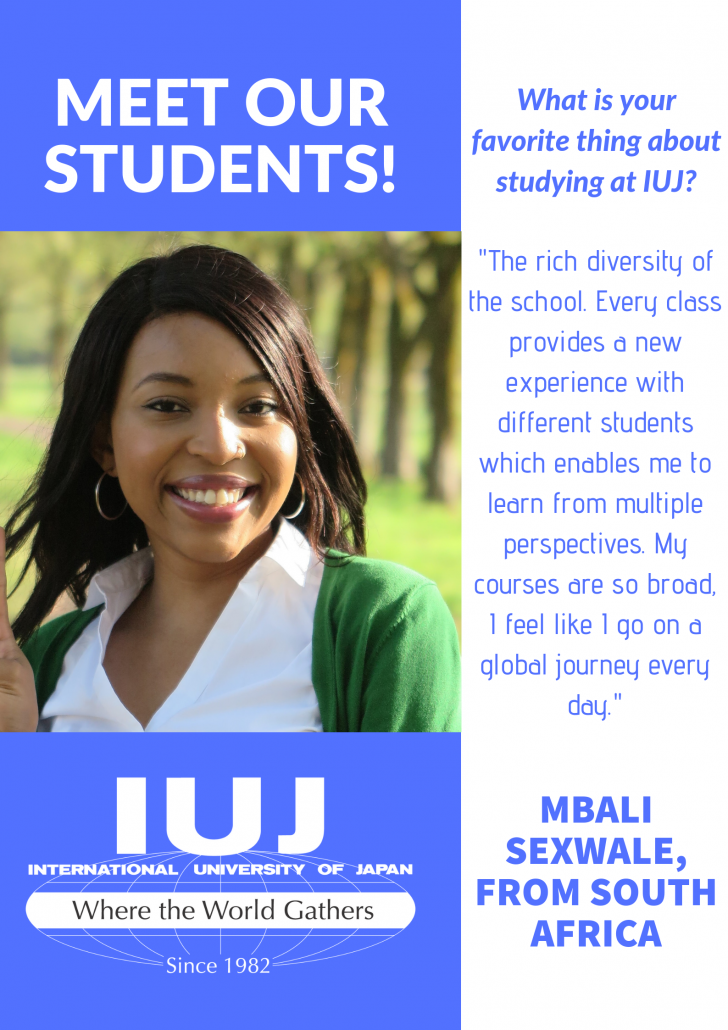 Contact:
Office of Admission and Career Support
contact@iuj.ac.jp
TEL: 025-779-1104
============
Shinkansen Schedule between Tokyo sta. and Urasa sta.(IUJ)
10:16 Tokyo Sta. >> 11:47 Urasa Sta.
:
5:00 PM Urasa Sta. >> 6:40 PM Tokyo Sta.
8:12 PM Urasa Sta. >> 9:52 PM Tokyo Sta.
8:56 PM Urasa Sta. >> 10:28 PM Tokyo Sta.
Transportation between Urasa Station and IUJ will be arranged.
============
https://www.iuj.ac.jp/wp-content/uploads/2019/09/OPEN-CAMPUS_Nov.png
100
260
Public Relations
Public Relations
2019-09-26 13:16:40
2019-10-01 11:25:09
The Open Campus will be held on Saturday, November 23