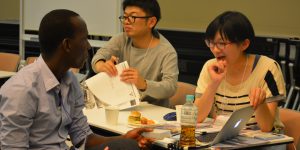 On a recent fieldtrip to Hakkai Creates earlier in May, the CEO, an IUJ alumni, was asked what was the most valuable aspect of his education at IUJ, without hesitation, he said it was the network of people he met during his MBA studies. This statement confirmed the importance of the International Management Council's (IMC) initiative to host the first networking event for all students in the Graduate School of International Management (GSIM). The IMC networking event was held on Tuesday May 30th at the MLIC Hall. This event was for the students, hosted by the students.
The objective of the networking event was to provide a platform for GSIM students to learn more about each other from a professional perspective. Each one of the GSIM students have valuable experience that they can share about their company, industry and country that they come from. Such diversity is what makes IUJ unique and the IMC wanted to ensure that GSIM students could capitalize on the rich experience that our student body possess.
The event was also an opportunity for second year students to share some tips with first year students.  Alok DUBEY shared his experience of finding an internship and his dream job.  He spoke of the challenges of finding a job in Japan without the necessary Japanese language skills as well as where and how to start looking for a job. He noted the importance of having a professional profile on social media such as LinkedIn.  In addition, he mentioned that he did not do this alone and had partnered with another student, Stuti Bist, who together followed a very systematic approach to job hunting.  Both managed to get a job from different Japanese companies based in India once they graduate.  The key success factors according to Alok was to be systematic in your approach and to team up with others.  Working together does not limit your chances of success but rather enhances it.
Medard Ntindekure shared some valuable insights on his research process. He mentioned some of the challenges faced during his research and noted the most challenging was figuring out his research topic.  He said that once he had found his research topic he could then collect the correct data. On data analysis, he said that it was well worth taking courses such as Econometrics as it provides one with valuable data analysis skills.  The most important piece of advice he gave was to start early, to use the summer holiday period to work on your research topic.  He said that it takes reading approximately 60 academic articles to write your literature review and these articles cannot be simply found with a quick google search. It takes time to do research.
The official networking part of the evening was opened by President Kase with a 'kampai' to all our students.  Students shared their experience across a range of industries and exchanged business cards.  The event was a resounding success.  It is hoped that the networking event will become an annual event, one that will include students from the Graduate School of International Relations, Alumni and other Universities.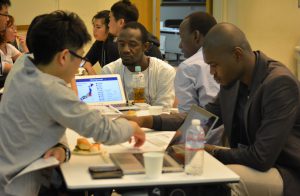 International Management Council
Mariam January
https://www.iuj.ac.jp/wp-content/uploads/2017/06/047-e1496640814615.jpg
1120
1647
Public Relations
Public Relations
2017-06-05 14:56:46
2018-04-09 16:30:08
IMC Networking Event - a global gathering