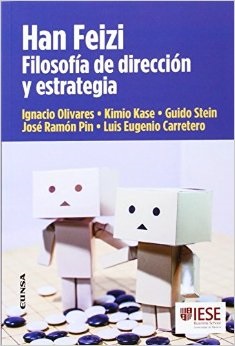 Public Relations
Oct. 15, 2014
A Spanish translation of Han Feizi (韓非子)was published in Spain, in which Dean Kimio Kase participated.


[Publication Details]
◆Title: HAN FEIZI Filosofia de Direction y Estrategia 
◆Translation: I. Olivares, K. Kase, G. Stein, J. R. Pin & L.E. Carretero
◆Languate: Spanish
◆Perfect Paperback: 140 pages
◆Publisher: CEREZO LIBROS DISANDAL
◆Publish Date: 2014/7/1
◆ISBN-10: 8431330031
◆ISBN-13: 978-8431330033

amason.co.uk
http://www.iuj.ac.jp/wp-content/uploads/2015/01/2370.jpg
346
235
zawzaw
zawzaw
2015-01-04 20:06:29
2015-01-04 20:07:57
The Spanish translation of Han Feizi which Dean Kase participated in was published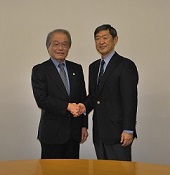 Public Relations
Nov. 20, 2014
International University of Japan (IUJ) had the pleasure of welcoming the President of the Nagaoka University of Technology (NUT), Dr. Koichi Niihara.
Both school were selected for the "Top Global University Project" (Category B) by the Ministry of Education, Culture, Sports, Science, and Technology (MEXT).
They agreed positive cooperation in various aspects.
http://www.iuj.ac.jp/wp-content/uploads/2015/01/2407.jpg
175
170
zawzaw
zawzaw
2015-01-04 19:58:50
2015-01-04 20:48:43
President of the Nagaoka University of Technology (NUT) Visited IUJ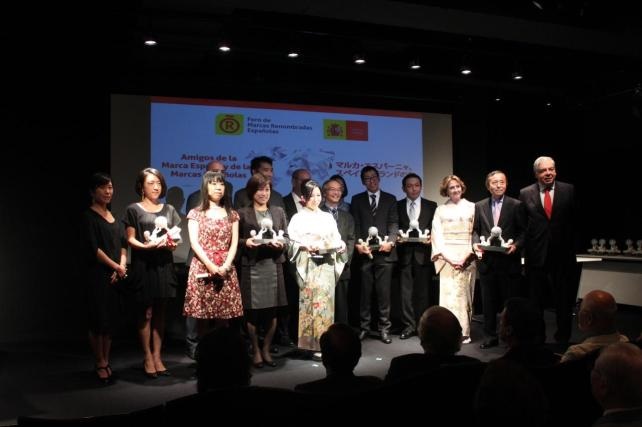 Public Relations
Oct. 1, 2014
On 29th September 2014 IUJ GSIM's Dean K Kase was granted at the Cervantes Institute in Tokyo the title of friend of Spanish Brand by the Forum of Renowned Brands belonging to the Spanish Government in recognition of his contribution to the relationships between Spain and Japan, and along with a "diploma" for the appointment a Lladró figure was given to him by the Spanish authorities including the Secretary of State of Spain's Ministry of Economy and the Spanish Ambassador.
The Forum's members include Zara, Mango, IESE Business School, Freixenet, El Real Madrid, El Barça, etc., etc.
Other appointees were Go Osaka (the author of the novel "the Red Star of Cadiz"), Yoko Komatsubara (a Flamenco dancer), Yuki Amami (an actress), Kintetsu (a railway company group), etc.
http://www.iuj.ac.jp/wp-content/uploads/2015/01/2356.jpg
427
642
zawzaw
zawzaw
2015-01-04 19:38:28
2015-01-04 19:40:11
Dean Kase was granted the title of friend of Spanish Brand