IUJ's MBA Program has established reciprocal exchange partnerships with about 30+ respected institutions in Asia, Europe, and North America. It is worthwhile for students to experience other programs which are designed to attain similar educational goals, but in a different way and in a different environment. Each partner institution offers one to three exchange slots per year. Placement is done on a competitive basis. Students go on exchange in either the Fall or Winter term of their second year.
Students of the One-year MBA program may be able to participate in the exchange program in the Fall term after completion of their one-year program in August. However, priority is given to 2-Year MBA students in the placement process.
All participating students are required to pay all exchange-related expenses (airfare, accommodation, food, etc.) other than tuition of the host institution. Tuition for the term during which students study abroad must be paid to IUJ, not to the host institution.
Not all exchange partners accept IUJ students every year.
* Our affliated relations with these schools are currently inactive.
From Partner school to IUJ
My exchange term at IUJ widened my horizon with new academic topics and showed me a different perspective on academic teaching at another university. For instance, the structure of classes at IUJ allowed many in-depth group discussions. They are kept on a regular basis and groups are shuffled. That way, I was able to encounter a wide range of students so as their various opinions.
Life at IUJ from a non-academic perspective is just as multifaceted since it is embedded in a culturally very diverse environment. Every day, I enjoyed conversations with students from all around the world – learning about other cultures, customs, and even countries I have never heard of before. Since almost all students live on campus, each day is full of coincidental encounters and little conversations here and there. Throughout the term, there were plenty of events organized by students or the university, such as BBQs, parties, or excursions.
Overall, I can highly recommend staying for an exchange term at IUJ. Despite its rural location, one never gets bored. There is always an opportunity to connect, learn and grow. I deeply appreciate having had the chance to experience student life at IUJ and will never forget the friendships I have made there.
Ms. Waser Anna
University of St. Gallen, Switzerland
---
My major motivation for coming to IUJ was to broaden my horizon and international experience. This has been accomplished through knowing many amazing people, including faculty members, administrative staff, students and local community. My exchange study at IUJ has given me the opportunity to learn about business context with Asian focus, which I believe is complementary to my Canadian MBA. Another motivation was to network with future leaders of the highest caliber. IUJ has definitely helped me accomplish this through organizing many different activities.
Mr. Mei Shun Kenny Ip
York University, Canada
---
I decided to come to UJ due to the high quality of the subjects, the international and multicultural environment and my interest in getting to now more about Japan. All those objectives were easily achieved during those 3 months and I have really enjoyed a lot my experience in IUJ.
All the subject taught in IUJ are in English, so an exchange student without an expert knowledge of Japanese has a very long list of different subjects to choose, according to his/her interests. On the contrary, most of the other exchange programs that I could do in other countries, did not offer this high number of subjects in English, because some of them were taught in the local language. Moreover, the program and the methodology is quite similar to the one of my University, being it very practical and not only focused in the theoretical part.
Regarding the multicultural environment, you live in a campus (where you spend a lot of time of the day) with people from different countries, ranging from Asian to Latin-American, so you have always an opportunity to chat and get to now more about them and their cultures, while eating in the cafeteria, going to class or hanging out with them outside the campus, for instance, in one of the typical Japanese Karaokes. Having said that, it goes without saying, that I would strongly recommend to any student of my University to do his/her exchange program in IUJ.
Mr. Victor Mateu Herrador
ESADE (Escuela Superior de Administracion de Empresas), Spain
From IUJ to Partner School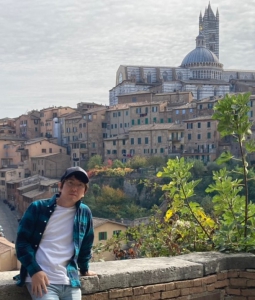 Lyon, where EMLYON Business School is located, is the second largest city in France, known for its excellent cuisine. I studied and worked in groups with relatively young European students and was impressed by their entrepreneurial spirit and IT skills. It was a great opportunity for us to get to know each other outside of class while enjoying local French food and wine, and to learn about their culture and ways of thinking.
Mr. Akiyoshi Kaneko
(Japan)
MBA, Class of 2022
Studied at emlyon business school (France)
---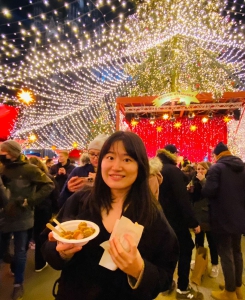 My experience as an exchange student at WHU in Germany became a great asset for me. In particular, I had the opportunity to study subjects that are not offered at IUJ. In addition, the teamwork and active discussions in class among classmates from various backgrounds like consulting and finance were very stimulating. It made me more motivated and helped me understand the course content more deeply. I hope many IUJ students will have the same or even better experiences than I had through the exchange program.
Ms. Shuki Koga (Japan)
JGDP, Class of 2022
Studied at WHU – Otto Beisheim School of Management(Germany)
---
I was quite curious to compare the quality of the school to that of IUJ since Kenan- Flagler Business School is considered one of the best in the US (10th-15th place in MBA rankings).
IUJers have nothing to be ashamed of! They all look, think and talk – well more or less – like us! So I felt like I completely fit in the classes, I enjoyed them and I learned a lot (and I mean it). Yes, Americans have a slightly different way of presenting themselves, yes they are all very confident and no, not everything they say is correct. But neither is everything we say correct. So the learning experience was mutual. So many times were we discussing a case from, let's say, Latin America and looking at it from American, European or Asian perspectives. Each representative of a continent had something interesting to say, something others could either agree or disagree with but which always led to a valuable discussion. Diversity was therefore one of the features I recognized as similar to IUJ.
I totally recommend going on an exchange program. It will give you a fresh perspective on things, it will make you smile and cry, sometimes at the same time, and it will be engraved in your mind forever. I promise.
Ms. Zuzana Buriankova
Czech Republic
MBA Class of 2009
Studied at: Kenan-Flagler Business School
University of North Carolina at Chapel Hill, U.S.A.