Dr. Andrea Pressello, an IR part-time lecturer received the 14th Nakasone Yasuhiro Incentive Award by the Nakasone Yasuhiro Peace Institute on July 6th.
~Quotation from the Nakasone Yasuhiro Peace Institute website~
Reason for selection: As a student from Italy who came to study at GRIPS, Mr. Pressello pursued research in Japan's postwar Southeast Asia policy toward a PhD degree in international relations. He has been teaching at GRIPS, International University of Japan, and Keio University, where he gives comprehensive lectures on Japanese history and culture, diplomatic history and foreign policy to international students, with a perspective that differs from that of a Japanese professor. The JICA-University Alliance, begun in commemoration of the 150th Anniversary of the Meiji Restoration, will actively collaborate with GRIPS and International University. Highly evaluated for his work in both research and practical arenas, Mr. Pressello is expected to play an important role of bridging Japan and the world.
http://www.iips.org/en/award/winner.html
The Nakasone Yasuhiro Award is given to both honor meaningful achievements in the political, economic, cultural, and science and technology fields and encourage further endeavors which will contribute toward the realization of true peace and prosperity in the international community.
For more information of the Nakasone Yasuhiro Award
http://www.iips.org/en/award/index.html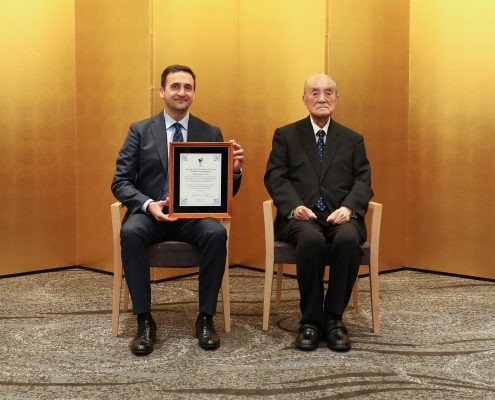 Contact:
Office of Admissions and Career Support
025-779-1539
media@iuj.ac.jp
https://www.iuj.ac.jp/wp-content/uploads/2018/07/eyecatch.png
400
600
Public Relations
Public Relations
2018-07-12 15:48:14
2018-08-06 14:53:36
Dr. Andrea Pressello received the 14th Nakasone Yasuhiro Incentive Award