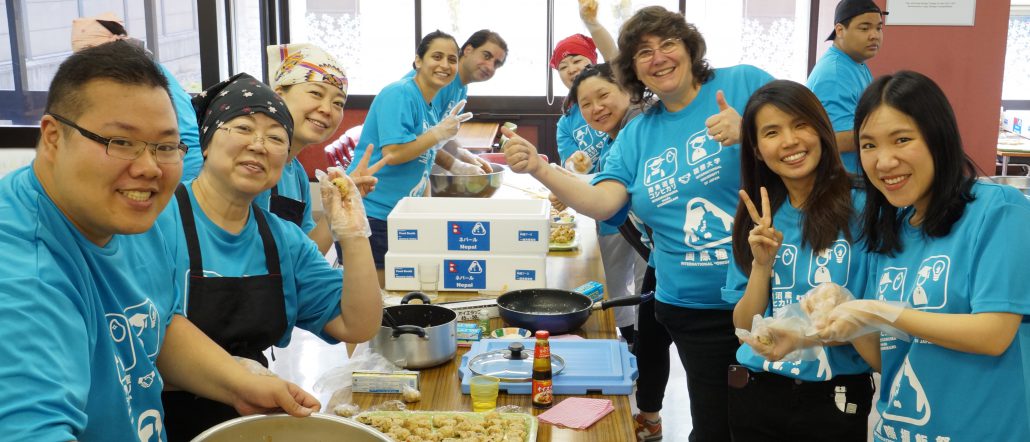 The 2018 IUJ Open Day was held on May 12th, with a fantastic lineup of entertainment and international cuisine that showcased the spirit of the university. One of the most unique events on the Open Day agenda was an Onigiri Competition, where teams of students put their home country's flair and flavors into one of Japan's staple foods.
Teams were hard at work on the morning of competition day, preparing and perfecting their creations – and with good reason! Their onigiri were to be judged by a panel of official taste testers including the President of IUJ, the Mayor of Minamiuonuma City, the Head of the Yamato Chamber of Commerce and the Chairman of the Minamiuonuma Tourism Bureau.


Team Africa produced a pink-hued onigiri courtesy of a secret ingredient called bissap, a drink made from hibiscus flowers that is consumed both hot and cold in Senegal.


Team Bangladesh served up a vorta onigiri, inspired by a smashed eggplant dish that's commonly served back home, seasoned with chili, coriander and ground black pepper.


Team Central Asia made an onigiri made with seasoned mutton meat, green peppers and red onion, complete with a grape leaf wrap rather than the standard seaweed wrap you'll usually see in Japan.


Morocco's onigiri creation was inspired by a dish served at special events like weddings and naming ceremonies, and consisted of chicken, prunes, fried nuts and a myriad of tasty spices.


Team Nepal went for an onigiri inspired by one of their country's most well known dishes – butter chicken. A wide range of spices are used in Nepalese cooking, and their recipe included coriander, ginger and garlic.


The crew from the Philippines produced an adobo onigiri, and explained that adobo is both a food and a cooking technique. It involves marinating meat, seafood or vegetables in a mix of soy sauce and vinegar, and was historically used to preserve food where refrigeration wasn't present.


Next up was Team Thailand, who also modeled their onigiri after a famous national dish called Ga Pao. The dish was said to be available everywhere in Thailand, from street carts to high-end restaurant, and contains minced pork, red bell peppers and basil leaves.


Last but not least was Team Vietnam, showcasing an onigiri filled with chicken, onion, and various colored peppers, stir-fried with soy sauce.
Members of the judging panel noted that in many countries around the world, long grain rice is used more commonly than the short grain rice varieties you'll find in Japan, adding that this may have presented a challenge for some of the teams. It certainly didn't seem to impact the entrants however, with the judges extremely impressed by all of the creations – so much so that they deemed it impossible to pick a winner. The panel highlighted how special it was to experience a new spin on onigiri, and shared their wishes for peace and harmony across the world through the sharing of food and culture – much like the harmony found at IUJ with the intercultural exchange that takes place on a daily basis.
Please try to make these unique Onigiri!
>>>PDF of the Onigiri Recipi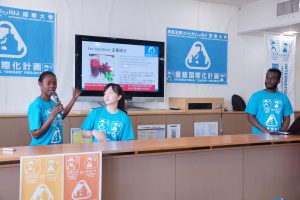 Onigiri Presentation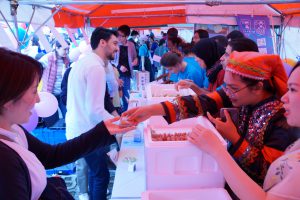 Serving Onigiri to guests at the food booth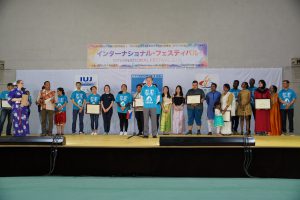 President Hiroyuki Itami and Onigiri participants at the awards ceremonony
=======
Public Relations
Office of Admissions and Career Support
025-779-1539
media@iuj.ac.jp
=======
https://www.iuj.ac.jp/wp-content/uploads/2018/05/DSC08692_edited.jpg
2576
3870
Public Relations
Public Relations
2018-05-18 15:59:41
2018-05-29 14:10:09
The International Onigiri Competition was held at the International Festival