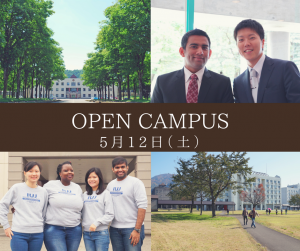 The Open Campus will be held on Saturday, May 12, 2018.
You can look around campus and town, talk with students and meet faculty member(s) individually. In addition, there will be the International Festival by IUJ students from 2 pm to 6 pm (tentative).
Please join this special event and feel the IUJ EXPERIENCE!
Your friends and family are also welcome!
====================================================
Open Campus Tentative Schedule:
Date: May 12 (SAT)
Time: 11:00 – (15:00)
(We will pick you up at the ticket gate, Urasa Station at about 10:00 am.)
Tentative Schedule:
10:40 A staff will be waiting for the visitors at Urasa station
10:45- Lv. IUJ bus stop, East side of Urasa station (Jumbo Taxi)
10:55 Ar. IUJ (Some visitors may come by car.)
11:00- Explanation about IUJ (2F round-table meeting room)
11:30- Lunch with Students at Cafeteria*
12:10- Campus Tour (Student Dormitories, Gym, Study Room,MLIC, etc.)
13:00- Individual Q & A with Faculty & Staff members
(faculty's offices and meeting rooms)
(14:50) Enjoy International Festival
(18:00)- closed
18:20 Lv.IUJ (Jumbo Taxi)
*If you will come by car, please come to IUJ Main Entrance by 10:50 am (not Urasa station).
**You can also enjoy International Festival until 6 pm.
The bus services between IUJ and Urasa station will be available.
Further Information about the schedule will be provided to prospective participants later.
=================================================
To attend the Open Campus, please submit the APPLICATION FORM by May 7, 2018.
If you would like to stay overnight, we can reserve a room at a hotel near Urasa station for you.
(Please note that this event is for Residents of Japan or those who already have plans to come to Japan.) If you have any question, please do not hesitate to contact us.
We look forward to seeing you on our beautiful campus soon!
You can learn about the International Festival 2018 which is available at:
https://www.iuj.ac.jp/20180512/
The 2018 schedule of the Info. Session, the Open Campus and the Study-in-Japan Fairs is available at:
https://www.iuj.ac.jp/admission/opencampus/
Fumiko Hirasawa
Office of Admissions and Career Support (OACS)
International University of Japan (IUJ)
E-mail: contact@iuj.ac.jp
TEL: 81-(0)25-779-1104
FAX: 81-(0)25-779-1188
====================
JR Joetsu Shinkansen (bullet train):
1.from Tokyo area
(Outward)
8:52 Lv. Tokyo St. 10:36 Ar. Urasa St.(Max TOKI 309)
(Homeward)
17:59 Lv. Urasa St.  19:40 Ar. Tokyo St. (TOKI 338)
18:48 Lv. Urasa St.  20:12 Ar. Tokyo St. (Max TOKI 342)
2.from Niigata area
(Outward)
10:17 Lv.Niigata St. 10:53 Ar.Urasa St.(Max TOKI 316)
(Homeward)
18:12 Lv.Urasa St.   18:48 Ar.Niigata St.(TOKI 333)
19:14 Lv.Urasa St.   19:51 Ar.Niigata St.(Max TOKI 337)
====================
International University of Japan (IUJ) was established in 1982 as the first graduate school in Japan which all courses are taught in English.  About 360 students representing 60 countries and regions study together in two graduate schools of Graduate School of International Relations (GSIR) and Graduate School of International Management (GSIM) taught by diverse faculty, and live together on campus.  The total number of IUJ's alumni network is more than 4,000 in 122 countries and regions now. From February 2018, the Graduate School of International Management (GSIM), IUJ has proudly obtained accreditation from AACSB International, the world's leading authority on quality assurance of business schools.
A new two-year master's program "Japanese Development Program":
https://www.iuj.ac.jp/20180327/
IUJ brochure is available at:
https://www.iuj.ac.jp/admission/request/iujbe/
==========
International Festival Flyer↓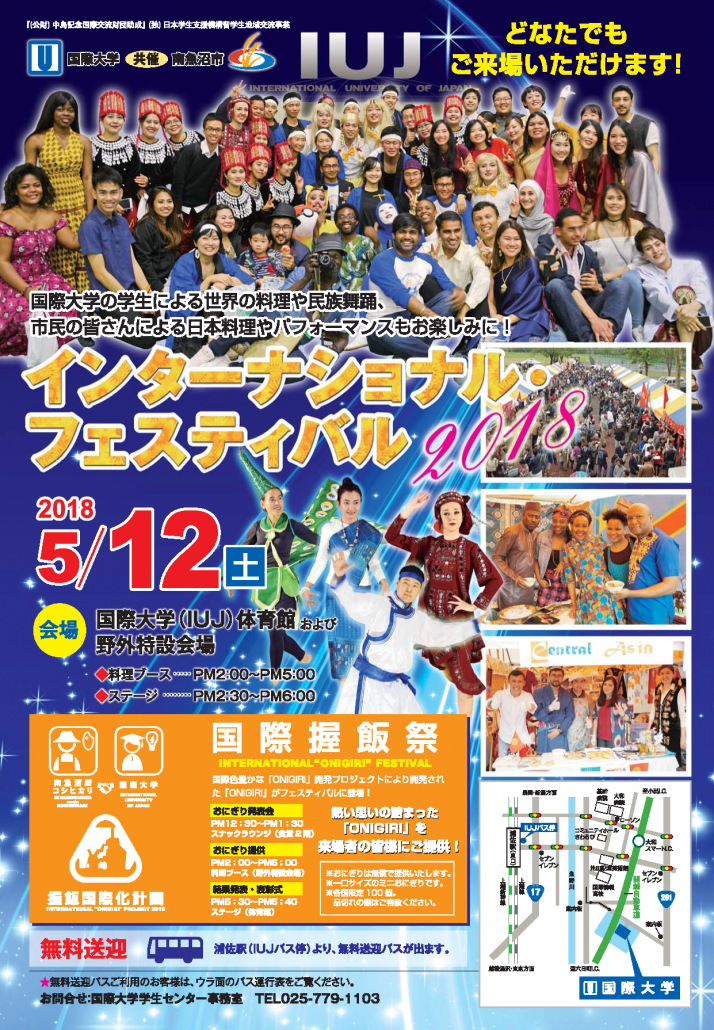 https://www.iuj.ac.jp/wp-content/uploads/2017/12/OPEN-CAMPUS_May122018.png
100
260
Public Relations
Public Relations
2018-01-12 10:16:58
2018-04-19 14:43:21
IUJ will hold the Open Campus on May 12