Event:

Info. Session for Prospective Applicants in Delhi, India

Date:

Friday, November 17, 2017

Time:

PM 3:00  –  PM 5:00

Location:

IUJ India representative office.
UGCS 43, Corporate Floors Ansal Plaza,
Sector 1 Vaishali (near Vaishali Metro Station),
Delhi NCR, Ghaziabad-201010, Uttar Pradesh, India
Map: http://argconsulting.in/contact
IUJ India representative office in Delhi will hold the IUJ Info. Session for prospective applicants on November 17.
If you are considering going to graduate school, please attend this session to know more about IUJ: Where the World Gathers!
For your attendance, please fill out the following Application Form and submit.
>>>the Application Form
About IUJ>>> www.iuj.ac.jp 
Brochure>>> About IUJ
<Future Info. Session and oversea Fairs>
https://www.iuj.ac.jp/admission/opencampus/
=============================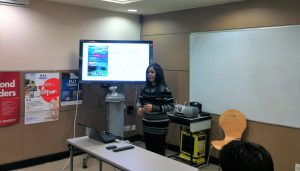 Contact:
Bharti Sharma (Ms.)
ARG Consulting Pvt. Ltd.
http://www.argconsulting.in/
E-mail: bharti_sharma@argconsulting.co.in
Phone: +91-120-4155270, Fax: +91-120-4155271
=============================
https://www.iuj.ac.jp/wp-content/uploads/2017/11/Info.-IndiaNov17-1.png
100
260
Public Relations
Public Relations
2017-11-02 10:09:33
2017-11-15 11:02:44
The IUJ Info. Session in Delhi, India on November 17