4th International Conference on Agro-Industry (4th ICoA) 
Conference Theme: Agri-Business and Technology
Dates: 20-22 October 2017
Venue: International University of Japan, Minamiuonuma City, Niigata, JAPAN​
Jointly organized by
International University of Japan, Niigata, Japan 
and
Universitas Gadjah Mada, Jogjakarta, Indonesia
This year conference will be head at International University of Japan, in Niigata — a region known for producing high quality rice, well-known brands of sake, mushroom, giant-sized strawberries, tulips, and various kinds of value added agri-products. The conference would also give participants to see for themselves the highly advanced agro industry and use of technology for increasing efficiencies.
The conference is held in International University of Japan main campus located 90 mins by bullet train from Tokyo. This also gives opportunity for attendees to see a uniquely beautiful resort-like region in Japan that many visitors to Japan had not seen. Please see conference website (address, below) for further details.
Themes:
The ICoA theme this time is "Agriculture Business and Technology" but, it accepts ongoing research abstracts in broadly selected theoretical and empirical areas related to:
Agri-business and Management
Modeling, System Analysis & Simulation
Bioproduction System & Process Engineering
Sustainable Agro Industry
Competitive Agroindustry
Commodity Trading
Agriculture Economics
Agro-industrial Technology
Agriculture Policies
Agro-Supply Chains
Agro-Tourism
Agro Innovations
Ecology and Environment
Agro-Innovations using IoT (Internet of Things), GPS, and Internet Technologies
Other related areas are accepted.
Other Key Activities: 
Other key events and activities for registered participants of the ICoA conference and their spouses include:
Exhibition of latest agriculture machinery, including ones with IoT and GPS capabilities,by renowned Japanese company Kubota, at IUJ Campus grounds
Field tour of Agri-Business Factories in Minamiuonuma City
Culture tour

We encourage IUJ alumni and current students also to participate by presenting the papers and/or attending. If you are IUJ alumni or current student, please write e-mail to conference e-mail address (below) to receive the discount registration fee.
Please note the abstract submission deadline is August 31, 2017. Conference Registration Fee is 30,000 yen. Conference on-line registration is set at September 25, 2017. Participants can also register on-site on Oct 20, 2017.
Conference related inquiries:
Copyright © International University of Japan. All rights reserved. Updated on Aug 22, 2017.
The total Schedule↓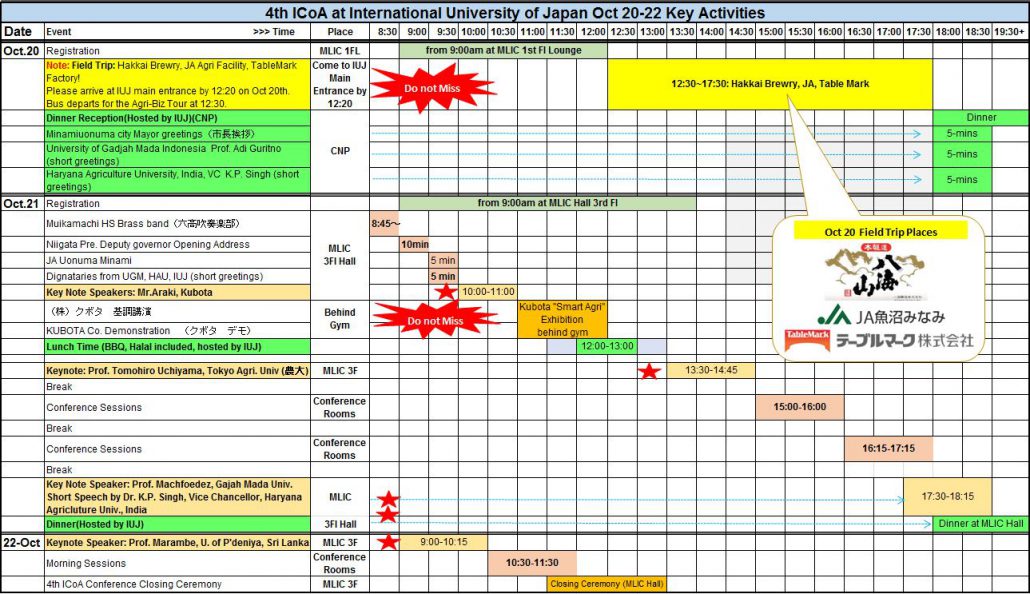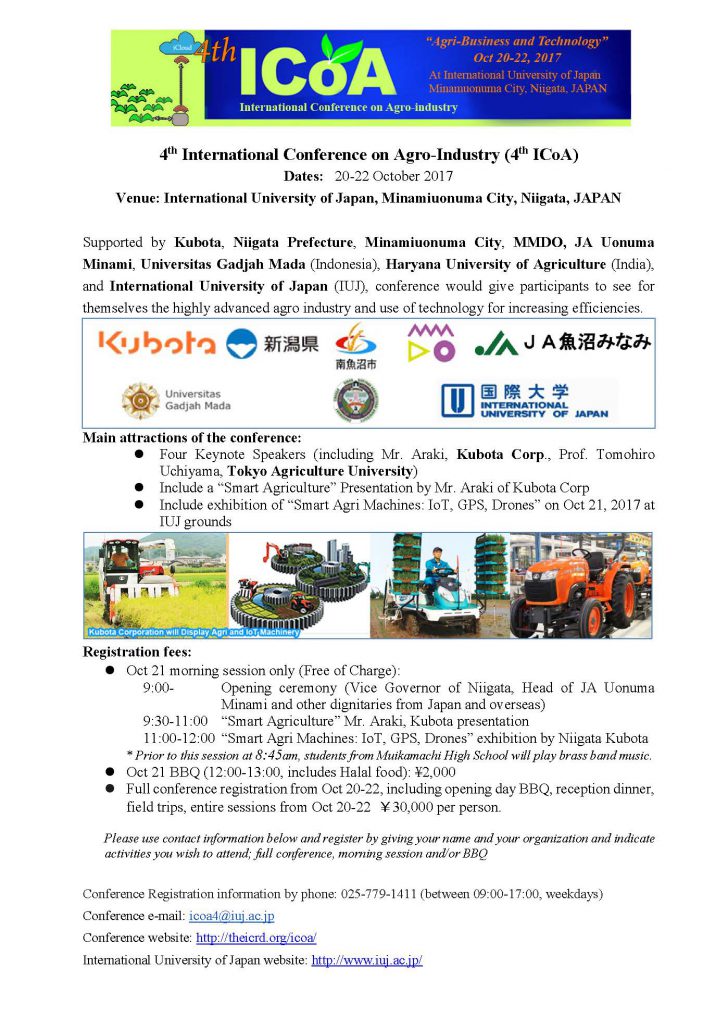 https://www.iuj.ac.jp/wp-content/uploads/2017/08/conference_eyechatch.png
200
300
Public Relations
Public Relations
2017-08-23 16:24:51
2017-10-25 10:24:05
4th International Conference on Agro-Industry will be held at IUJ on Oct. 20 - 22