We are glad to inform you that the Open Campus for prospective applicants will be held on Saturday, October 29, 2016 as follows.
Tentative Schedule:
(We will pick you up at the ticket gate, Urasa Station about 10:40 am.)
10:45- Lv. IUJ bus stop, East side of Urasa station*
10:55- Ar. IUJ
11:05- Explanation about IUJ and Q & A
12:00- Lunch with Students
13:15- Campus Tour
(Matsushita Library & Information Center, Student Dormitories, Gym, etc.)
14:15- Individual Q & A with Faculty & Staff members
16:00  Lv. Campus for Town Tour
16:30  Ar. Urasa station
*If you will come by car, please come to IUJ Main Entrance directly by 10:50 am (not Urasa station).
We would like to receive the following application form by Thursday, October 20, 2016.
Application Forms in English
Application Forms in Japanese 
Further Information about the Open Campus schedule will be provided to prospective participants by email.
If you have any questions, please feel free to contact us by mail.
contact@iuj.ac.jp
We look forward to seeing you on campus!
For Info. Session in Tokyo/Osaka and Study-In-Japan Fair in asian countries, please visit our page:
Event Calender
==============================
JR Joetsu Shinkansen (bullet train)Time Table
1.from Tokyo area
(Outward)
8:52 Lv. Tokyo St. 10:38 Ar. Urasa St.(Max TOKI 309)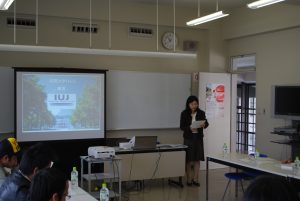 (Homeward)
16:59 Lv. Urasa St. 18:40 Ar. Tokyo St. (Max TOKI 334)
2.from Niigata area
(Outward)
10:15 Lv.Niigata St. 10:52 Ar.Urasa St.(Max TOKI 316)
(Homeward)
17:13 Lv.Urasa St. 17:48 Ar.Niigata St.(TOKI 329)
==============================
https://www.iuj.ac.jp/wp-content/uploads/2016/09/1B1037_1_D-e1475130284866.jpg
302
449
Public Relations
Public Relations
2016-09-29 15:58:25
2016-09-29 15:58:25
IUJ Open Campus will be held on Saturday, October 29, 2016