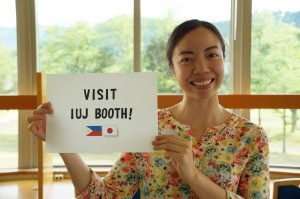 IUJ will participate in Study-in-Japan Fair held on September 3 in Manila, on September 4 in Cebu, Philippines.  It will be nice chance to know more about IUJ.  Please visit our booth!
JELLYFISH CO., LTD STUDY-IN-JAPAN FAIR IN PHILIPPINE
In MANILA:
Date: Saturday, September 3, 2016
Time: 11:00 – 16:30
Location: Decagon Silver City
https://goo.gl/maps/hsWTzRRNrX92
In CEBU:
Date.: Sunday, September 4, 2016
Time: 11:00 – 17:00
Location: SM City Cebu Trade Hall
https://goo.gl/maps/ttj7EedyjK22
Jellyfish Education Consultancy:
http://jellyfisheducation.com.ph/
Your advanced application would be appreciated.
For Saturday, September 3 in Manila:
https://www.iuj.ac.jp/admission/subscription/?action=i&language=e&id=147
For Sunday, September 4 in Cebu:
https://www.iuj.ac.jp/admission/subscription/?action=i&language=e&id=148
https://www.iuj.ac.jp/wp-content/uploads/2016/08/phillipine.jpg
955
1436
Public Relations
Public Relations
2016-08-24 17:19:38
2016-08-29 09:51:43
STUDY-IN-JAPAN FAIR IN PHILIPPINES