We are pleased to inform you that the IUJ online application for 2018 admissions (Master's programs) is now available through IUJ's website: http://www.iuj.ac.jp/admis/
The 2018 Admissions Guidelines and the Scholarship Guidelines are also available at the same site.
We would like to advise you to read the Admissions Guidelines carefully to understand the application process and the required application items before you start the online application.
Applicants for PhD programs cannot apply through the online application system.
Please refer to the PhD Admissions Guidelines for the application process.
If you have any questions, please contact us at:
admgsir@iuj.ac.jp
for Admission of International Relations, International Development, Public Management, Policy Analysis and Public Policy Programs and PhD programs.
admgsim@iuj.ac.jp
for Admission of 2-year MBA, 1-year MBA and E-Business Management Programs.
http://www.iuj.ac.jp/wp-content/uploads/2017/11/Apply-to-IUJ-2018_final.png
200
260
Public Relations
Public Relations
2018-02-13 16:40:49
2018-02-13 16:40:50
IUJ Online Application for 2018 Admissions is now available
The biggest winter event, IUJ SKI DAY was held at Municipal Hakkai Sanroku Ski Resort on February 4th by the Graduate Student Organization Executive Committee (GSO-EC).  There were 150 participants of IUJ students, their families, faculty, staff, IUJ Alumni and local friends spent a day for skiing, snowboarding and sledding together under the blue sky.
Intermediate and expert skiers and snowboarders including local Japanese instruct the beginners in the morning, enjoyed rice balls and vegetable soup at lunch and had free time in the afternoon.  They spent a whole day having fun on the snow.
Thank you very much for all who supported the event.   Special thanks to all staff members of Hakkai Sanroku Ski school, lift and rental shops.


Comment from Ms. Patraporn Padungkul from Thailand, MBA program:
I can say that this activity is a must for anyone who comes here and has no experience in skiing or snowboarding. It was an amazing and superb day. Even though I have no experience in snowboard, there were instructors who helped me get used to it. At first, everyone might fear to fall but you have to fall first then you can do it well. Actually, I fell a lot but I cannot stop myself from keeping doing it. I rode the ropeway and went down by myself for five times (but fell down a lot). After I came back from ski place, my whole body was not my body anymore because my muscles do not listen to my order hahaha but I really really like snowboarding. Now, I am snowboard-addicted. By the way, a big big thank to everyone who made this wonderful day for all of us.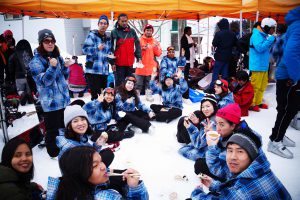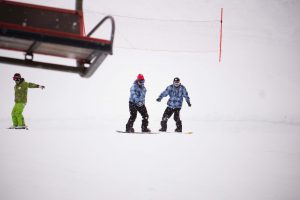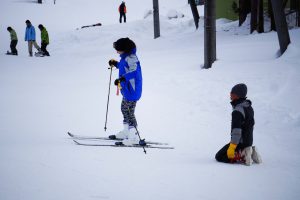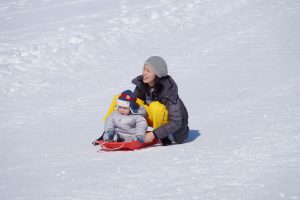 http://www.iuj.ac.jp/wp-content/uploads/2018/02/2.png
3480
5220
Public Relations
Public Relations
2018-02-05 15:03:17
2018-02-06 17:09:01
IUJ SKI DAY 2018 was successfully held on February 4
In January 22nd and 23rd 2018, the Japan External Trade Organization (JETRO), the Nagaoka University of Technology (NUT), and the International University of Japan (IUJ) held "Hanoi-Niigata Information Exchange Meeting" in Hanoi.
It was planned and held based on the agreement which JETRO, NUT and IUJ concluded in May 2016 related to the promotion of comprehensive collaboration and partnerships. The goals of this agreement are to achieve mutual cooperation in fields such as culture, industry, education, and academic studies, to promote international development from perspectives including academic research, human resources education, and industry-academia collaboration, and to contribute to the growth of Japan as well as of Niigata and the development of their human resources. In addition, this year marks the 45th anniversary of the establishment of diplomatic relations between Japan and Vietnam, and we held this workshop as a commemorative event of it. It was great success with about 180 participants from Japanese companies, Vietnam companies, Alumni of our three organization and so on. One the first day of the meeting, Mr. Kunio Umeda (Ambassador of Japanese embassy in Vietnam), Mr. Nguyen Phu Binh (Former Deputy Minister, Ministry of Foreign Affairs) and Mr. Tsutomu Takebe (Chairman of Japan-Vietnam Parliamentarians' Friendship League, NUT Honorary Doctorate) also attended.
IUJ continues our efforts to achieve the objective of the agreement, and lead not only Niigata prefecture but also the internationalization of Japanese society, based on continuous improvement of their current efforts.
Office of Top Global University Project
Tel: 025-779-1459 Email: sgu@iuj.ac.jp
http://www.iuj.ac.jp/wp-content/uploads/2018/02/hanoi1.jpg
493
494
Top Global University Project
Top Global University Project
2018-02-02 18:07:30
2018-02-05 16:59:23
Hanoi-Niigata Information Exchange Meeting was Held in Hanoi