Professor Nawalage S. Cooray published the following book.
Title:
Developmental Dynamics: Transforming Societies for Sustainable Futures​ [Chapter 1 "Does the Social Market Economy Fit Sri Lanka? A Review of Political Economy Perspectives"  by ​N.S.Cooray]​
Editor:
​Saliya De Silva​
CONTRIBUTING SCHOLAR:
Nawalage S. Cooray
The faculty publication page is available at:
http://www.iuj.ac.jp/research/outputs/books.cfm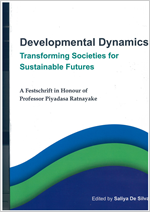 http://www.iuj.ac.jp/wp-content/uploads/2018/02/eyeEN.png
200
300
Public Relations
Public Relations
2018-02-23 17:18:05
2018-03-05 15:21:09
Professor Nawalage S. Cooray's book was published
From February 20, 2018, the Graduate School of International Management (GSIM), IUJ has proudly obtained accreditation from AACSB International, the world's leading authority on quality assurance of business schools. Please refer to the AACSB General announcement, AACSB's Newsroom, and the Regional announcement which has been sent to around 100 reporters across our immediate region by AACSB. IUJ has become one of the four AACSB accredited universities in Japan up to date, and the first accredited English-medium university in Japan, offering graduate degree programs.
About GSIM
With its mission to nurture wise individuals for global business and social leadership, GSIM was founded in 1988 under the guidance and collaboration of the Amos Tuck School of Business at Dartmouth College, USA. GSIM was the first US-style business school in Japan and the first MBA program in Japan to teach its courses only in English. Since then, GSIM has built up an international alumni network spanning over 120 countries and regions, and developed its campus into a diverse, multinational, multicultural, multi-ethnic environment comprised of students from around the world. GSIM has developed into a world-recognized business school, ranked among the top 100 business schools of the world (e.g., The Economist Intelligence Unit).
About GSIM's AACSB Journey
GSIM started its AACSB accreditation journey in 2014. Since then, GSIM has undergone significant transformations in its mission, policies, curriculum, assurance of learning, faculty research and sufficiency to comply with AACSB standards. In July 2017, GSIM submitted its final report to AACSB. In November 2017, three peer review team members visited our campus. GSIM is now one its way to make continuous improvement.
"The whole school is excited about obtaining AACSB Accreditation, through which we are committed to providing high-quality education while striving to reach our highest potential in the future," said IUJ President Hiroyuki Itami, and IUJ GSIM Dean Wenkai Li. "We would like to thank our AACSB mentor, peer-review team members, and AACSB chief executives and staff for their immeasurable help and guidance. We also would like to thank the excellent and tireless work by GSIM students, alumni, faculty, staff, IUJ senior leadership, and other stakeholders."
About AACSB
Founded in 1916 and headquartered in Tampa, Florida, USA, AACSB International (The Association to Advance Collegiate Schools of Business) is the longest serving global accrediting body for business schools, connecting educators, students, and businesses to create the next generation of great leaders. AACSB International is the world's largest business education alliance.
AACSB accreditation is widely regarded as the highest level of accreditation for business schools, a "hallmark of excellence" in business education, and synonymous with the highest standards of quality. AACSB Accreditation has been earned by less than 5 percent of the world's business schools.
To learn more about AACSB, please visit www.aacsb

http://www.iuj.ac.jp/wp-content/uploads/2018/02/2-1.png
200
300
Public Relations
Public Relations
2018-02-22 09:43:55
2018-02-22 13:47:52
GSIM, IUJ Earns AACSB International Accreditation
We are pleased to inform you that the IUJ online application for 2018 admissions (Master's programs) is now available through IUJ's website: http://www.iuj.ac.jp/admis/
The 2018 Admissions Guidelines and the Scholarship Guidelines are also available at the same site.
We would like to advise you to read the Admissions Guidelines carefully to understand the application process and the required application items before you start the online application.
Applicants for PhD programs cannot apply through the online application system.
Please refer to the PhD Admissions Guidelines for the application process.
If you have any questions, please contact us at:
admgsir@iuj.ac.jp
for Admission of International Relations, International Development, Public Management, Policy Analysis and Public Policy Programs and PhD programs.
admgsim@iuj.ac.jp
for Admission of 2-year MBA, 1-year MBA and E-Business Management Programs.
http://www.iuj.ac.jp/wp-content/uploads/2017/11/Apply-to-IUJ-2018_final.png
200
260
Public Relations
Public Relations
2018-02-22 09:43:19
2018-02-22 09:43:19
IUJ Online Application for 2018 Admissions is now available