External Accreditation and Internal Quality Assurance
External Accreditation (International)
GSIM, IUJ Earns AACSB International Accreditation
From February 20, 2018, the Graduate School of International Management (GSIM), IUJ has proudly obtained accreditation programs.
From AACSB International, the world's leading authority on quality assurance of business schools. Please refer to the AACSB General announcement,
AACSB's Newsroom, and the Regional announcement which has been sent to around 100 reporters across our immediate region by AACSB. IUJ has become one of the four AACSB accredited universities in Japan up to date, and the first accredited English-medium university in Japan, offering graduate degree
About AACSB
Founded in 1916 and headquartered in Tampa, Florida, USA, AACSB International (The Association to Advance Collegiate Schools of Business) is the longest serving global accrediting body for business schools, connecting educators, students, and businesses to create the next generation of great leaders. AACSB International is the world's largest business education alliance.
AACSB accreditation is widely regarded as the highest level of accreditation for business schools, a "hallmark of excellence" in business education, and synonymous with the highest standards of quality. AACSB Accreditation has been earned by less than 5 percent of the world's business schools.
To learn more about AACSB, please visit www.aacsb

Accreditation (Domestic)
JIHEE certified that IUJ conforms to the university evaluation criteria set by the JIHEE
IUJ underwent a university institution-specific certification evaluation by the Japan Institution for Higher Education Evaluation (JIHEE) in 2017, and as of March 6, 2018, JIHEE certified that IUJ conforms to the university evaluation criteria set by the JIHEE.
International University of Japan Evaluation Summary in 2017

About JIHEE
Founded in 2004, JIHEE has been authorized by the Minister, MEXT as a certified Evaluation and Accreditation Agency for universities, junior colleges and fashion business professional graduate schools. (from JIHEE web page)
Please see details as following JIHEE web page
https://www.jihee.or.jp/en/index.html
*From April 1, 2004, all universities must have been certified by the Certified Evaluation and Accreditation Organization which was acknowledged by the Minister of Education, Culture, Sports, Science and Technology (MEXT) once within seven years regarding the status of education and research, organizational management, facilities and equipment, etc. in order to contribute to the improvement of their education and research standards.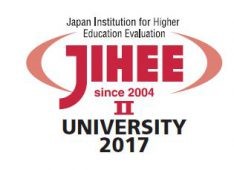 Internal Quality Assurance of IUJ
Internal Quality Assurance of IUJ (Efforts to improve the quality of education)
In 2015, IUJ established the "Self-Study Committee", which is a university-wide organization, to carry out self-study activities.
In addition, in 2018, we as a "Institutional Research (IR) and self-study committee" act in collaboration with the IR activity, which collects, analyzes, and supports data related to education and research at IUJ, in order to improve the quality of education.
Efforts for Internal quality assurance
The IR and Self-Study committee are held several times a year to plan, implement, and reflect on our self-study activities. We turn PDCA cycles, and carry out improvement activities.
In addition, since 2019, we have prepared a "self-study report" that complies with the standards of the Japan Institution for Higher Education Evaluation (JIHEE) every year, and an "External Evaluation Committee" consisting of external members from outside experts has evaluated it appropriate year. We reflect the opinions received from the External Evaluation Committee for the promotion of internal quality assurance into self-study activities.
IUJ "IR and Self-Study" Regulations


IUJ External Evaluation Committee Regulations