JLP publishes "Gantbatte Shadowing"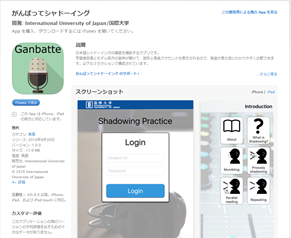 Japanese education application named "Ganbatte Shadowing" has been created by the Japanese Language Program of the Center for Language Education and Research.
Shadowing is a language learning practice whereby a learner listens to the speaker and tries to reproduce the speaker's utterance with a slight delay, or by repeating the utterances in the pause between the speaker's utterances.
Originally developed as a method of simultaneous translation, shadowing is said to improve not only pronunciation but also listening comprehension and speaking. In essence, the learner"shadows"the speaker, just as a shadow of a person cast by the sun follows directly behind the person.
It has been released through the App Store, and you can download it for free at the following URL.
https://itunes.apple.com/jp/app/ganbatteshadoingu/id1158001878?mt=8
We created this application as part of IUJ's Top Global University Project efforts, and would like to spread it throughout the world.
We hope it will be a good tool for you to improve your basic Japanese language skills.
Office of Top Global University Project
Tel: 025-779-1459 Email: sgu@iuj.ac.jp