IUJ and ULIS have signed a MoU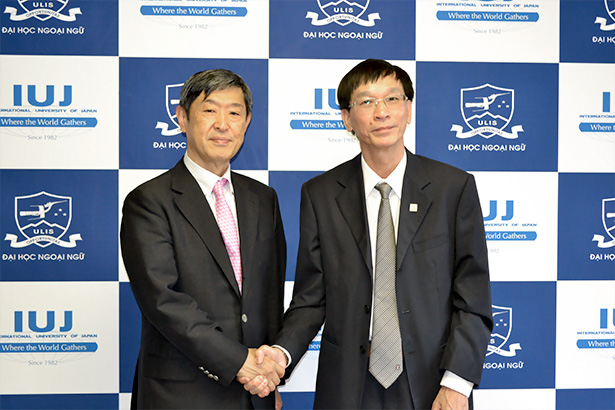 The International University of Japan (IUJ) and University of languages and International Studies- Vietnam National University, Hanoi (ULIS) signed MoU on June 6th, 2015.

President Nguyen Hoa and , Vice President Ngo Minh Thuy and 2 staff of ULIS visited IUJ, where the signing ceremony was held.

The president of ULIS, Ngyen Hoa, said "This MoU will be a really significant step towards fostering professor and student exchange .

We have cooperated with The Center for Language Education and Research, at IUJ. We're going to promote Japanese language education based on this MoU."

The president of IUJ, Shinichi kitaoka stated "We agreed the first overseas office will be established at ULIS. We would like to cooperate with each other not only as two universities, but also as two nations."

IUJ will hold training for Vietnamese teachers of Japanese for 2 weeks at ULIS this year based on this MoU.

The first overseas office at ULIS will be established in March 2017.

* ULIS belongs to agroup of elite universities in Vietnam, and they have a top-notch Japanese language department.