Sakura
IUJ Students' Campus Magazine
Sakura is a tri annual magazine managed and published by the students at the International University of Japan. It publishes interviews, stories, poems, experiences, travelogues, opinions on current events, and/or reviews of books by IUJers.  The articles can be in English and Japanese; however, for Japanese articles, we will publish the English translations also.
It provides a platform where the students or any other IUJers including the university's large alumni, faculty, or staff member can express any idea or opinion fearlessly.
Currently, we publish digital copies only along with some hard copies.
Sakura Editorial and Management Team,
International University of Japan,
777 Kokusai –Cho, Minami Uonuma –shi, Niigata
Email id: sakura@iuj.ac.jp
Facebook.com/iujsakura
Website:  www.iuj.ac.jp/sakura/
Editorial and Management Team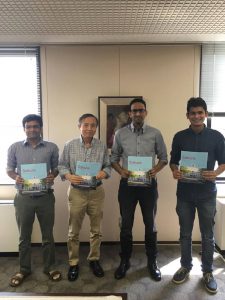 Meghshyam — Chief Editor and Manager
Mouhiyidine Bache – Editor
Feruz Rakhimov – Layout Designer
Alok Kumar Dubey – Treasurer and IT Specialist
Advisors
Prof. Mohammed Ahmed – Language Editing Support
Prof. Haruyashi Ito – Special Advisor
Prof Jay Rajesekera —Design Advisor