<For 2019 prospective students>
E-Business Management Program will be discontinued and merged into the IMBA in 2019 as an E-business (E-biz) concentration.
Click here for details
In the dynamic business environment today, Entrepreneurship and Technology go hand in hand. Of course, technology has come to play a major role in any kind of organization — private, individually owned, or government. Across all areas of business (e-business), education (e-education), and government services (e-government) — technology has become the facilitator.
Curriculum
The intensive 1-year curriculum has recently been revised to meet today's needs, and will focus on Entrepreneurship and Technology (E&T), which is fast becoming the driving force in emerging economies and developed economies alike. This new focus is unique in Japan: a Master's Degree program focused on E&T.
The first term (Fall) focuses students on learning the core business skills and technologies that will form the foundation for their future careers. These courses also provide the fundamental knowledge for subsequent courses in the Winter and Spring Terms as well as for their thesis-writing efforts.
In the Winter and Spring Terms, students enhance their business aptitude with two core courses, Corporate Social Responsibility and Digital Business Transformation, respectively; plus, numerous other courses students select after consultation with the academic supervisor.
Program Director's Message
---

Learning to Practice and Execute…
With IT becoming the driver of many related technologies in marketing, finance, logistics, HR management, e-Government, e-Education, e-Tax and many business, social, and government sectors, the opportunities for its applications are endless. The rapidly expanding mobile technologies too offer endless opportunities as well as challenges. Regardless of your specialization in bachelor's degree, if you want to play a key role in leading, managing, or running organizations, government entities of all sizes, starting up your own business, or simply want to learn how to effectively execute a strategic technology project, E-Biz program is for you to learn not just technology but how to make something valuable to happen with it, in one year!!! With experienced faculty, a dedicated technology lab, along with an upcoming entrepreneurial center, our program offers you a unique learning environment found only at a top-class university – "Leaning to Practice and Execute" that's what e-Biz program is all about!
Zaw Zaw Aung, Program Director of E-biz

"We attract excellent students from around the world to our E-Biz program. They got energy and they are eager to work as teams and learn. The ideas they come up with are amazing! My desire is to see them grow to become future CTOs, CEOs, Entrepreneurs and Consultants!"
Wenkai Li, Dean and Professor of Operations Management
Language & Opportunities
---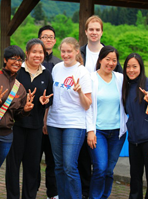 Throughout the year, students seeking to work in Japan may take advantage of the strong Japanese language program off ered on campus. The students are also encouraged to take full advantage of the excellent crosscultural environment prevailing within IUJ campus. The GSIM attracts a number of Japanese corporate sponsored students and also company employees who attend short corporate-training programs; providing our overseas students with many opportunities to build lasting relationships that may lead to useful business opportunities in the future.
Team Projects
---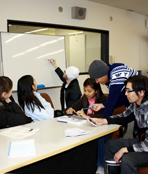 Our programs provide the ideal opportunity to take on leadership roles through team projects across many of our courses. Through working with international colleagues on case challenges as well as real business projects, all participants in our IMBA program will gain new insights into how to eff ectively lead cross-functional, global teams. Additionally, every student will be exposed to new ways of thinking and analyzing the materials provided in order to create the most eff ective solutions to course projects together with their colleagues.
Interaction with Exchange Students
                from Top Business Schools Worldwide
---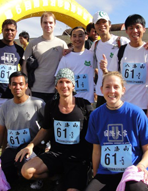 The International University of Japan has ongoing partnerships with many other world-class business schools around the world. From China and India, to the United States, Europe and Australia, every year our Business School welcomes international exchange students from all around the world to our campus.
Technology Management for Giants
IT is a part of all typical technology management degree programs, but the IUJ program focus is wider. It combines other areas such as marketing, finance, human resources management, operations and project management that all heavily depend on IT. This broad integration of technology across these diverse fields gives students the unique opportunity to learn the essentials quickly, in one year, and apply them in real life across many types of organizations.
Target Audience
The program targets broad-minded students in several areas: those who are intending to become entrepreneurs by creating their own businesses, those engaged in various projects – marketing, e-government, e-commerce, e-services, logistics – but would like to sharpen the skills needed to execute them professionally and efficiently, those who are expected to plan job-creation programs under government or NGO organizations, and others intending to gain skills related to technologies in order to market themselves to private, NGO, or government organizations.