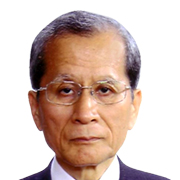 Kinichi Komano
(Joint-Appointment with IRI)
Specially Appointed Professor
Ambassador to Afghanistan, 2002-2004
Ambassador to Ethipia, 2006-2010
Ambassador to Iran, 2010-2012
Courses:
Nuclear Nonproliferation and International Security
International Relations in the Middle East
Changing Security Paradigm
Research Interests:
International Relations in the Middle East and North Africa
Nuclear Nonproliferation
Human Security and Iranian Politics and Literature
Major Publications:
"Changing Iran: Ideology of the Islamic Republic and the Nuclear Issue," AKASHI SHOTEN CO. LTD,2014.
"What a Persian specialist diplomat saw, heard and tried to achieve, (autography)," the Japan Institute of International Affairs, 2006.
"My Afghanistan: Ambassador's perspective and experiences in support for Afghanistan reconstruction," , AKASHI SHOTEN CO., LTD.
"Iran: 1940-1980, as disclosed documents show," co-author,Middle East Research Insitutute.
"The Role of Elections in the Peace-Building and Reconstruction in Afghanistan," Asia Pacific Review, 12(1), Institute for International Policy Studies .