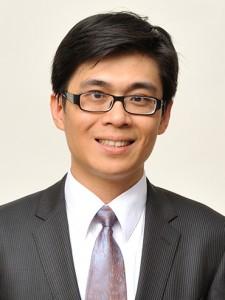 Chun-Hung Kuo
Associate Professor and Program Director of IDP
※PhD Faculty Member
Graduate School of International Relations
M.A. in Economics, National Taiwan University, 2004
Ph.D. in Economics, North Carolina State University, 2012
Courses:
Macroeconomics I
Macroeconomics and Policy Analysis
Time Series Analysis
Current Research Interests:
Macro-econometrics
Fiscal Policy
Monetary Economics
Development Economics
Computational Economics
Major Publications:
"Tensor Spline Approximation in Economic Dynamics with Uncertainties," Computational Economics, with Moody T. Chu and Mathew M. Lin, forthcoming.
"Identifying Sources of Misspecification in DSGE Models," with Atsushi Inoue and Barbara Rossi, mimeo.
"A Simple Basis-free Projection Scheme for Euler Equation Problem," Revision requested, with Moody T. Chu and Mathew M. Lin, mimeo.
"Structural Estimation of a Heterogeneous Agents Model," mimeo. "An Algorithm for Solving Heterogeneous Agent Models with Aggregate Uncertainty," mimeo.